"I want to assemble a task force of the most dangerous people on the planet, who I think can do some good."
  –  Amanda Waller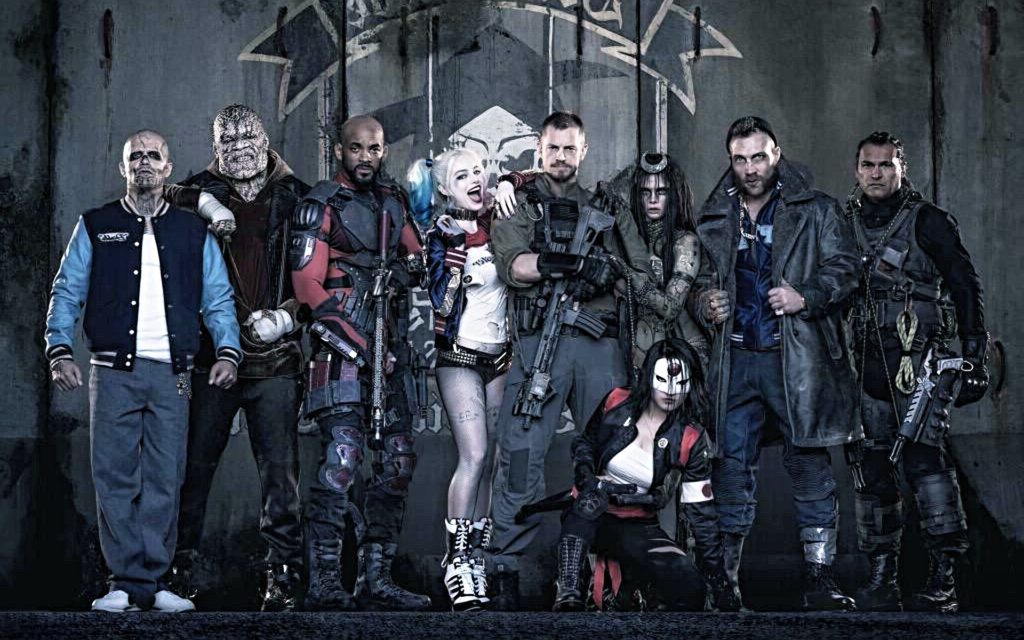 Today we launch the final Phase of our tribute to "Suicide Squad." In case you missed it, check out the other Phases of this tribute project.
By now you have probably heard about Jared Leto's antics on set and his uber-method approach to the Joker character but now, as we get closer to the film, we are starting to hear more and more about director David Ayer and HIS approach to the film and the characters.  Part sadist, part mad scientist, and a bit of genius, Ayer definitely kicked things up a notch on the set of "Suicide Squad."

Jai Courtney recently had this to say: "I turned up to discuss my look, expecting we'd have a long discussion and slowly he'd refine it," Courtney says. "David just walked right in, picked up some clippers, and started shearing chunks of hair off my head. Eventually he said, 'You look like bad news.' Then he left."
Ayer made Joel Kinnaman, who plays Rick Flag, watch classified military videos full of "horrific shit."
Ayer also made made Adewale Akinnuoye-Agbaje, who plays Killer Croc, listen to tapes of Japanese cannibal Issei Sagawa.
During rehearsals Ayer had the cast members punch each other:  "It wasn't a normal rehearsal. We'd talk about their lives, their history, and really got them to open up as people to each other. I also had them fight. I had them fight each other. You learn a lot about who a person really is when you punch them in the face. It gets rid of a lot of the actor stuff." – Ayer
Joel Kinnerman says Ayer also had the cast really open up to one another:  "He asked questions in front of everyone that were hard to dodge. . . . 'What are you most afraid of? What is the most embarrassed you've ever been? What's the meanest thing you've ever done to someone?' Those kinds of questions. So it becomes very honest; it strips the façade, and you get to know each other for real."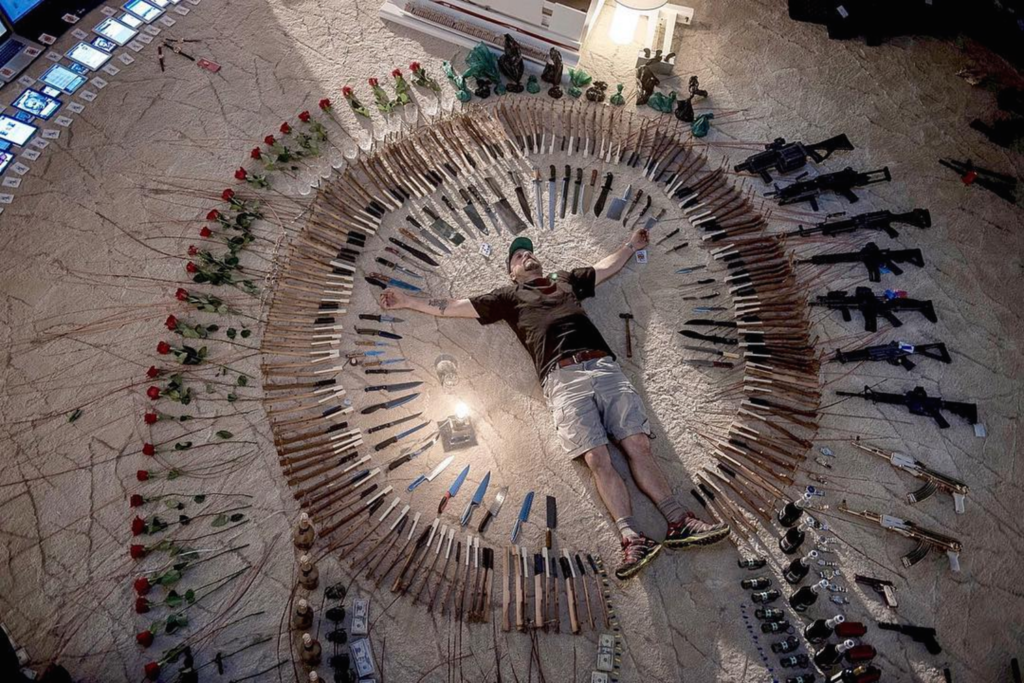 Sounds like an intense but fun set and unlike anything we've ever heard of before.  Sit back and soak in all the art from the final phase of our tribute to the movie we just can't wait to watch, "Suicide Squad."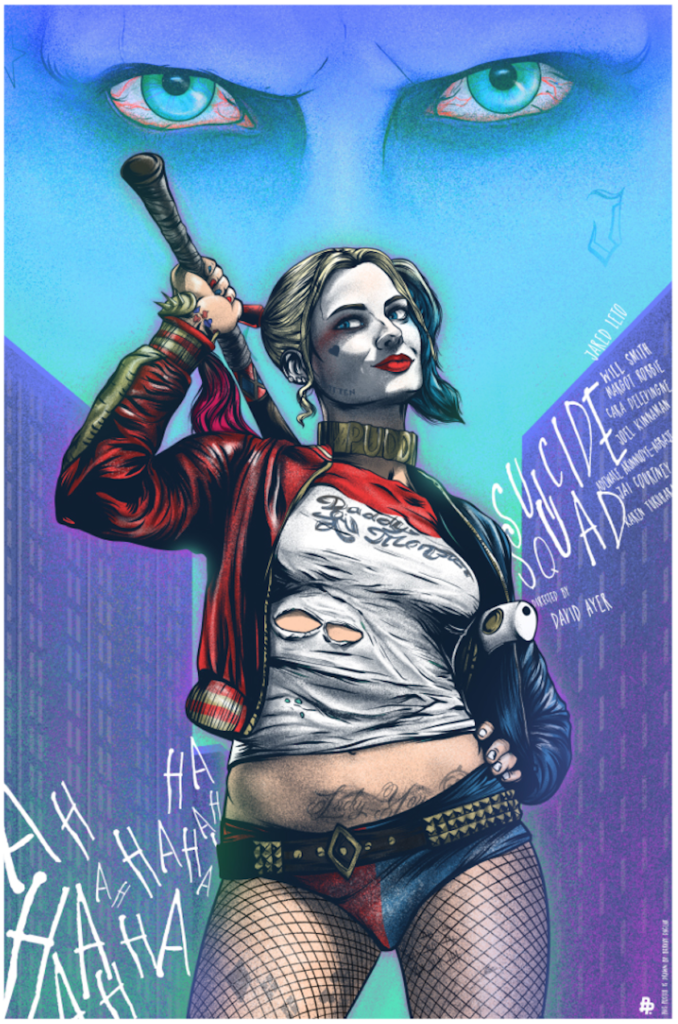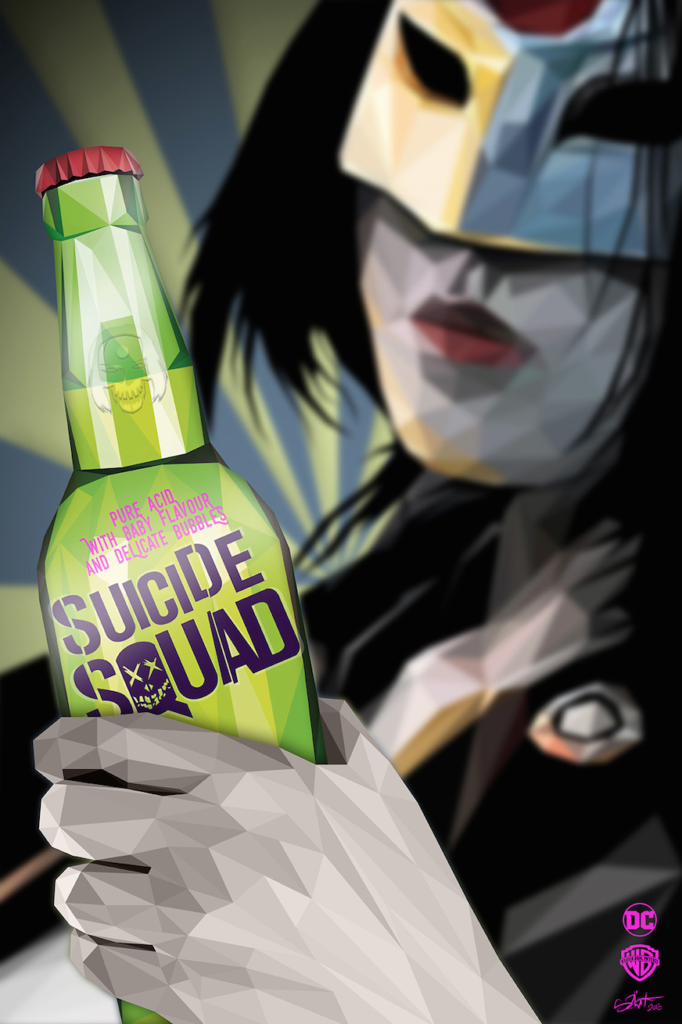 If you weren't lucky enough to make it to 2016's San Diego Comic Con, Here is what the director and cast had to say at their massive panel in Hall H.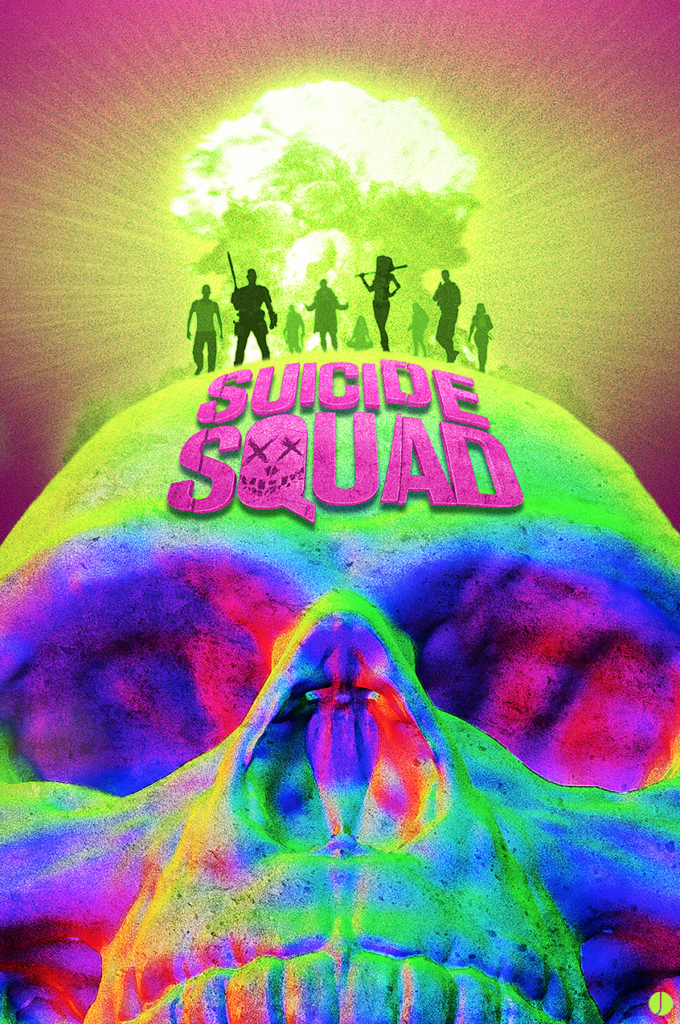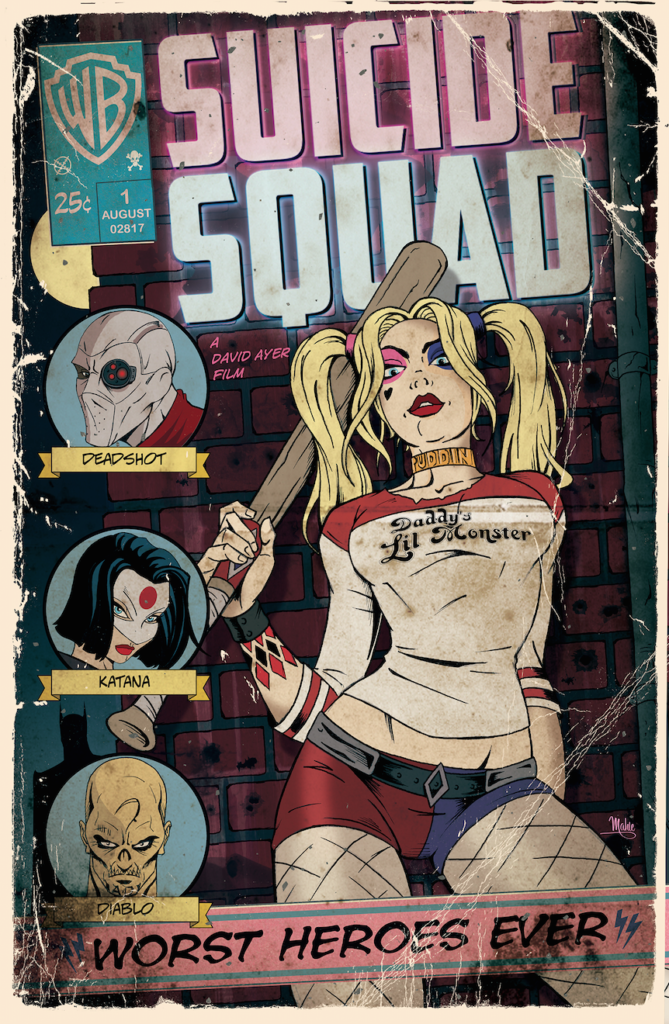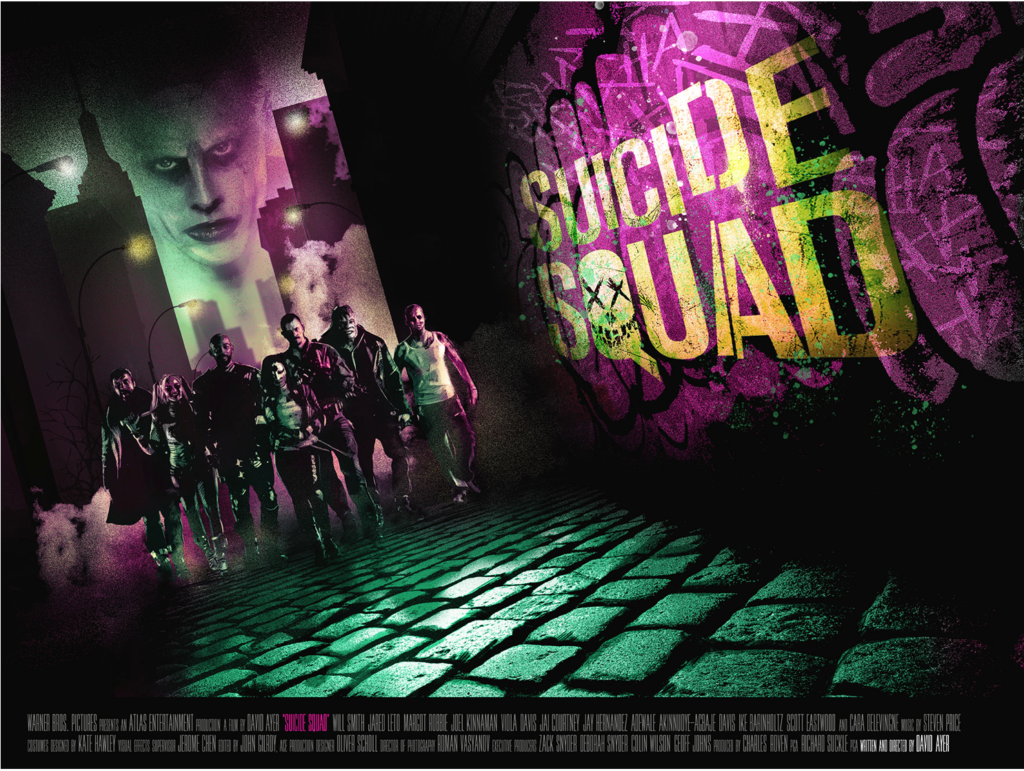 During 2016's San Diego Comic Con, director David Ayer and the cast of "Suicide Squad," stopped by the DC booth to meet and greet the throngs of fans who were feverishly waiting to get posters, toys and other things signed.  One fan, wearing a V for Vendetta mask went through the line and after getting his shirt signed by everyone, removed his mask revealing that it was none other than DC film alum, Henry Cavill.  (Looks like Adewale Akinnuoye-Agbaje may be photo bombing the moment after falling for Cavill's prank.)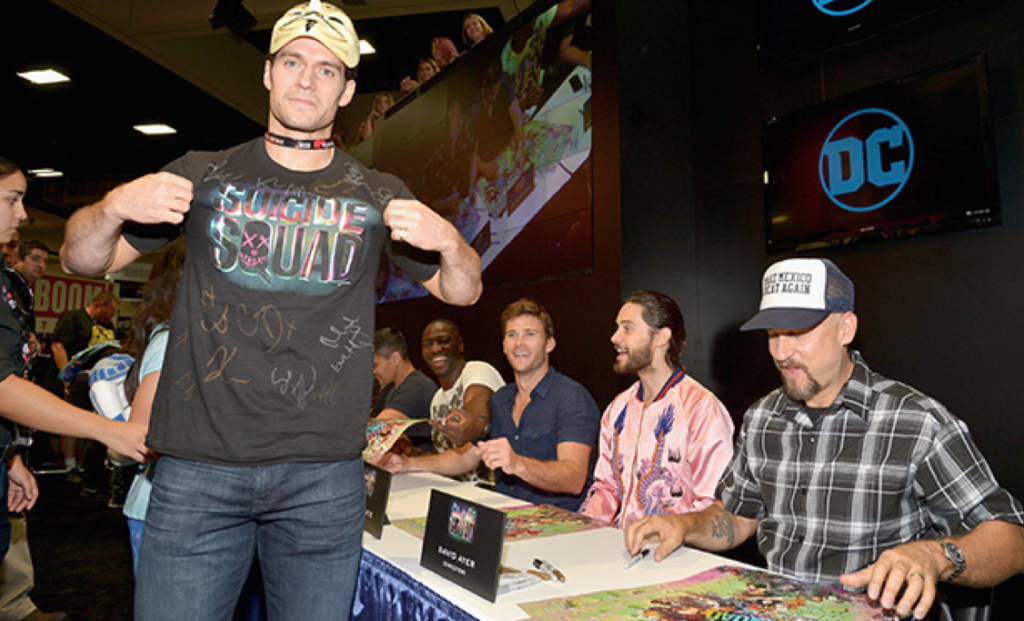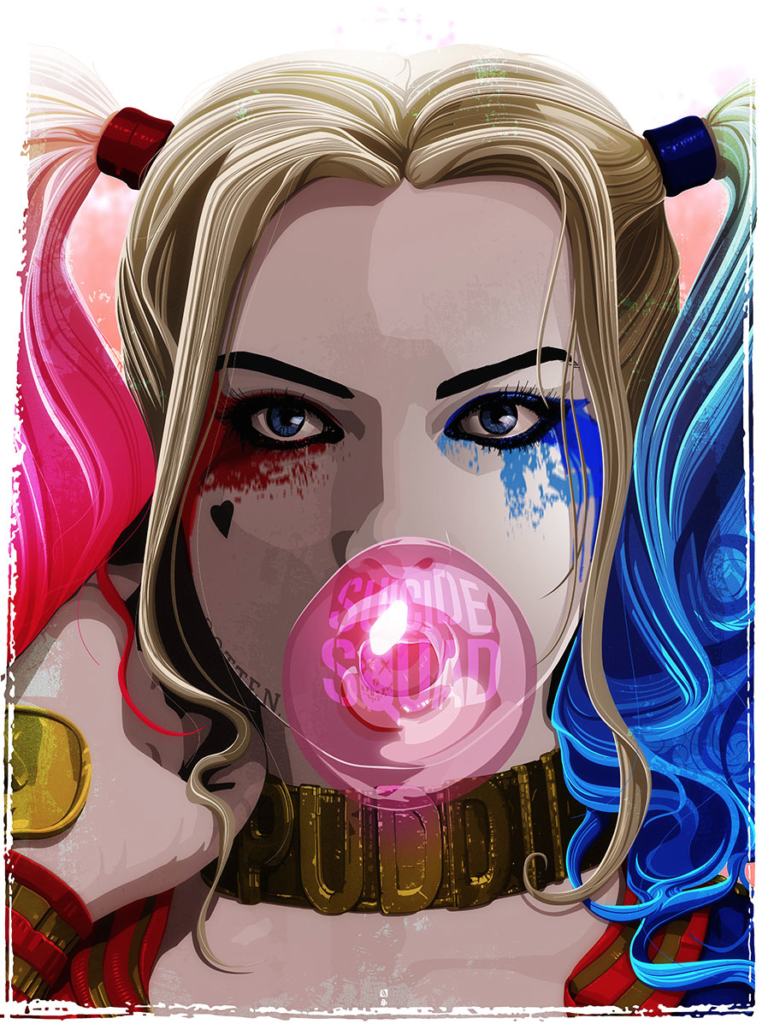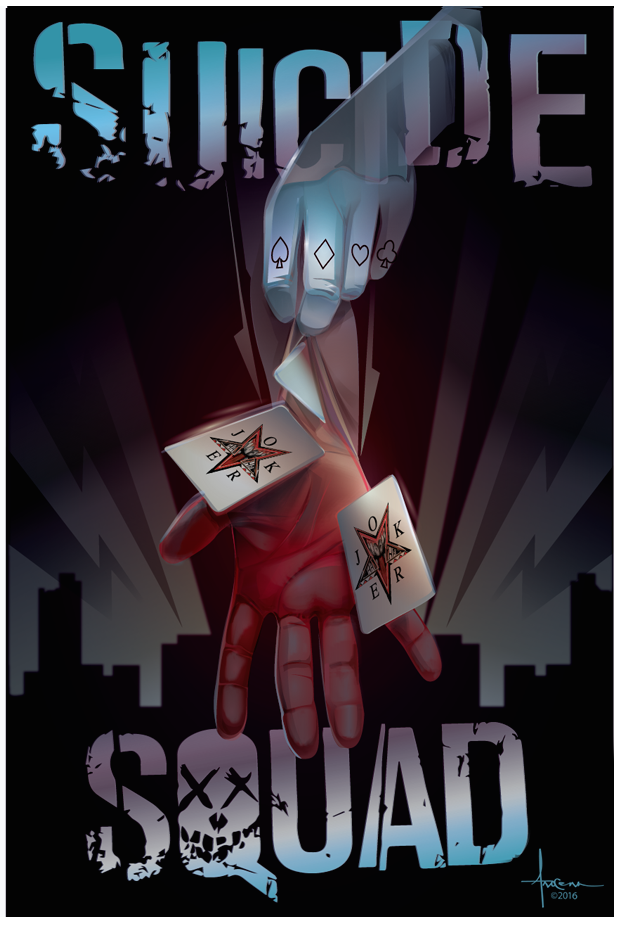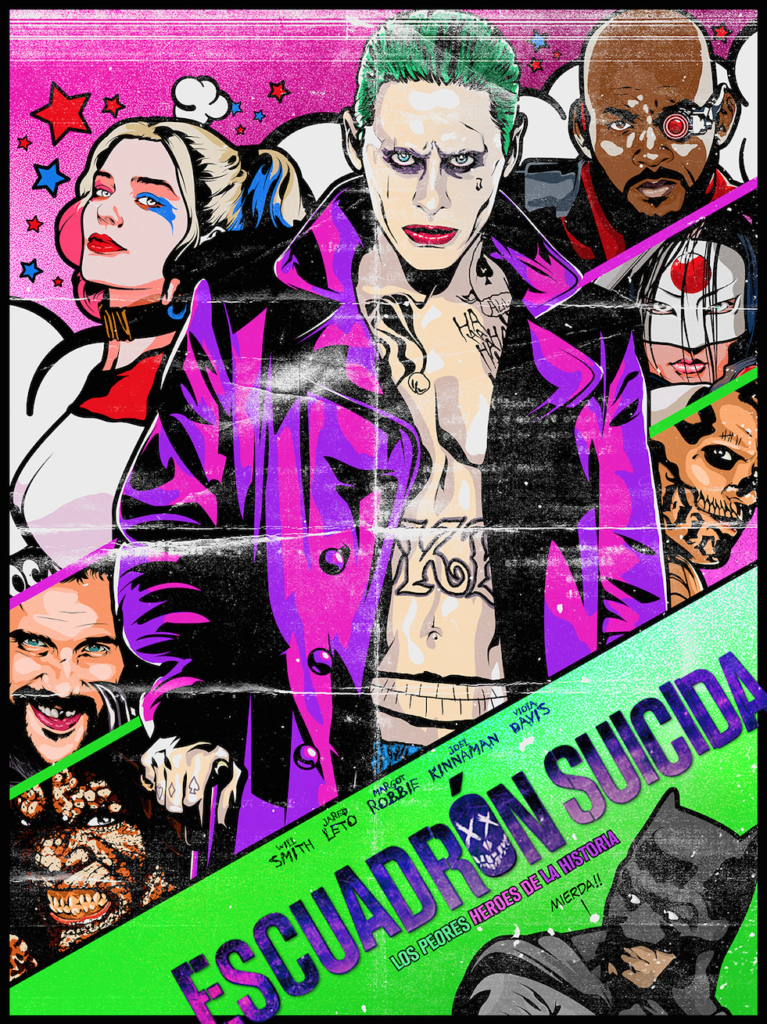 Check out this video for the haunting song "Heathens" by Twenty One Pilots from the "Suicide Squad Soundtrack.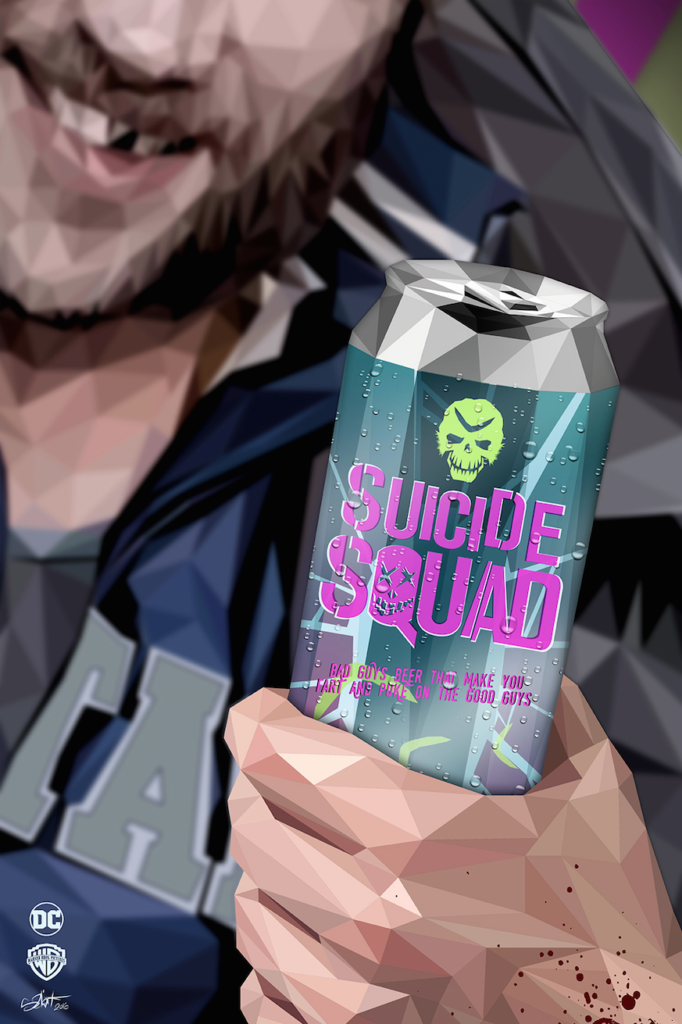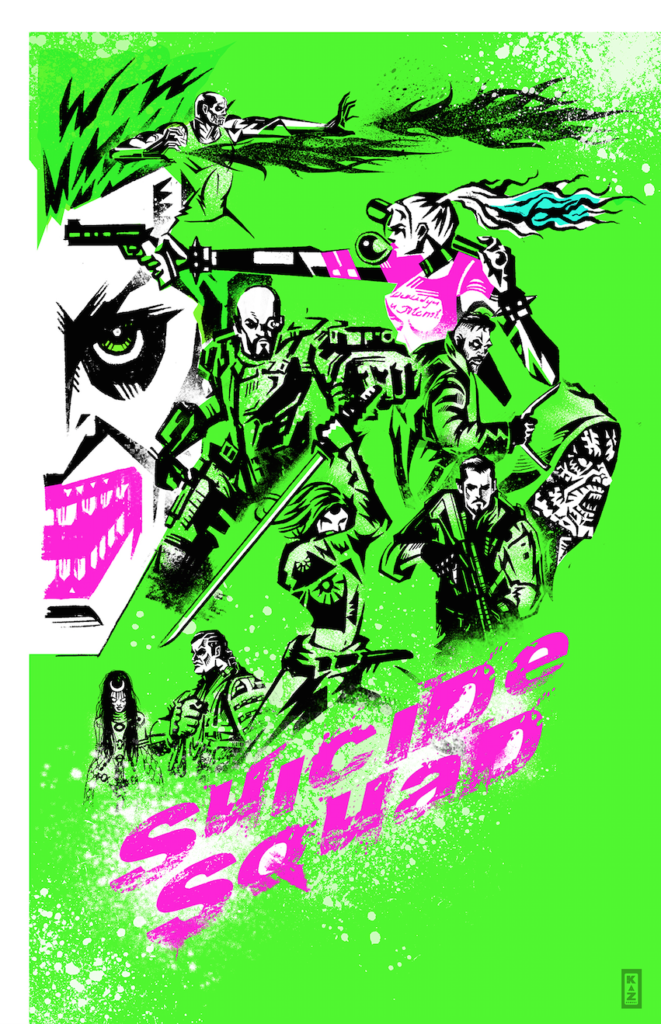 DC Comics is ready to unleash a slew of action-packed supporting the film including the following: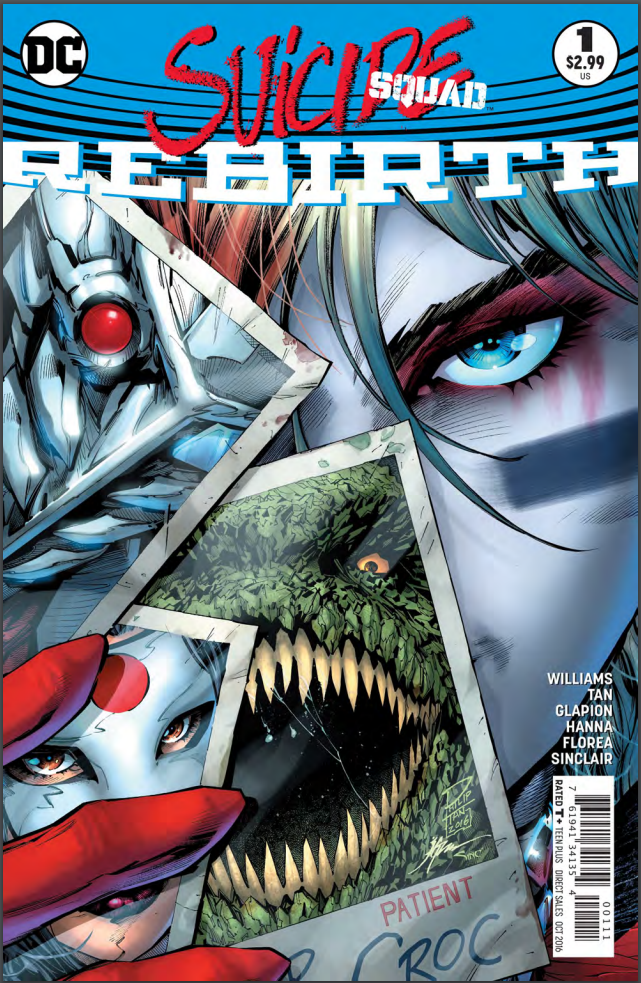 SUICIDE SQUAD: REBIRTH #1:  Soldier. War hero. Traitor. Captain Rick Flag was one of America's greatest military commanders before he was banished to a secret military prison. But after years of isolation, Flag's life changes forever when a woman called Amanda Waller offers him redemption in exchange for taking on the single most dangerous job in the entire DC Universe: keeping the Suicide Squad alive!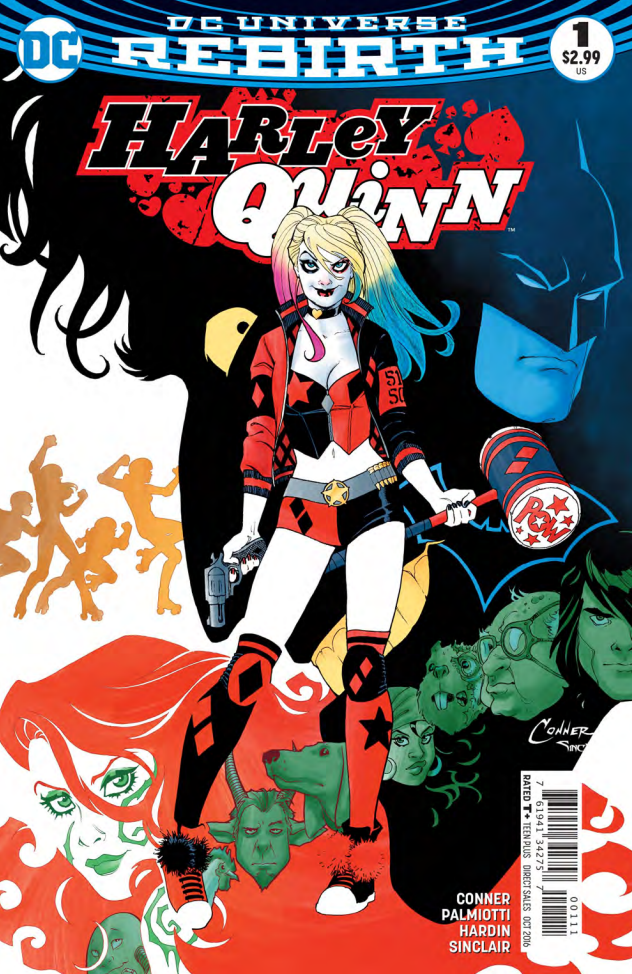 HARLEY QUINN #1:  "Die Laughing" part one! Welcome back to Harley Quinn's crazy world on Coney Island…now get ready to wave goodbye, because everyone there just might get eaten alive! Harley's gotta protect her neighborhood against an all-out zombie apocalypse! Break out the chainsaws, everybody!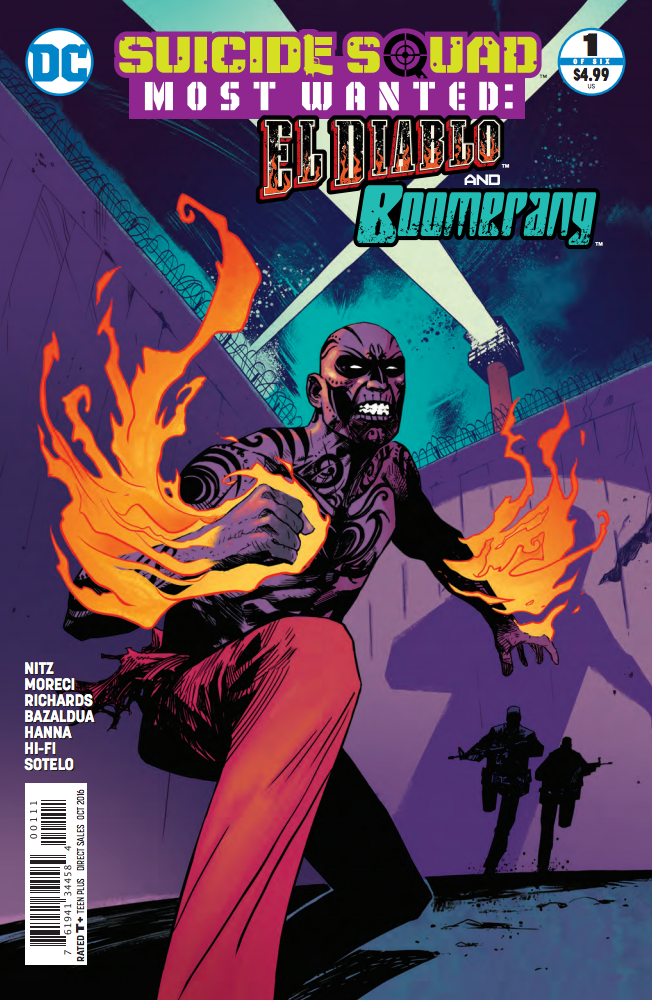 SUICIDE SQUAD MOST WANTED: EL DIABLO AND BOOMERANG #1   From the pages of SUICIDE SQUAD comes an all-new series featuring two of the team's most infamous heroes, El Diablo and Boomerang! First, a sudden pardon frees the fiery El Diablo from Belle Reve prison, much to the shock (and irritation) of team leader Amanda Waller. Chato returns to his old neighborhood to reunite with his family, but when he's attacked by a heavily armed local gang and their leader, the deadly, super-powered Bloodletter, will his freedom and his life get cut dramatically short?
Meanwhile, in the first chapter of two-part tale written by Michael Moreci (from DC's Writers Workshop program) with art by Oscar Bazaldua, Boomerang and the Squad embark on a mission to take down a ruthless dictator within a small, unstable Central American nation, but when the mission goes awry, the Squad must jump in a helicopter and flee as all hell breaks loose. But amid the chaos, the team realizes one of them was accidentally left behind: Boomerang! How can he stay alive long enough to be rescued when a whole army wants him dead?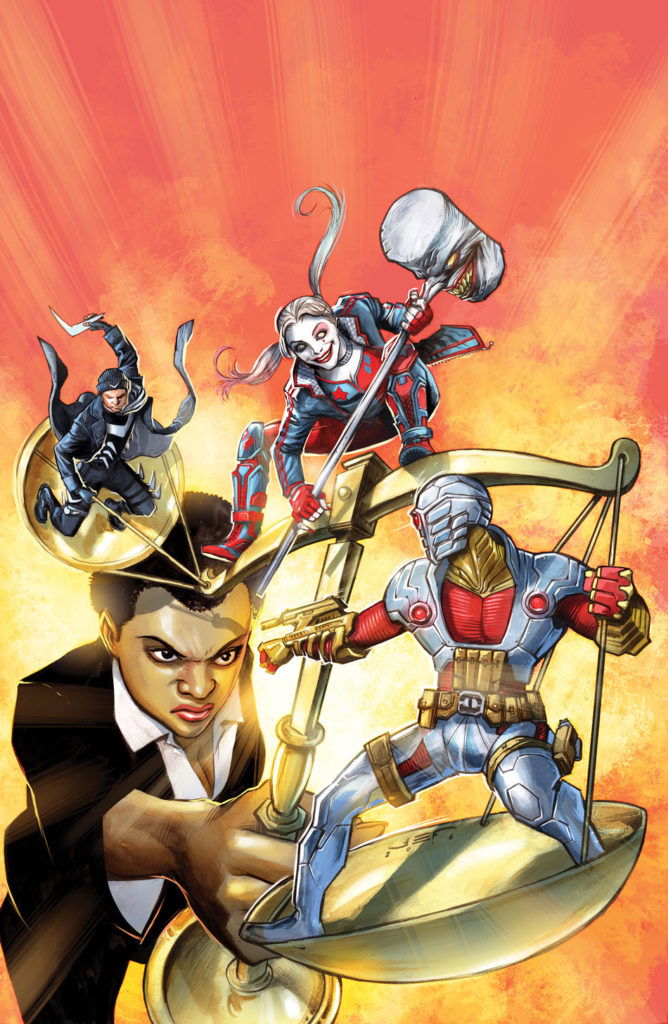 SUICIDE SQUAD:WAR CRIMES SPECIAL #1: When a retired American politician is taken to Europe and tried for alleged war crimes, the USA must recover him from an allied nation before terrible truths are revealed. Enter the Suicide Squad, who storm the Hague itself to save America from her own dark secrets. The writer who started a revolution, John Ostrander returns to the Suicide Squad for the first time in a decade to tell one of his boldest and bloodiest stories ever.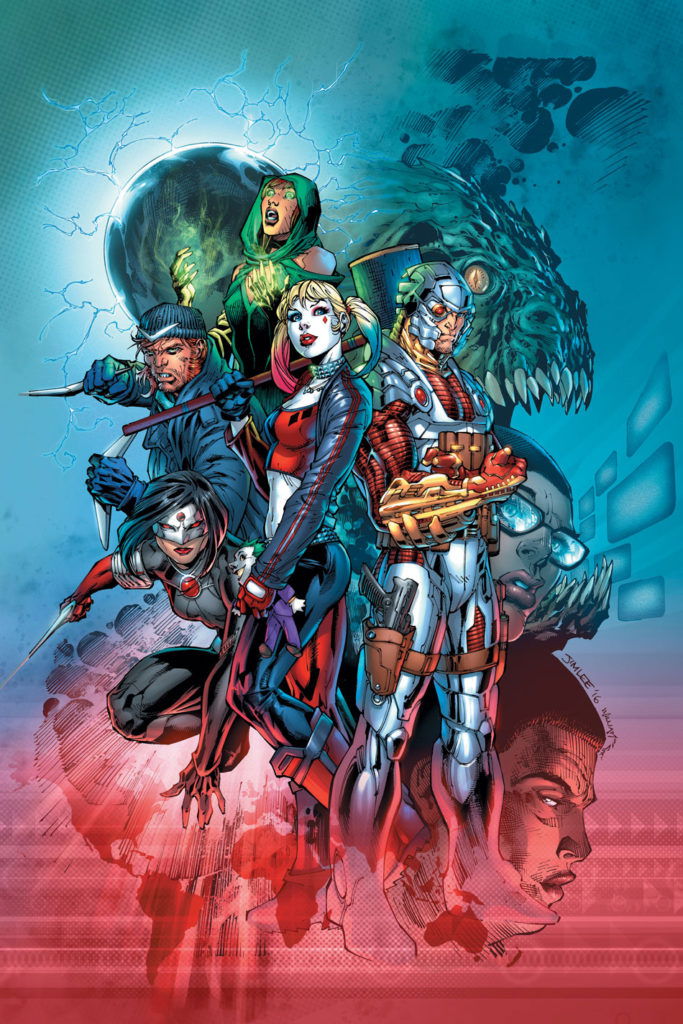 SUICIDE SQUAD #1: "The Black Vault" part one! When a mysterious and definitely super-important cosmic item falls out of the heavens and into enemy hands, America has only one option: Task Force X, Amanda Waller's strike team of incarcerated super-criminals. A one-stop-shop for plausibly deniable espionage and ultra- violence, this "Suicide Squad" only handles missions they're not expected to survive. An insane new era of SUICIDE SQUAD begins here with superstar artist Jim Lee and red-hot writer Rob Williams (UNFOLLOW, MARTIAN MANHUNTER).
From director David Ayer ("Fury," "End of Watch") comes "Suicide Squad," starring Oscar nominee Will Smith ("Ali," "The Pursuit of Happyness"), Oscar winner Jared Leto ("Dallas Buyers Club"), Margot Robbie ("The Wolf of Wall Street," "Focus"), Joel Kinnaman (Netflix's "House of Cards") and Oscar nominee Viola Davis ("The Help," "Doubt").
It feels good to be bad… Assemble a team of the world's most dangerous, incarcerated Super-Villains, provide them with the most powerful arsenal at the government's disposal, and send them off on a mission to defeat an enigmatic, insuperable entity. U.S. intelligence officer Amanda Waller has determined only a secretly convened group of disparate, despicable individuals with next to nothing to lose will do. However, once they realize they weren't picked to succeed but chosen for their patent culpability when they inevitably fail, will the Suicide Squad resolve to die trying, or decide it's every man for himself?
Written and directed by Ayer based on the characters from DC, the film also stars Jai Courtney ("Insurgent"), Jay Hernandez ("Takers"), Adewale Akinnuoye-Agbaje ("Thor: The Dark World"), Ike Barinholtz ("Neighbors"), Scott Eastwood ("Fury"), Cara Delevingne ("Paper Towns"), Adam Beach ("Cowboys & Aliens"), and Karen Fukuhara in her feature film debut. It is produced by Charles Roven and Richard Suckle, with Zack Snyder, Deborah Snyder, Colin Wilson and Geoff Johns serving as executive producers.
Ayer's behind-the-scenes creative team includes director of photography Roman Vasyanov ("Fury," "End of Watch"), production designer Oliver Scholl ("Edge of Tomorrow"), editor John Gilroy ("Pacific Rim"), costume designer Kate Hawley ("The Hobbit" Trilogy) and Oscar-nominated visual effects supervisor Jerome Chen ("Stuart Little," "Fury," "The Amazing Spider-Man" films). The music is by Oscar-winning composer Steven Price ("Gravity").
Warner Bros. Pictures presents, an Atlas Entertainment production, a film by David Ayer, "Suicide Squad." The film will be distributed worldwide by Warner Bros. Pictures, a Warner Bros. Entertainment Company. The film opens worldwide in 3D, and in 2D, and in select IMAX 3D theaters beginning August 5, 2016.
"Suicide Squad" is rated PG-13 by the MPAA for sequences of violence and action throughout, disturbing behavior, suggestive content and language.
HUGE thank you to all the artists that participated in the project and to all the fans who have been sharing it around the internets. "Suicide Squad" hits theaters on August 5th, 2016.  Preorder you tickets NOW.
To learn more about the film, use or follow these official links.