We've been sharing our passion for art with you for the past few years and we thought it would be great for you to get to know the members of the Poster Posse. We're calling this ongoing series "Meet The Posse" and we are starting things off with Poster Posse member, Berkay Daglar.  Berkay is based in Instanbul, Turkey and, like the rest of the Posse, has a unique style that is easily identifiable and highly desirable.  Here is our conversation with Berkay as well as a look at some work from his impressive portfolio.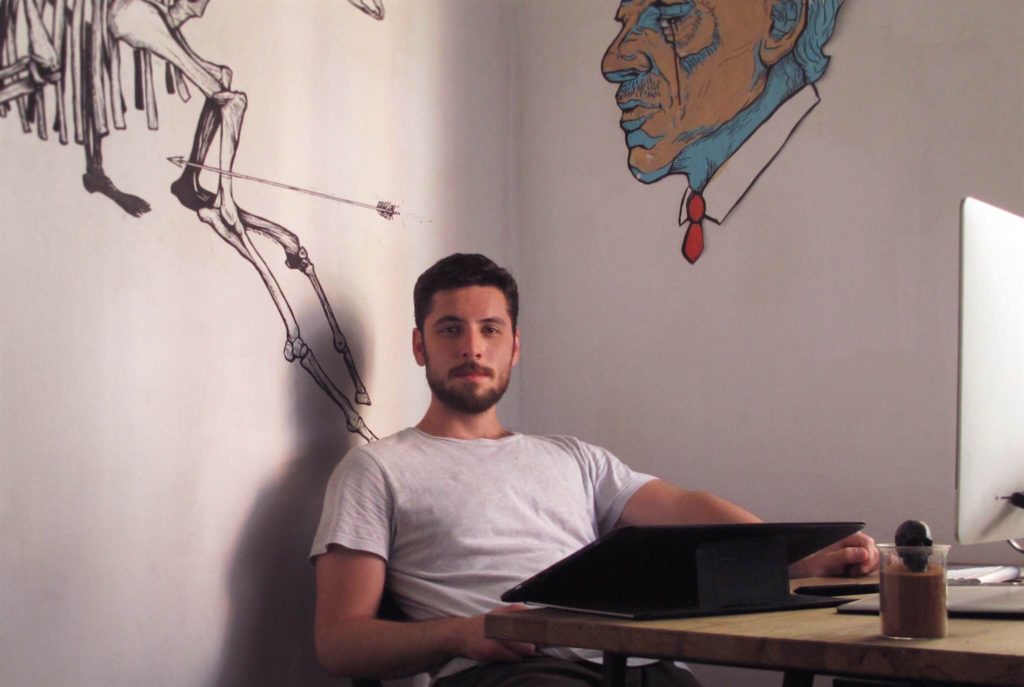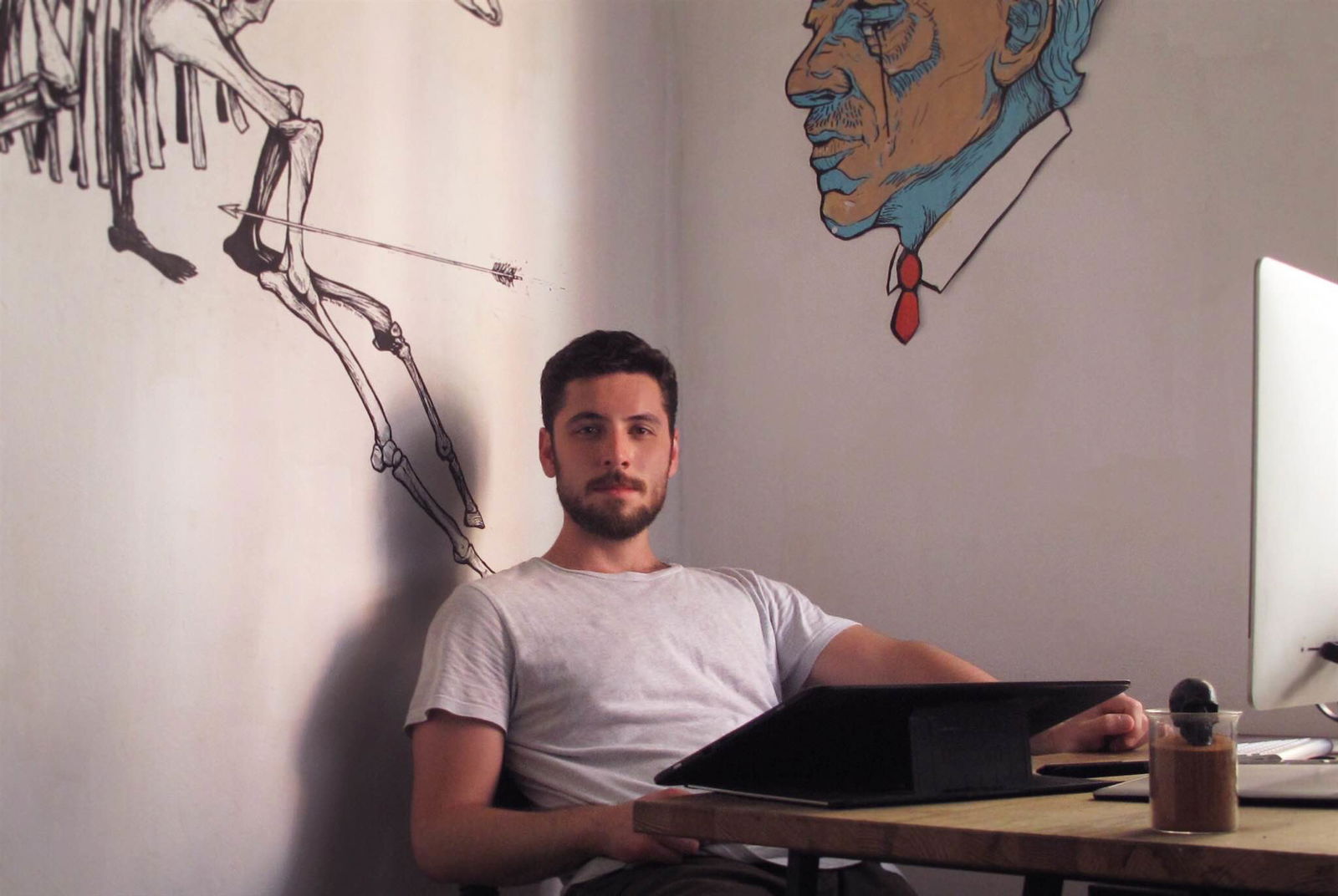 PP – Give us some insight about you and what is your day job?
Berkay – Beside doing freelance, I am working in a advertising agency in Central Istanbul as an art director and graphic designer.
PP – What inspired you to jump into the world of freelance?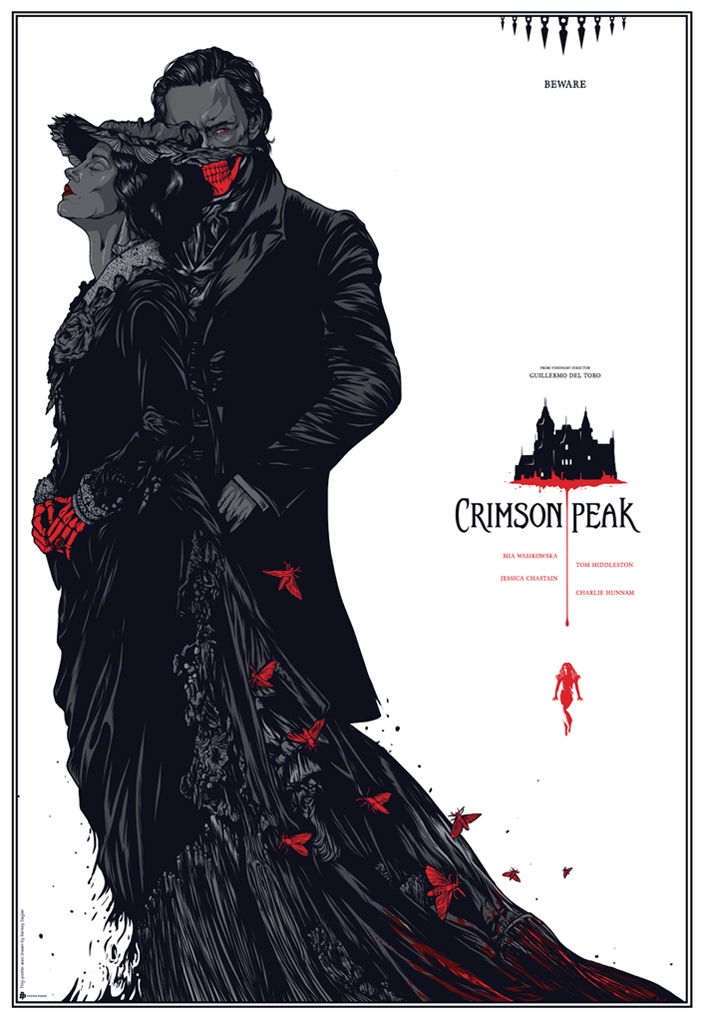 (Here's Berkay's print as part of the Poster Posse's tribute to Guillermo del Toro's "Crimson Peak.")
Berkay – Simply to be my own boss. I mean there is always a person to listen to his/her commands but in freelance you can direct and create the design you believe in.
PP – Ah yes, "large and in charge" I completely get where you are coming from.  What do you LIKE and what are the CHALLENGES of being freelance?
Berkay – The most challenging part is to arrange your life according to the unstable income and expenses. But in my opinion that is the fun part.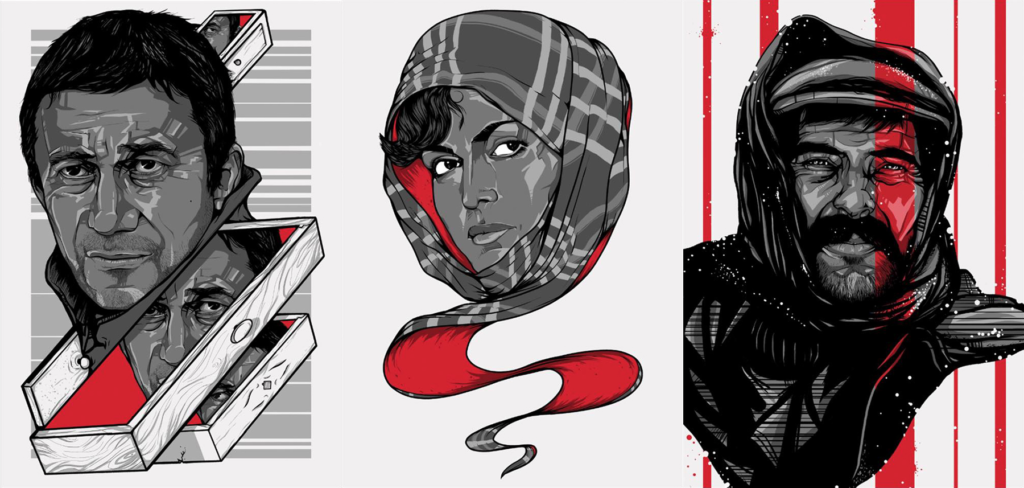 In 2014, Bant, a cinema, music, and arts magazine celebrated its 10th publishing year-in collaboration with the 51st International Antalya Golden Orange Film Festival-proudly presents: "100 Years of Turkish Cinema Through 100 Illustrations", a collection of art works by 20 young and talented artists who drew inspiration from the classics of Turkish Cinema. These are a few of Berkay's pieces for the project.
PP –  I agree.  We're ALWAYS looking for that next project and there is a sense of elation when contracts are finalized and the client says "GO!"  What is your process like for each project?  Take us through your creative process
Berkay – My process is classic. Finding a creative idea for the layout is always the most important part of the process. That usually takes some time. But sometimes it's so obvious you know what you're going to do. Then I continue with the sketching part to see if the idea works visually.
PP –  What kind of environment do you like to work in?  Music cranked up, favorite movie playing in the background, boxes of Junior Mints and Mountain Dew in the mini fridge next to your desk?  (That maaaaaaaaaay be ours, just sayin'.)
Berkay – I like silent environments. It helps me concentrate. If I need to concentrate more I turn on my favorite bands, Muse or MFÖ (Turkey's Rolling Stones)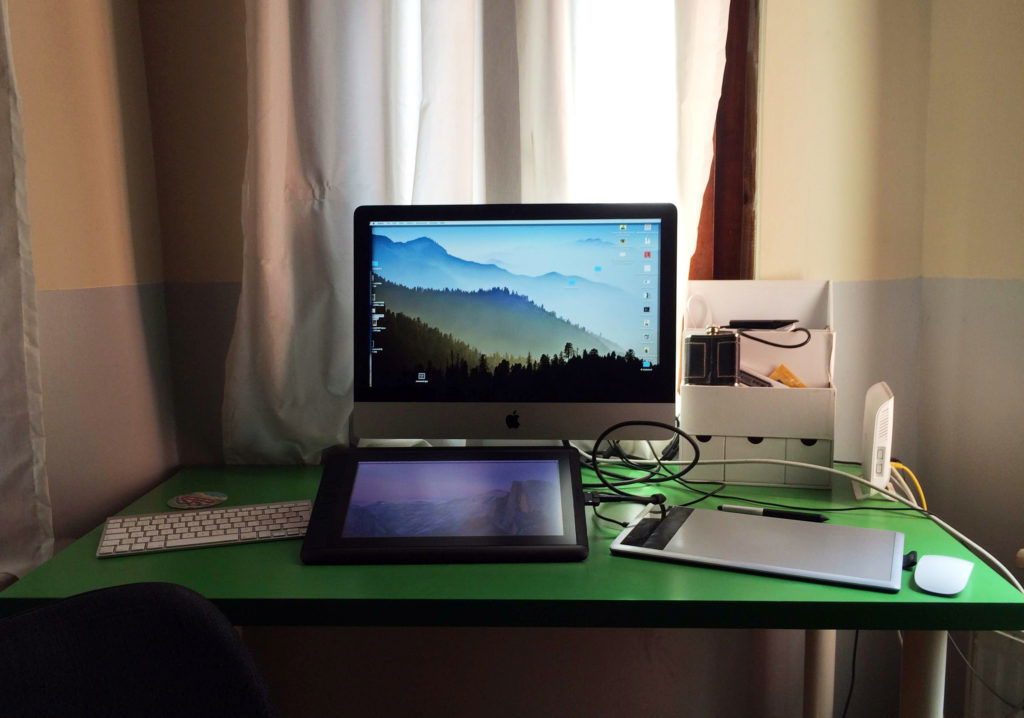 PP –  I go a little stir-crazy in complete silence, I usually have the TV on with shows like "Ancient Aliens" or Action Bronson's "Fu@K That's Delicious" on in the background. I'm going to have to look up MFÖ and give them a listen. What is your favorite social media platform.
Berkay – Instagram. It is so much easier to interact with the people you want than the other platforms.
PP –  To date, what was the turning point in your career?
Berkay – It's actually the poster that I made for the Gezi Protests that happened in Turkey in 2013. That poster was spread out to multiple platforms and all around the country and got my name out there in Turkey.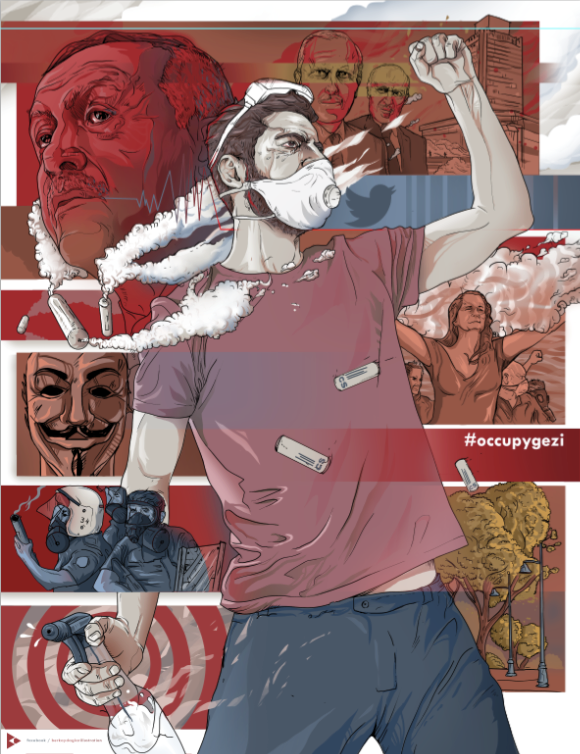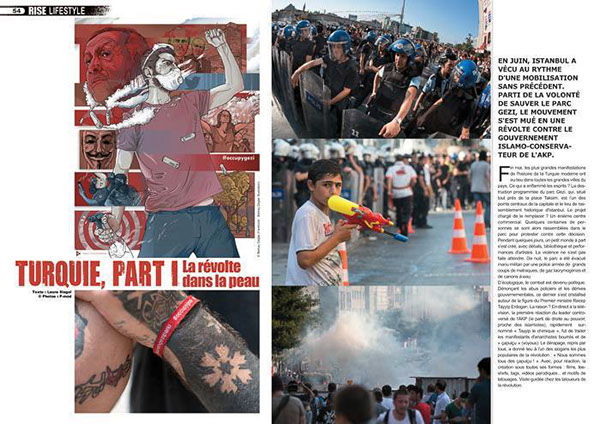 PP –  I always find it inspiring when an artist takes a major social issue or crisis and comes up with a compelling image.  How do you judge your success?
Berkay – It is a hard question to answer. My work defines my character and I actually don't know exactly how it develops. It's instinctive. If we can say there is a success, it's because of my perspective on things that I love.
PP –  What one project are you most proud of?
Berkay – It's easy, Deadpool.  For now it's my only official poster work that reached the studio and its star.  I also enjoyed the humor in it while creating.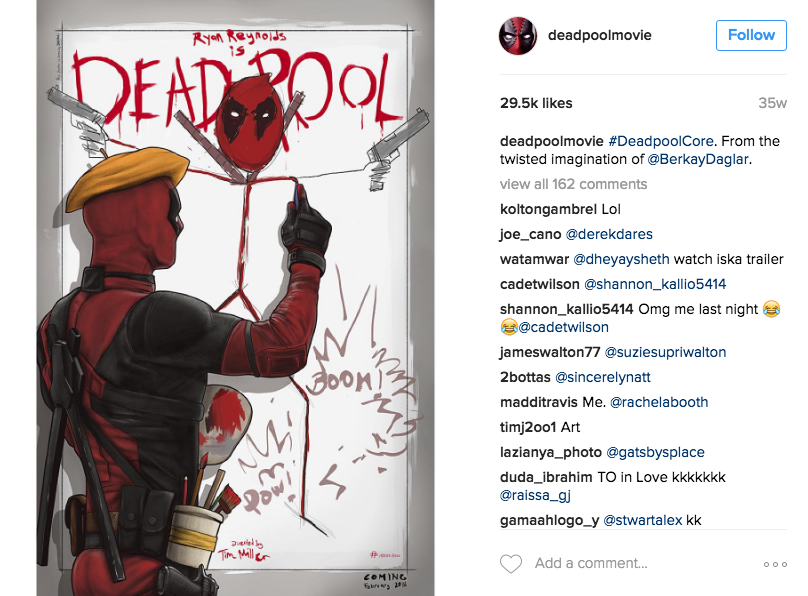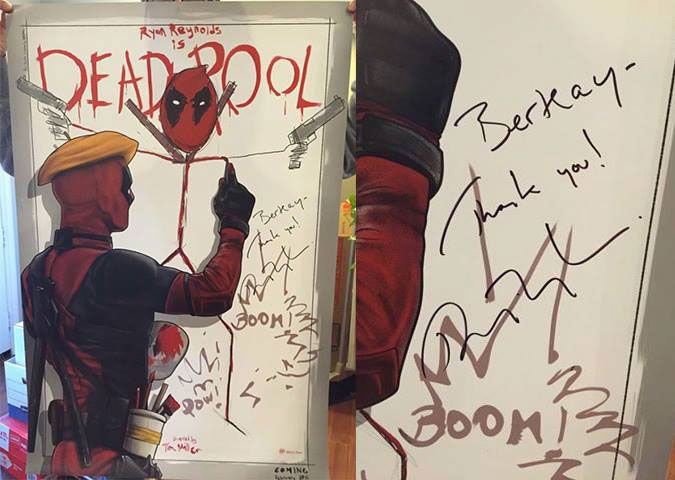 PP –  Well it received almost 30K likes on Instagram and it was VERY cool that Ryan Reynolds took the time to sign a poster for you.  I can see why this one ranks so high for you.  Are there any mediums you haven't explored yet that you would like to try?
Berkay – I want to do sculpture. Especially busts.
PP – I'd like to work with busts too….anywho…, you used pretty bold color palettes for our tributes to Batman as well as Captain America: Civil War  what was the thought behind this?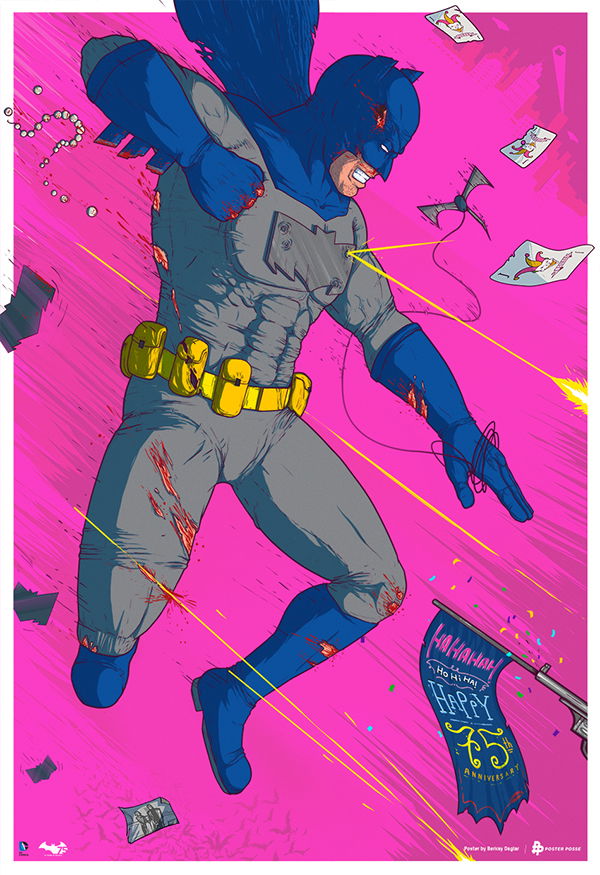 Berkay – I've always liked bright colors that draw your attention. When I see a potential for that color palette of mine I never hesitate to use it even if it is not suitable for that movie's concept. I can say that it's more likely because I have been trying to create my own signature with these colors.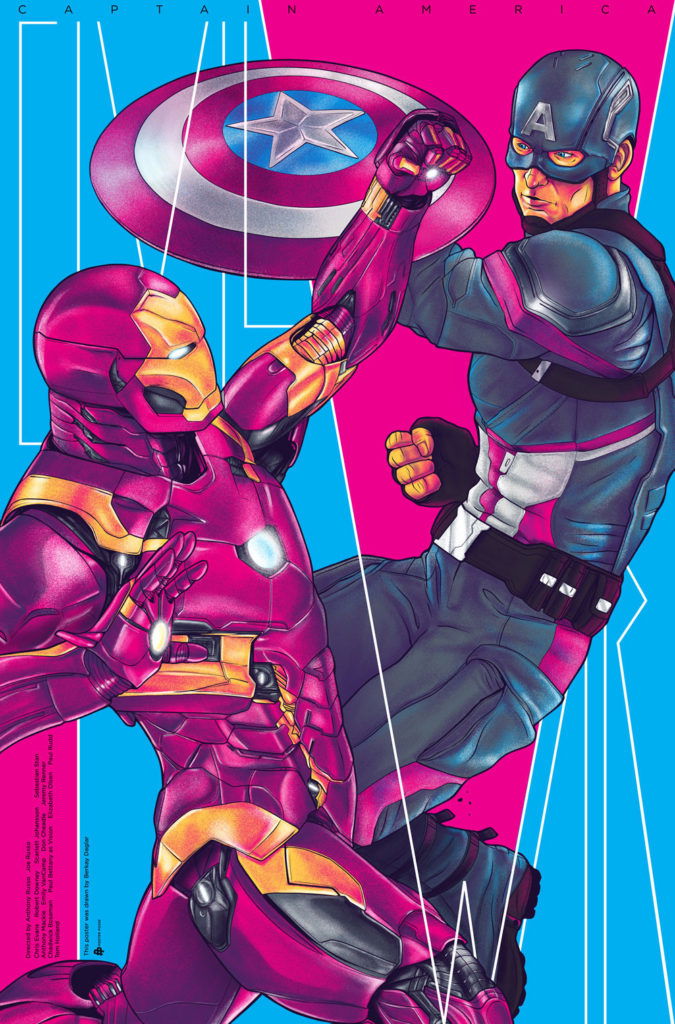 PP –  Well I think you've accomplished that as the color palette actually looks pretty damn cool on BOTH pieces.  I'm down with the pink-ish Iron Man armor!  Your country is experiencing a massive amount of unrest, how does this affect your work and how do you deal with it in general?
Berkay – Yes. It is so intense. It makes me want to create nothing at the moment. I start to think of so many negative things and that literally stops me in my tracks. I try not to look to the internet and social media platforms to avoid news on these events.
PP –  I can only imagine how difficult it must be.  Every time something happens you probably have to check in with everyone you know to make sure they are ok and to let them know that YOU are ok.  When you are not creating art, what do you do in your "free" time?
Berkay – I watch lots of movies and play guitar and sing.
PP –  Well if art doesn't pan out the way you want it to, maybe you can be the Turkish Justin Bieber?  How has your work evolved since you first started doing it for a living?
Berkay – Surely It now possesses more quality and detail. Also, over the years It has made me much faster as well.

Here are a few pieces from Berkay's new portrait series on his BEHANCE PAGE.
PP –  Where do you find inspiration?
Berkay – Sometimes I find it looking old renaissance works from cult artist. Sometimes I find it looking random photos.
PP –  What artist would you like to collaborate with?
Berkay – With all the artists from PP 🙂 It can be original and fun to collaborate with a photographer like Anton Corbijn maybe ? 🙂
PP –  Your vibrant color palette on Corbin's photos could be pretty cool.  What are your go-to tools of the trade?
Berkay – Sketchbook Pro, Photoshop
PP –  If you weren't an artist, what would your dream job be?
Berkay – It is actually very close to art but it would be a chef. I love to cook.  I think I am pretty good at omelets. Simple ones. Made with good old turkish butter. My no.1: Some good feta cheese in it and dill on top, next to roasted tomatoes. They usually look like a very big pancake as a result of my mixing and cooking technique.
PP –  Great!  Now I'm hungry…. Personally I listen to music all the time when I work, who do you listen to?
Berkay – Classical rock and blues.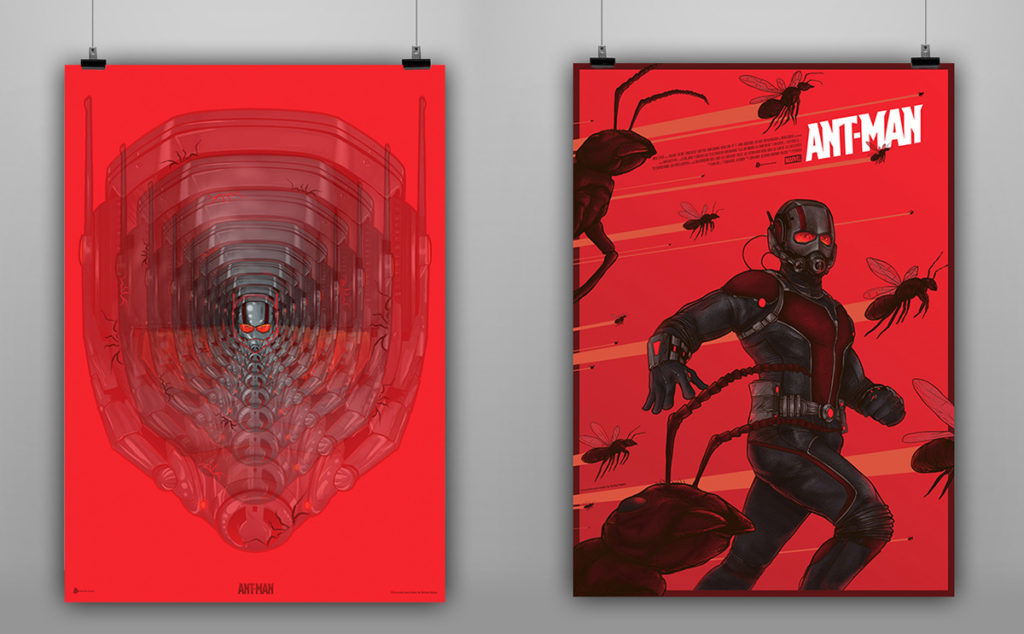 Here are Berkay's two posters for the Poster Posse's tribute to Marvel's Ant-Man
PP –  What are your favorite TV shows this year?
Berkay – Daredevil and Penny Dreadful
PP –  I love the grittiness and violence of Daredevil and I am in absolute AWE of the wardrobe on Penny Dreadful. Who is your favorite DC character and your favorite Marvel character and why?
Berkay – DC: Joker, because he has good reasons to be like that.  Marvel: Wolverine. Because I am always touched by his tragedy. He sees everybody he loves die but he's still holding on.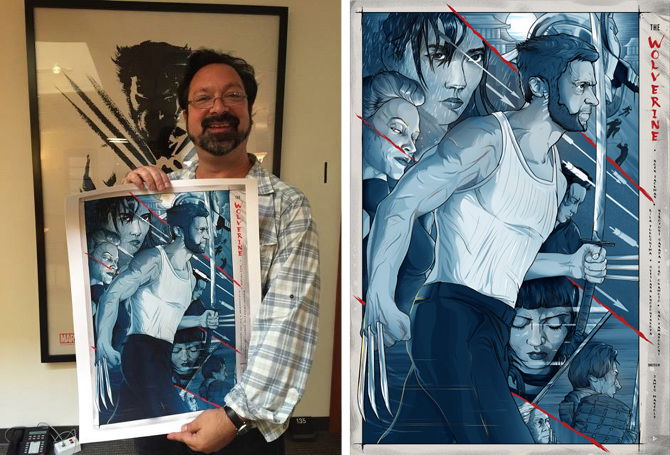 Here is director James Mangold with a copy of Berkay's The Wolverine poster.
PP –  What's your favorite app?
Berkay – I like my guitar tuner app. haha
PP –  I still think there is Turkish Bieber potential here somewhere….What's your favorite video game?
Berkay – The Assassin's Creed series.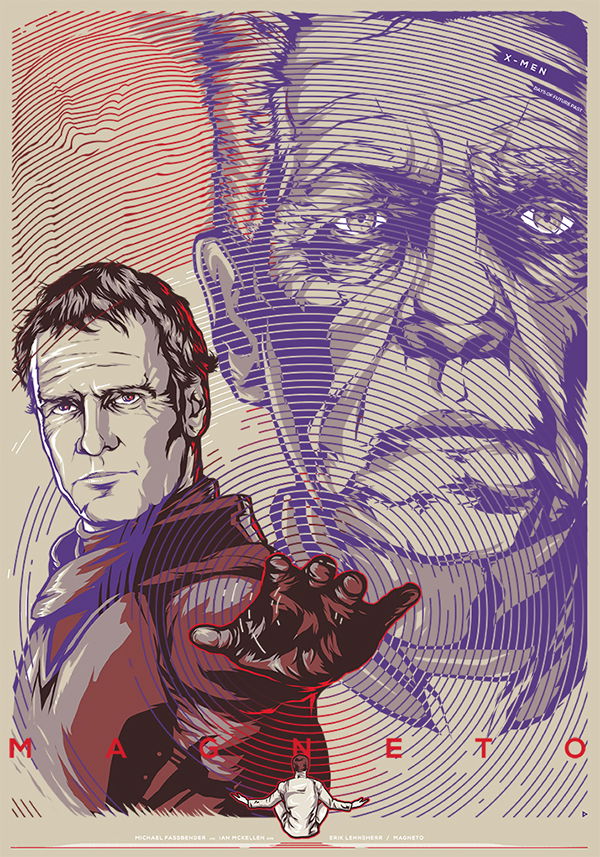 Berkay's print for the Poster Posse's tribute to "X-men: Days of Future Past:
PP –  What's your guilty pleasure?
Berkay – I still love The Mummy (1999) I know there are much better examples from that genre but you know it's my guilty pleasure. I watch it once a year.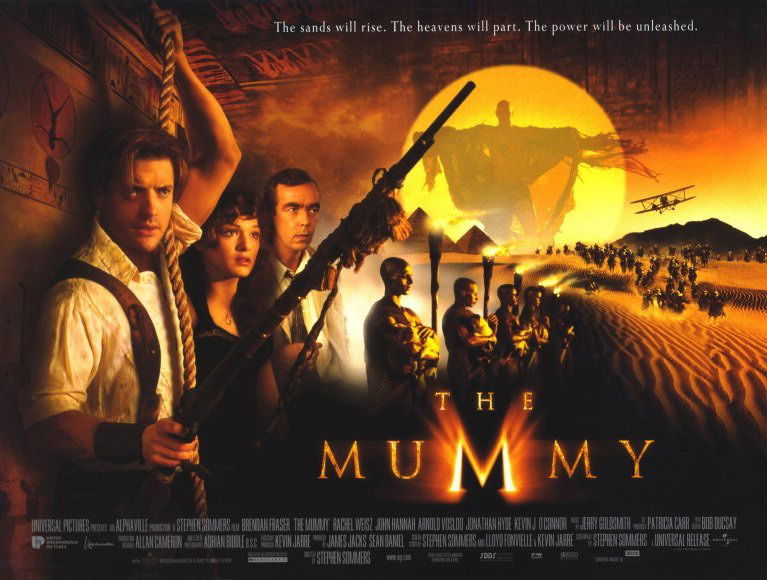 PP:  YES!  "The sands will rise….the heavens will part….the power will be unleashed!"  Brendan Fraser's portrayal of a renegade treasure seeker is unequaled.  The biting one liners, the tousled hair, the unbridled animal magnetism, I can see just why this is your guilty pleasure!
Huge thank you to Berkay for taking the time to answer our questions and for letting us to get to know him a bit better.  Be sure to check out more of his work via the following links.