"We must strive to be more than we are.  It does not matter that we will not reach our ultimate goal.  The effort itself yields its own reward."
– Gene Roddenberry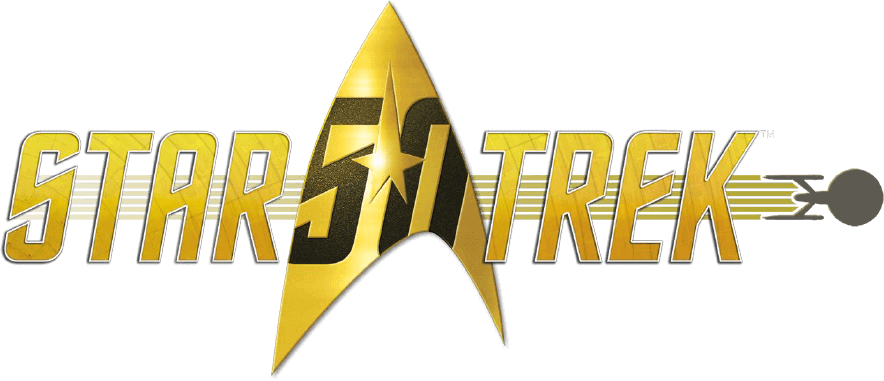 As is with all good things, the Poster Posse's tribute to Star Trek has come to an end.  HUGE thank you to everyone who has shared and appreciated PHASE 1, PHASE 2 and PHASE 3.  We had a lot of fun doing this project and we'd also like to thank all the guest artists that came out and supported our cause this time.  Gene Roddenberry gave the world a universe of possibilities when he launched the original series and it's nice to know that his legacy is safe and sound as there seems to be NO end to the future of Star Trek.

"Star Trek Beyond," the highly anticipated next installment in the globally popular Star Trek franchise, created by Gene Roddenberry and reintroduced by J.J. Abrams in 2009, returns with director Justin Lin ("The Fast and the Furious" franchise) at the helm of this epic voyage of the U.S.S. Enterprise and her intrepid crew. In "Beyond," the Enterprise crew explores the furthest reaches of uncharted space, where they encounter a mysterious new enemy who puts them and everything the Federation stands for to the test.  "Star Trek Beyond" opens in theaters July 22, 2016.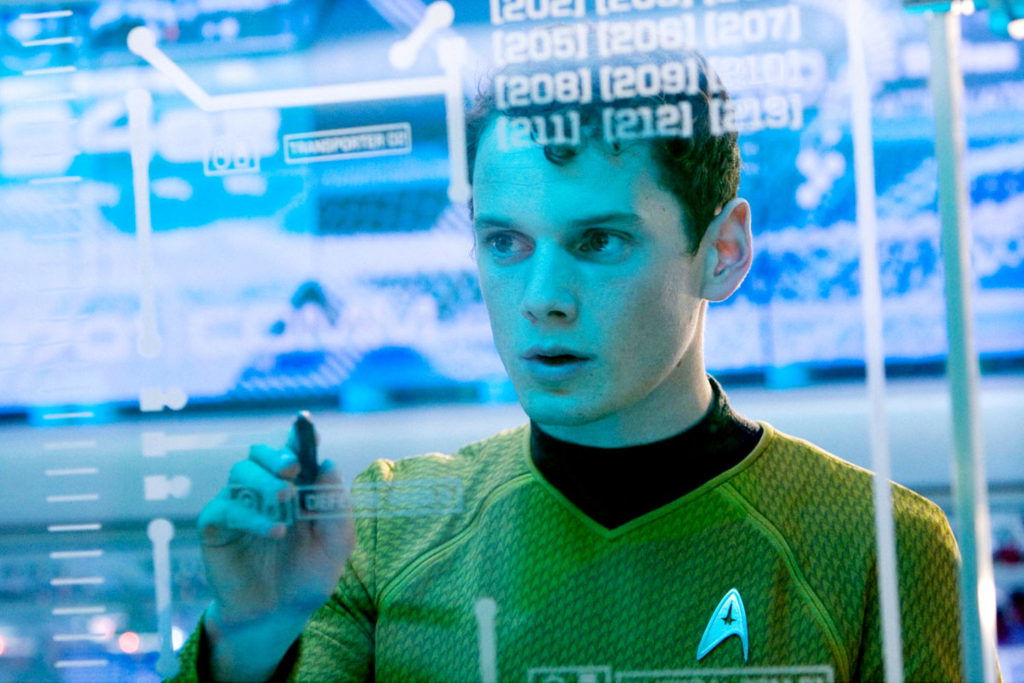 We'd be remiss if we didn't mention the passing of actor Anton Yelchin who played Ensign Pavel Chekov, the Russian navigator in the new film series.  Yelchin has been described by those that knew him as "a true artist – curious, beautiful, courageous."   Yelchin has 4 posthumous releases coming out over the next year including: "We Don't Belong Here – 2016," "Porto – 2016," "Rememory – 2017" and "Thouroughbred – 2017."  His portrayal of a young Ensign Chekov was spot on and gave the character a certain youthful exuberance that made him one of our favorites in the star studded cast.   Our thoughts and well wishes go out to his family, friends and fans during this difficult time.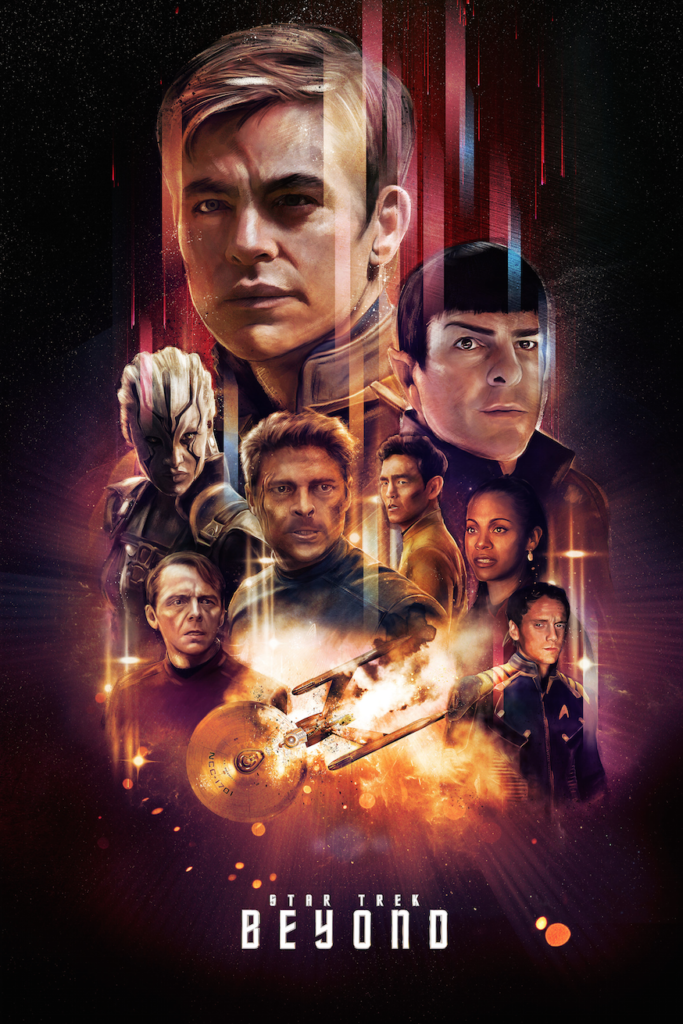 by
Rich Davies
Over the years, Star Trek has had quite a bevy of celebrities and actors who have boldly gone where no one has gone before.  Here is a list that will give you and idea of just who may have snuck in there that you didn't know about. (There are more, but here are a few):
James Worthy (famous Laker Basketball player)
Tom Hardy (before he wandered the post apocalyptic wastelands of Mad Max's world, he shaved his head and played a nasty Romulan clone of Picard.)
Chris Hemsworth ( put down Mjolnir long enough to captain his own starship….for a few moments)
Stephen Hawking (one of the smartest people on the planet)
Dwayne Johnson (aka can you smell what the Rock is cookin?)
Tom Morello (took time out from rockin' your face off with Rage Against The Machine to have a small cameo)
Wallace Shawn (From Princess Bride…INCONCEIVABLE!)
Andy Dick (funny man from News Radio)
Seth MacFarlane (brilliant mind behind Family Guy and Ted)
Jason Alexander ( one of Seinfeld's trusty sidekicks and hand model)
Joe Piscopo (former member of Saturday Night Live who married his babysitter in real life)
Iggy Pop (if I have to tell you about Iggy Pop…SHAME ON YOU!)
Christopher Lloyd ( left Marty behind and went WAY into the future as a Klingon)
Ron Perlman (hung up Anung Un Rama's trench coat to appear in Star Trek Nemesis)
Bryan Singer (joined Tom Hardy in Star Trek: Nemesis, minus all his mutant buddies.)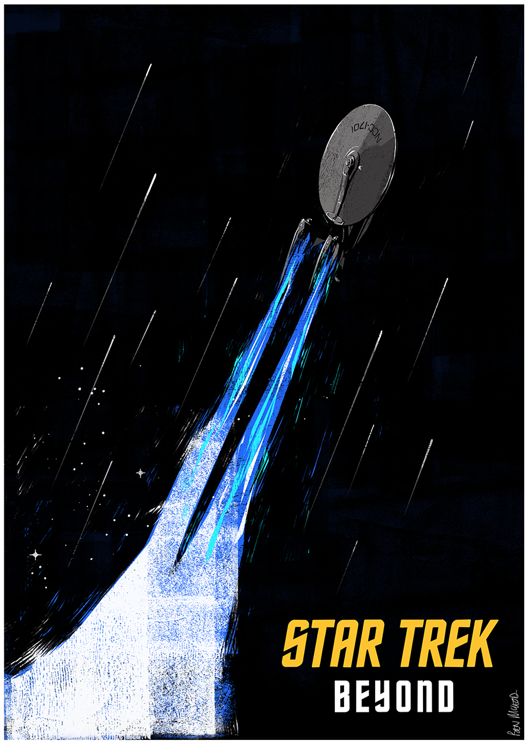 by
Ben Mcleod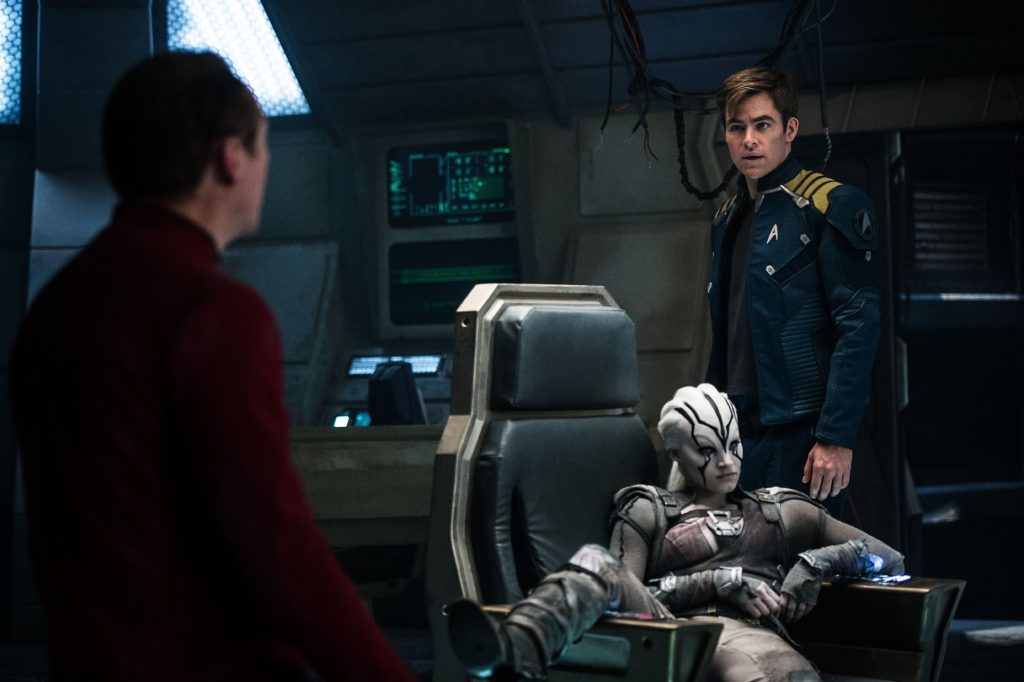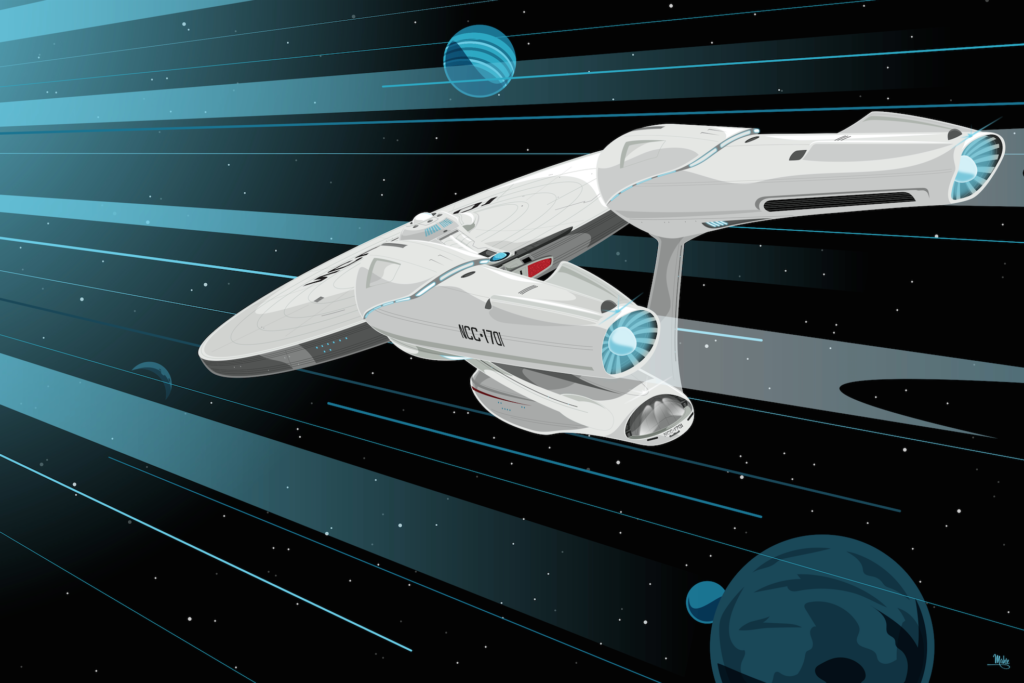 by

Mike Mahle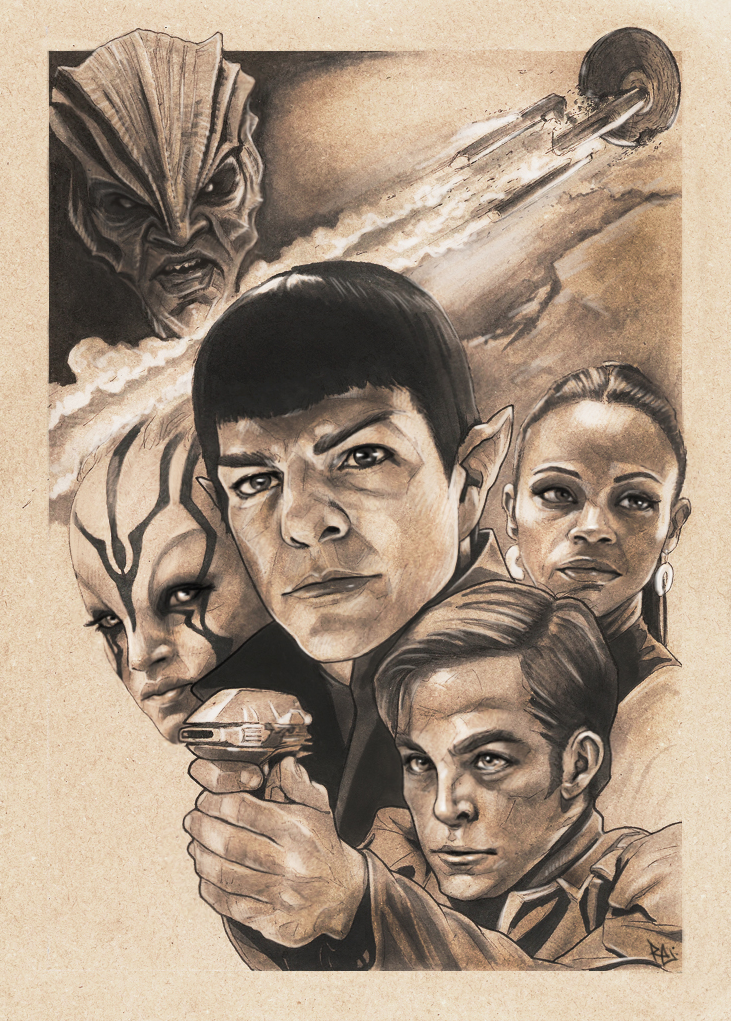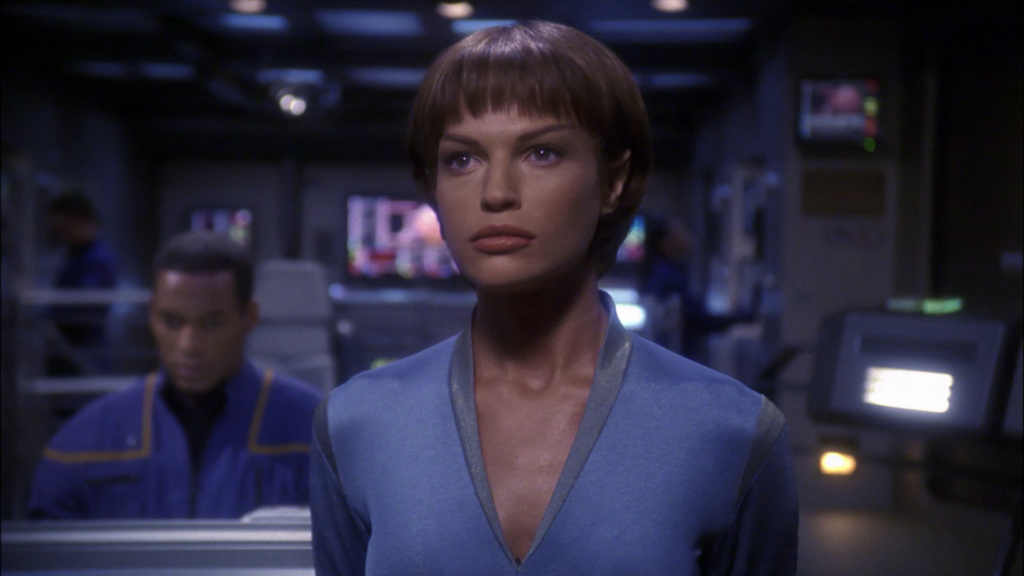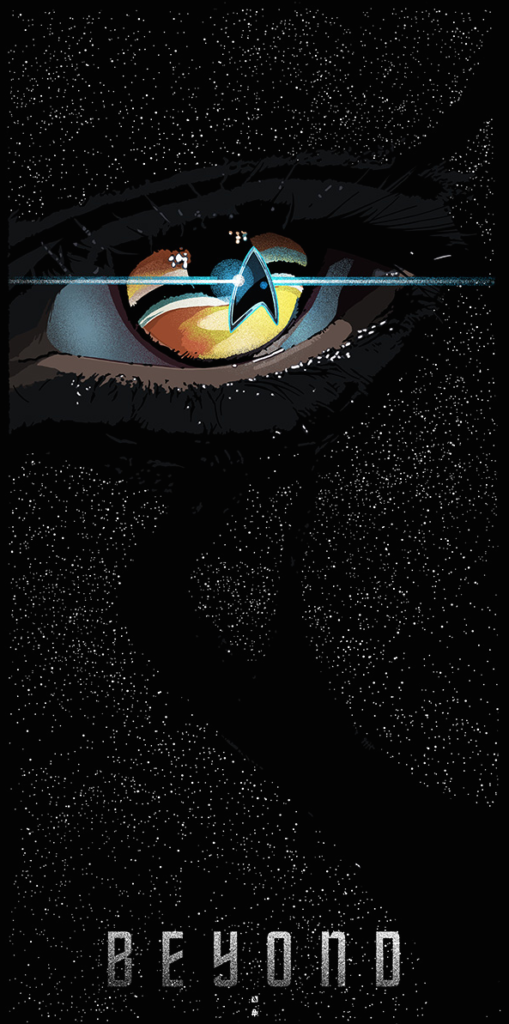 by
The Dark Inker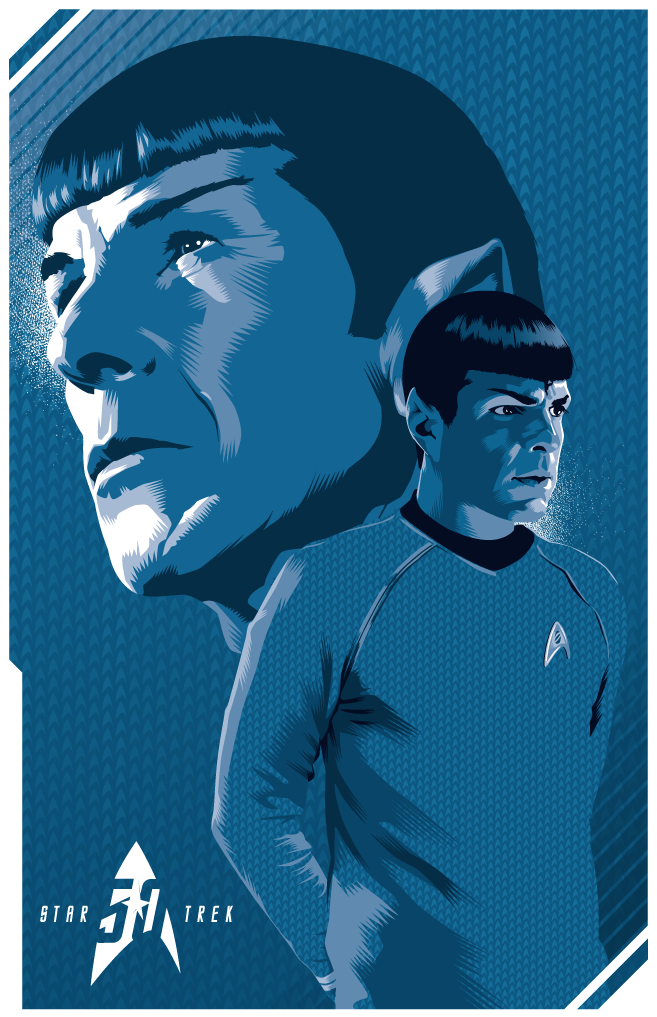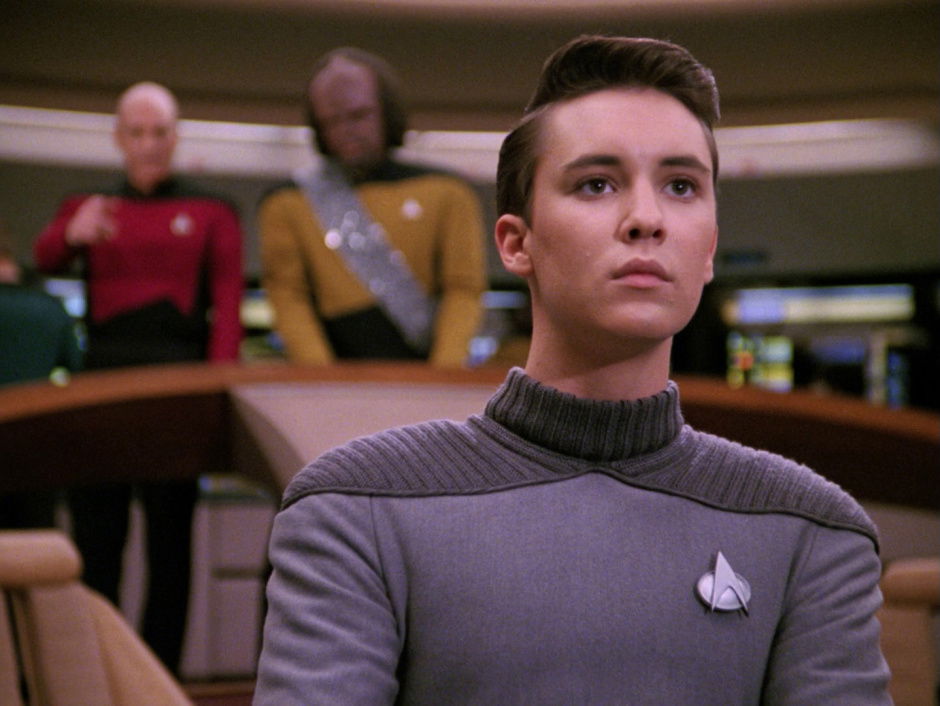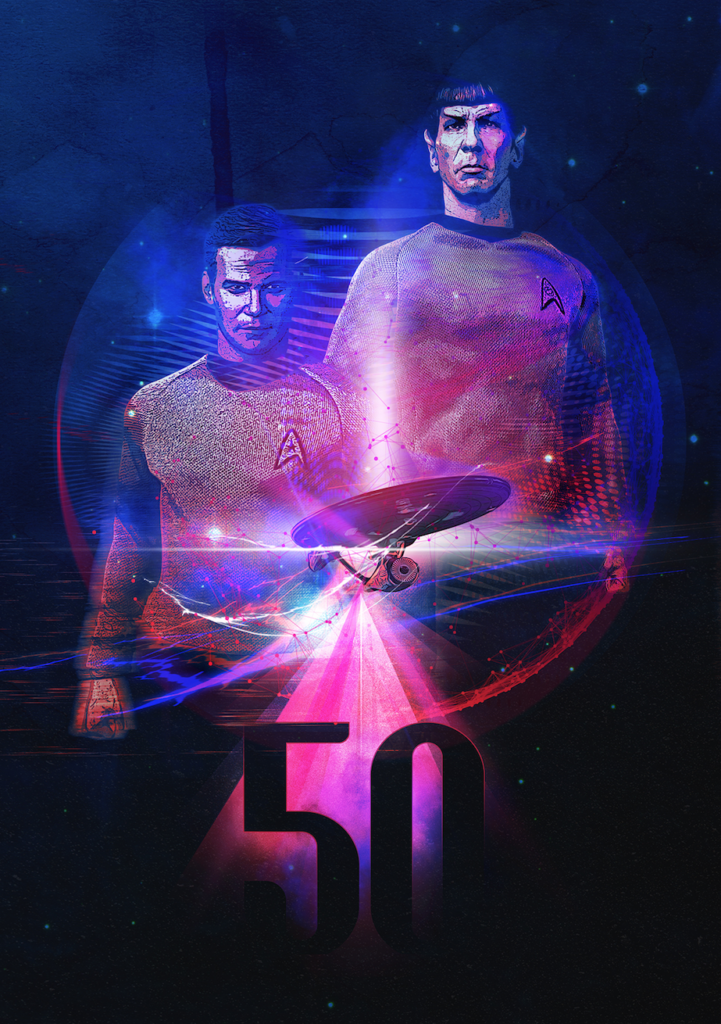 by
Chris Malbon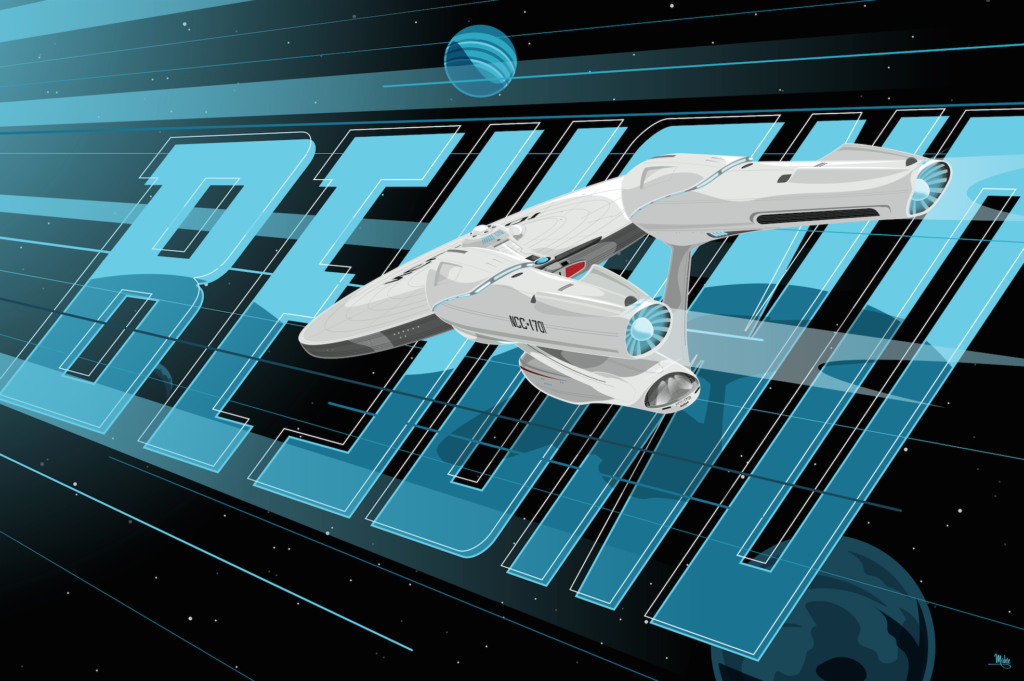 by
Mike Mahle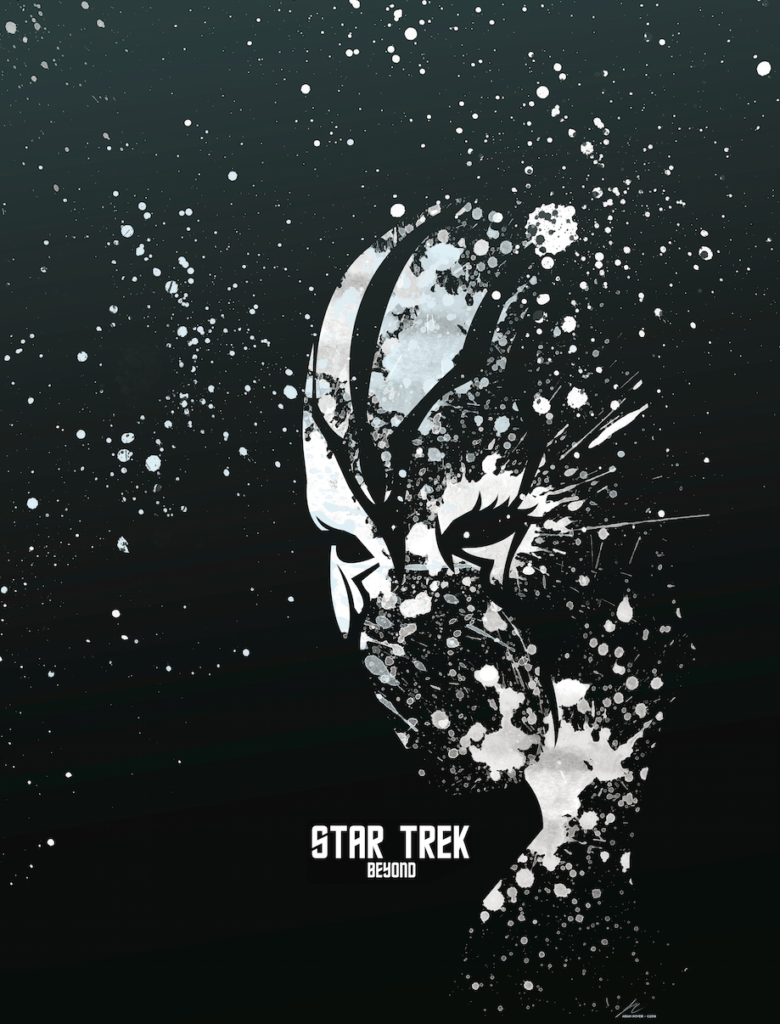 by
Arian Novier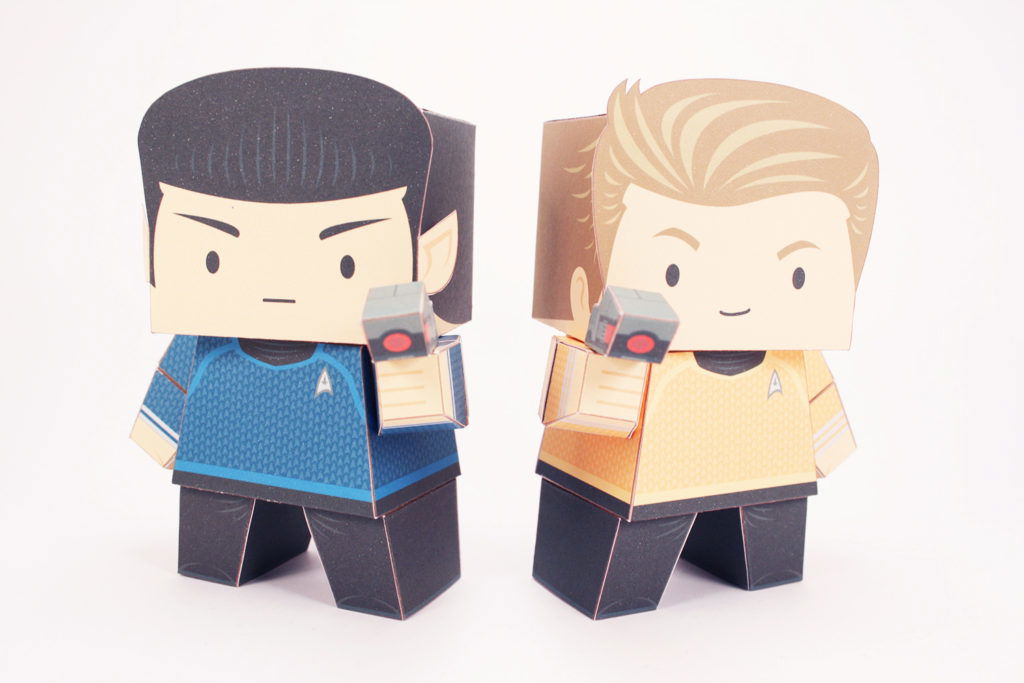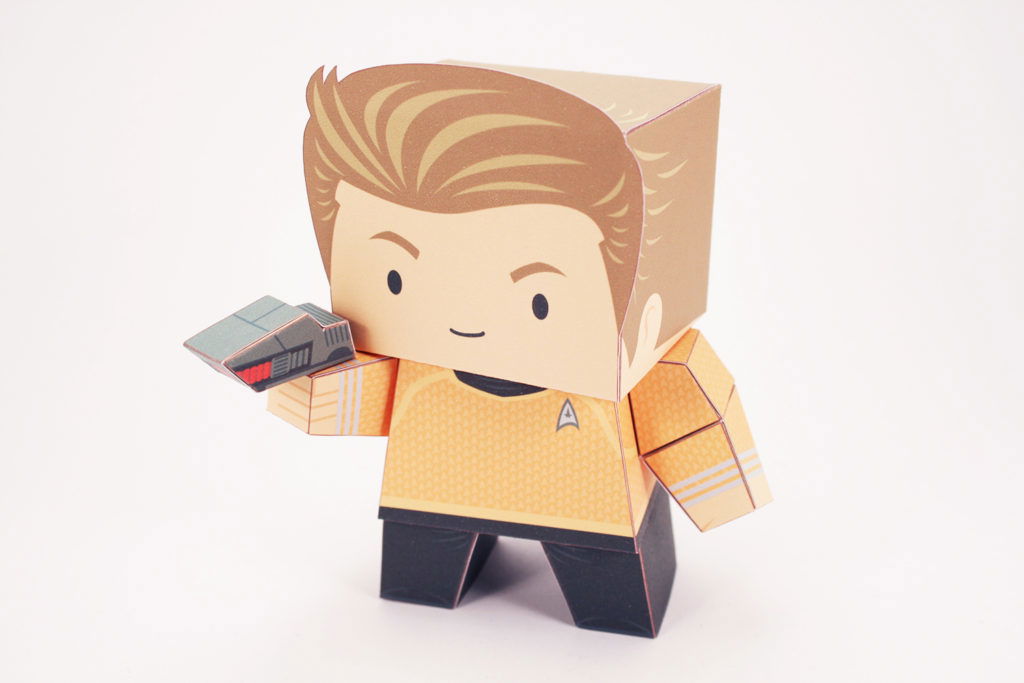 Calvin is a new member to our group and we absolutely love his designer paper figures.  This is his first project with us and we can't wait to see what he comes up with next.  If you click HERE to go to his OFFICIAL WEBSITE, starting Saturday, these figures will be available to download for free.  Yep, we said free.  Print them up, cut, fold, tape them together and BAM!  Kirk and Spock are ready to set their phasers to stun and protect your desk, bookshelf or any other space that needs protecting.  (Share your photos with us if you get them all set up!)
!!! SWEEPSTAKES  !!!
As a thank-you to the fans, we will hold a sweepstakes to give away 3 posters from the entire project.  All you have to do to be entered into the random drawing sweepstakes is follow us on TWITTER and tweet the following message:  #Myfavoriteprint in the @PosterPosse's #StarTrekTributeSweepstakes is by (add the artists name or twitter tag here) and include a snapshot of the art.
That's it… it's that easy.  You can enter as many times as you would like but it must be for art by a Poster Posse member.  (Sorry, no guest artists art is eligible.)  We shall choose 3 random winners on Friday July 15th and each winner will receive one print from their choice(s).
Thanks to all the artists that participated in this project.  It was great seeing the guest artists bring their style to our project and be sure to click the links for ALL the artists involved to learn more about them and see more of their impressive portfolios.
Use these official Star Trek links to keep up on news about the new film BEYOND, the new TV series coming out next year and all the upcoming Star Trek conventions: