"Look out ! …. Sorry guys, I tried…."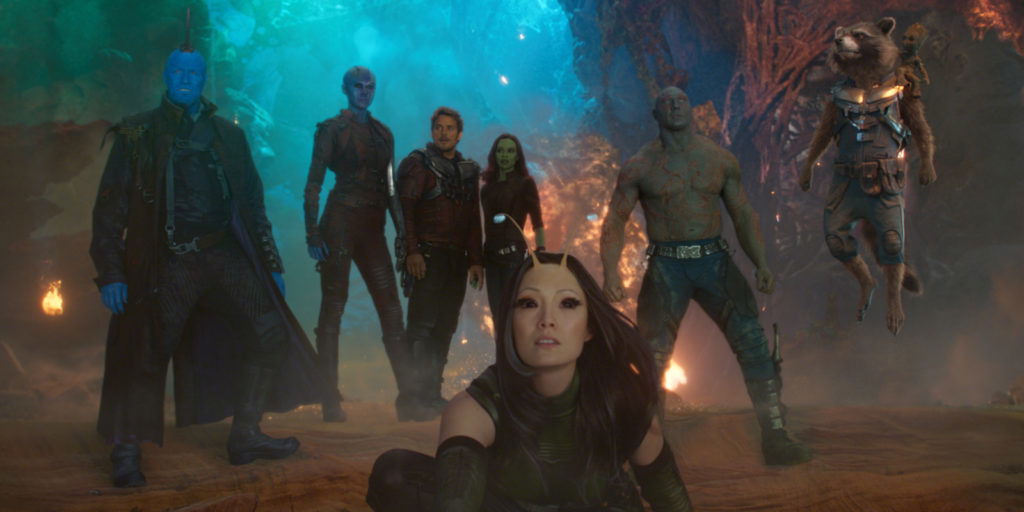 This week is FLYING by and that's good because we can't wait, to go to the theater this weekend to see "Guardians of the Galaxy Vol. 2."  (Our 11 year old son is now asking every morning, "Can we go today, can we go today?"  Seriously… we are going as soon as he gets out of school on Friday…. and then probably again on Saturday or Sunday.)  Thank you to all the folks that have been checking out PHASE 1, PHASE 2 and PHASE 3.  We can't express how much it means to us that you appreciate our take on the film through these posters.  (Perhaps we should do a sweepstakes giveaway for some of these prints?  Let us know on our TWITTER feed if you think that is a good idea.)  Regardless, here is Phase 4 of our tribute, we hope you enjoy viewing it as much as we did creating it.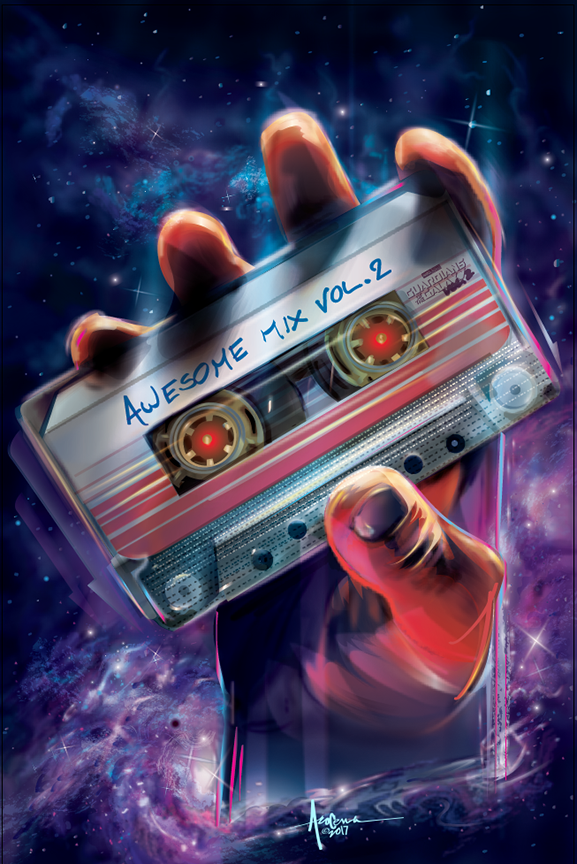 Poster Posse Pro Orlando Arocena went back to 1980 to parody a raucous album that reached platinum status here in the states and the mashup leaves us singin…
"So much for the golden future I can't even start
I've had every promise broken, there's anger in my heart
You don't know what it's like, you don't have a clue
If you did you'd find yourselves doing the same thing too…"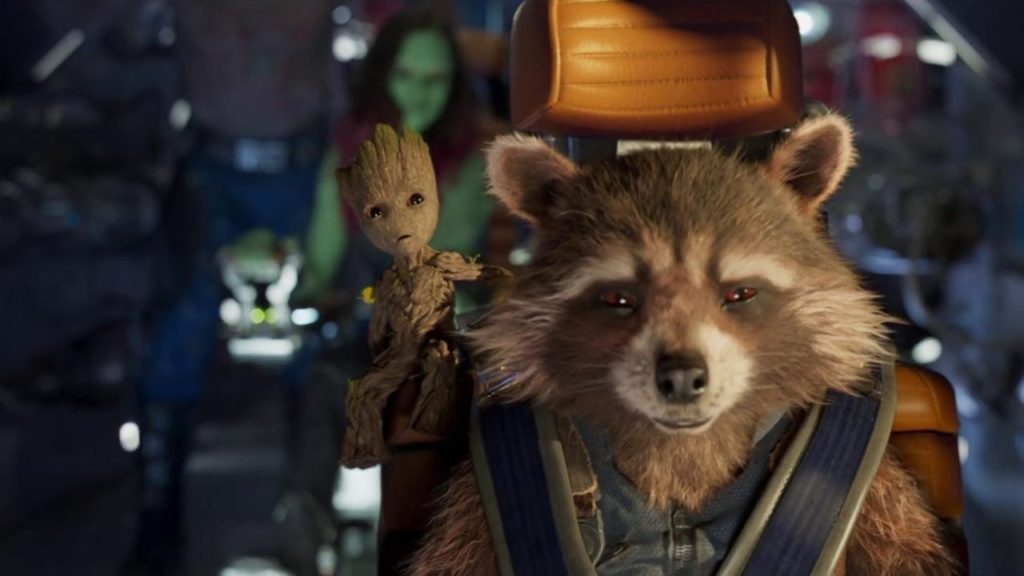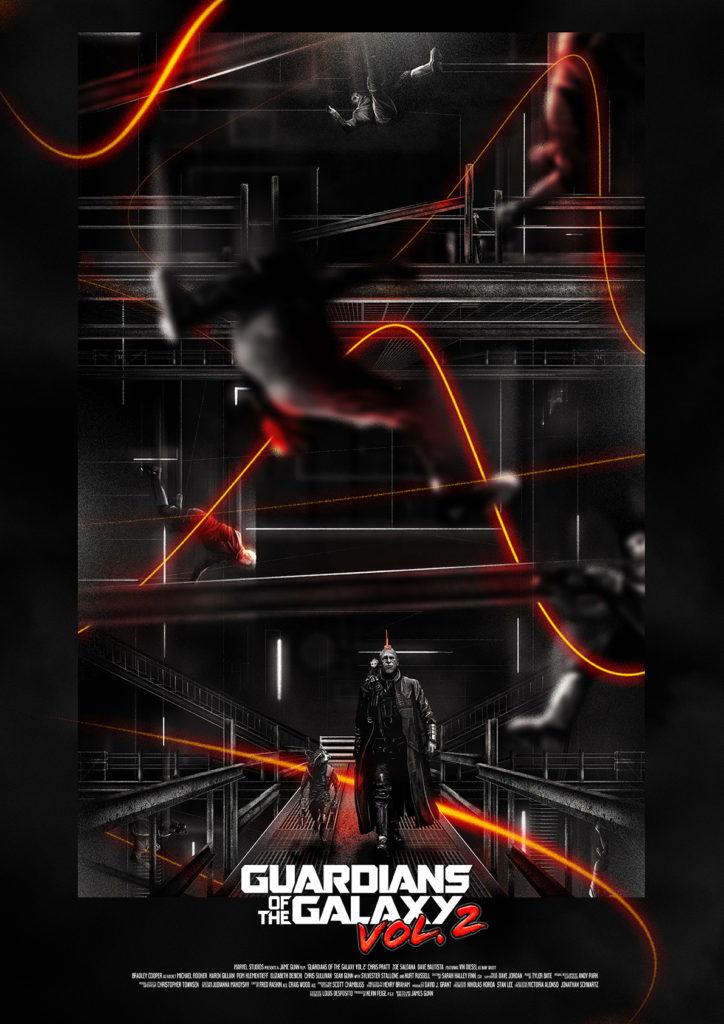 Poster Posse Pro Luke Butland went down to the wire getting his regular and variant version done.  He's lucky enough to have already seen the film and has teased us with the fact that he has dropped an Easter egg in here.  We'll give this a fresh look over the weekend AFTER we see the film and try to pick it out.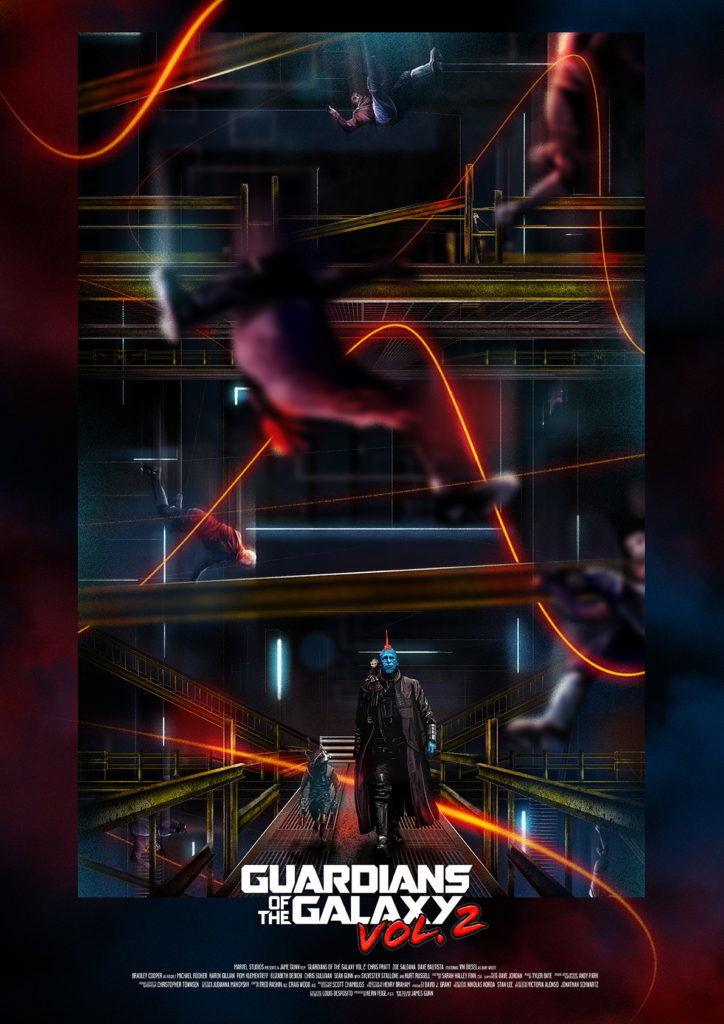 She's wonderful, stunning, warm, alluring, radiant, and …. well, she looks fantastic blue or green.  Here is Zoe Saldana talking about the film and her character Gamora.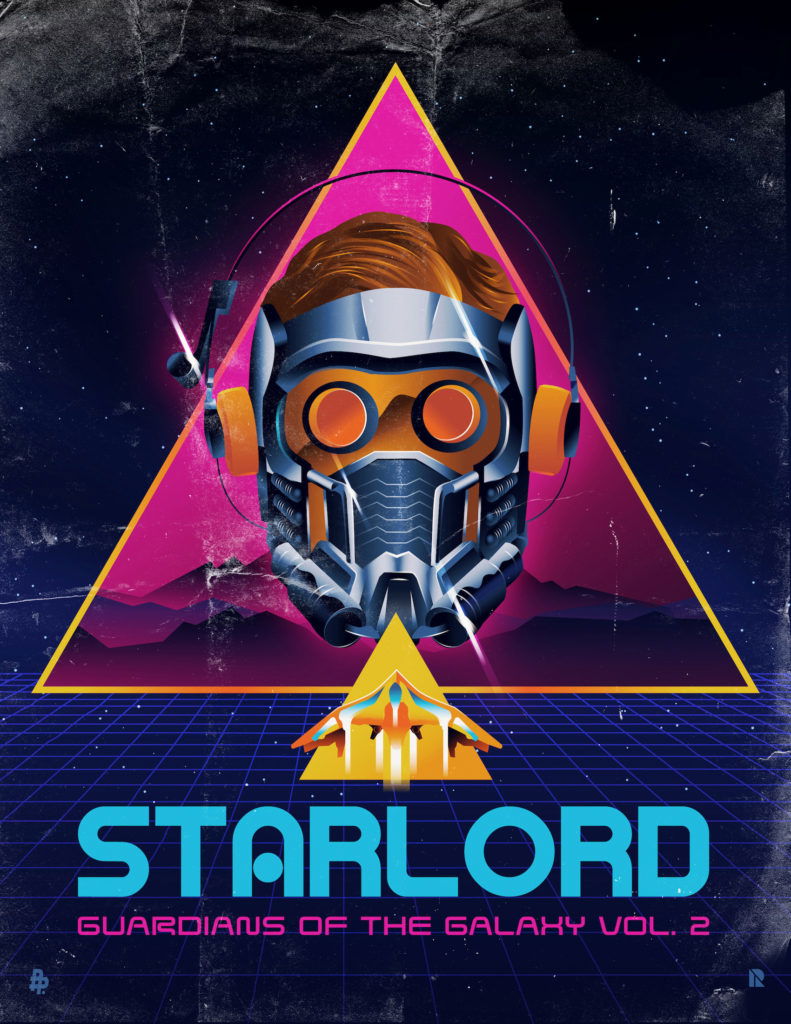 Here is Poster Posse Pro Rodolfo Reyes neon tribute that channels old video game boxes from our youth.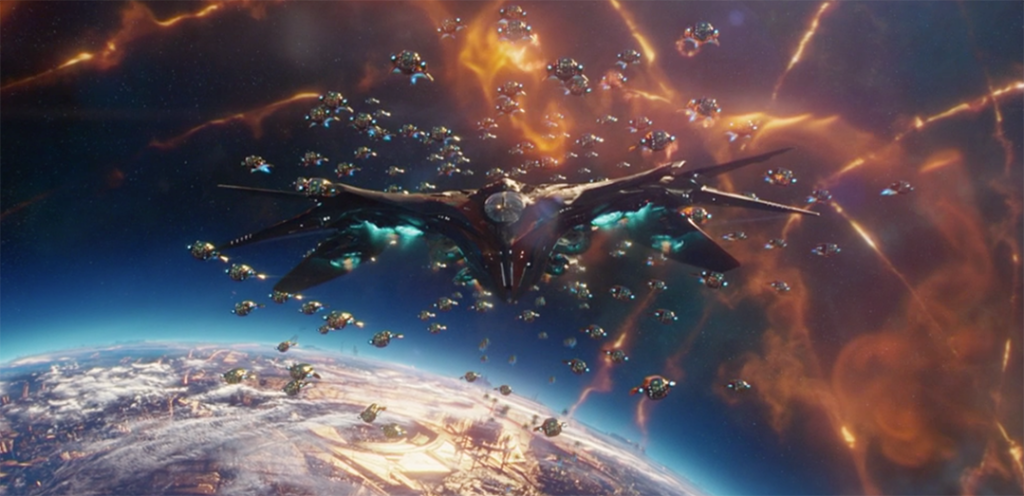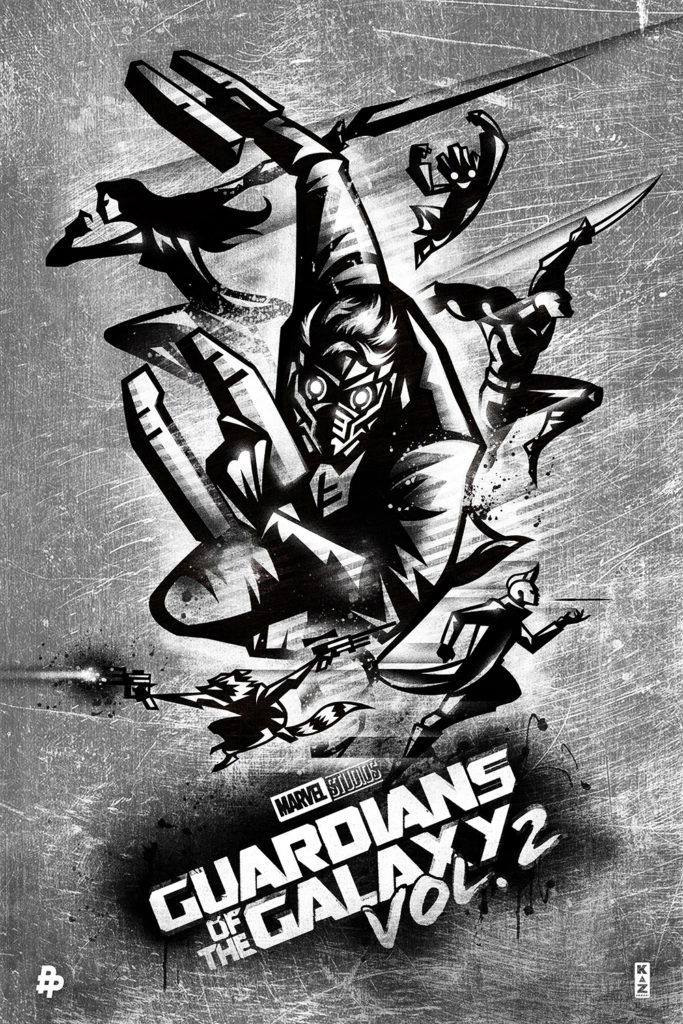 Both Kaz Oomori (above) and Doaly (below) did variant versions of their prints as well.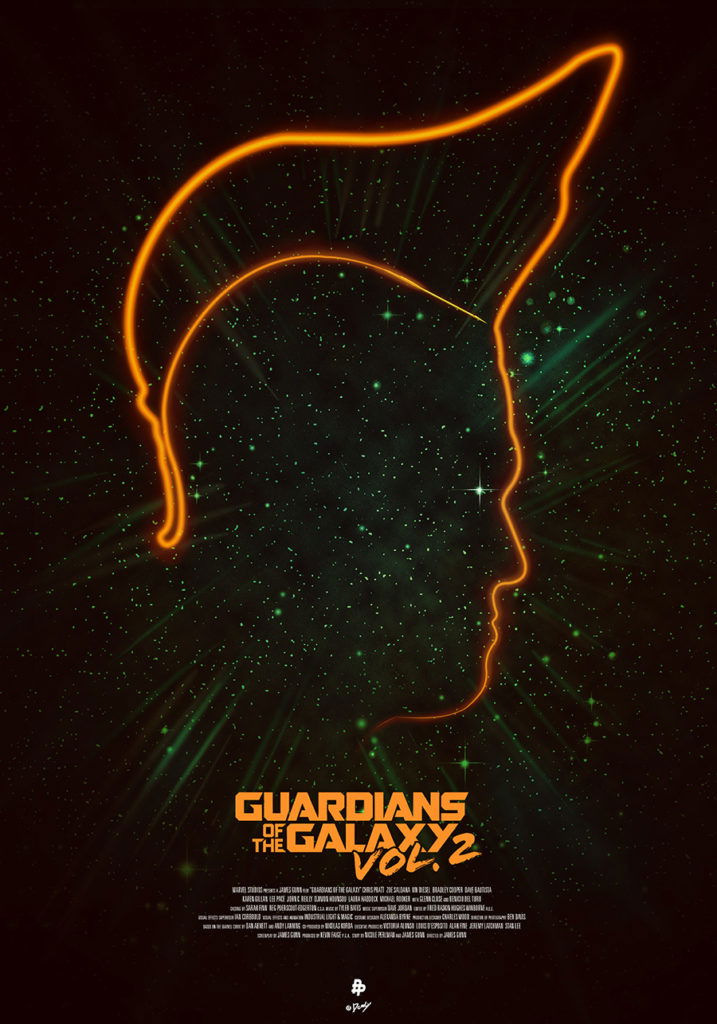 James Gunn did an interview with Slashfilm and he talked about doing the third installment in the Guardians of the Galaxy franchise.  Here is what he had to say.
"The third one I really wasn't sure I was gonna do.  This one I went very, very deep.  And it was…I didn't see much else in life besides this for the past three years.  So I wasn't sure that I wanted to do the third one.  And they offered it to me a long time ago.  And I was like "I love the characters, I didn't wanna let them go but I needed to be sure that I felt that there was a story that needed to be told."  And that I wasn't just doing it for money.  And that I wasn't just doing it because the fear of being left out.  If that makes sense.  I wanted, I didn't wanna do it just because I didn't wanna see some other director directing a Guardians movie.  So it took a long time to decide to do it."   Well we are all glad you are coming back for Vol. 3.   (You can read the full interview with Slashfilm HERE.)
Come back tomorrow for the 5th and final phase in our tribute to what is easily one of our most anticipated films of the year, "Guardians of the Galaxy Vol. 2."   Be sure to check out and sign up for our social media feeds below:
As an added bonus, here is the gentle giant, Dave Bautista talking about Drax.  We've included this because, well…he's awesome but he is always so soft spoken and quite that we really enjoyed hearing him talk about his perceptions of Drax.  Enjoy.