The other day we showed you Grey Matter Art's first officially licensed Marvel print by Matt Ferguson.  Looks like they are keeping things moving with their second officially licensed Marvel print, this time utilizing the fantastic talents of Marko Manev.  This time out they are releasing a double batch of awesomeness.  First up is Captain America, the First Avenger and the companion print features the insatiable, Red Skull.
We spoke to Marko about the project and here is what he had to say.
#PP – Can you give us some insight how this project came to be?
MARKO – Grey Matter Art has contacted me since their very beginning, but my schedule didn't allowed for us to collaborate till this project. When they told me that they have a Marvel license I immediately asked them to work on a Captain America piece. I just love that character.  It's funny because it's a full circle now… What actually inspired me to start making posters was when I saw the first pictures of Captain America's Shield for the movie, back when they revealed it for SDCC 2010. I was so captivated by the design and the whole idea that they are starting a Marvel Cinematic Universe, I started working on my Marvel Minimalist Posters and yes the first one was the Captain America one.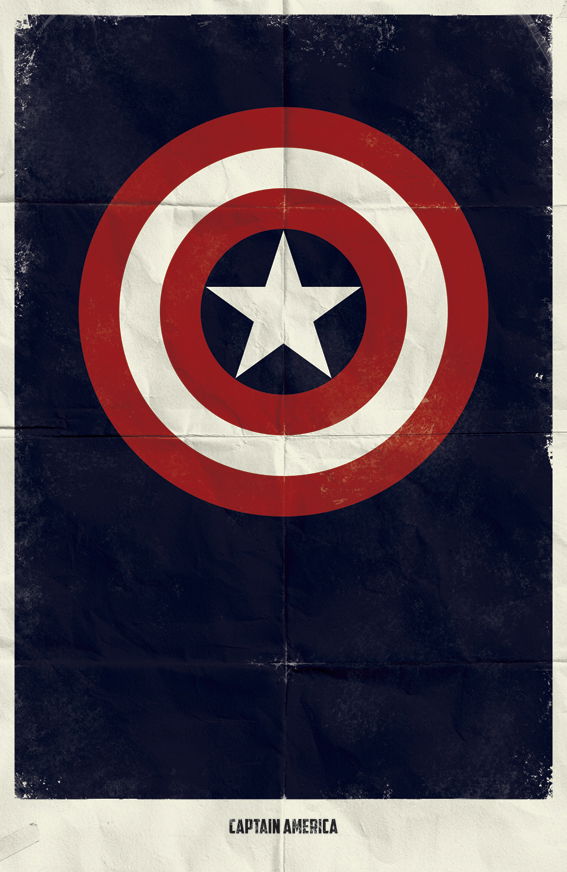 (Marko's Minimalist Marvel piece)
#PP – We love that you are doing a diptych featuring good vs evil on this project, was the theme always 2 prints or did it evolve that way?

MM – Actually no. I started with the Captain America piece centering around his sacrifice in which he saves the world. I didn't want to depict Cap in an action pose, instead I wanted to capture his modest character and his love for Peggy.  As time passed, working on the piece, I realized that a Red Skull piece would complement it pretty well. In contrast to Captain America, I wanted The Red Skull piece to be centered around his hunger for power.  It's interesting to mention that even though the characters are the complete opposite of each other, both pieces are depicting their ambitions which result their ultimate end… at least in that movie.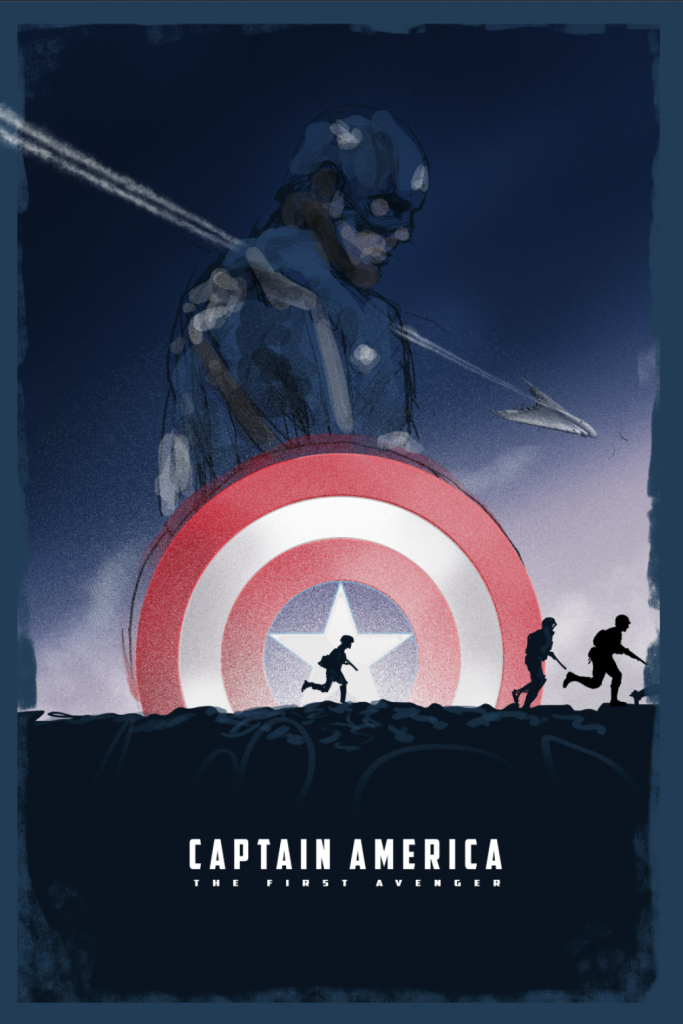 (Early W.I.P.)
#PP –  How many iterations did you go through before you settled on the final images?  
MM – Not that many. I had Caps image in my head from the very start. The Red Skull came naturally because basically it='s the mirror image of Cap's piece.
#PP – What was the toughest part or biggest challenge of this project?
MM – The biggest challenge was Cap's costume. It's such an iconic design and I wanted to be as accurate as possible, but reference images for the back of the costume are very rare to find.
Grey Matter Art under license from Marvel Studios is proud to announce a new officially licensed, limited edition screen print for the super hero action movie,   "Captain America: The First Avenger" by artist Marko Manev. This is the first time GMA has worked with Marko, and they are presenting a 2 part poster that work together to form a dyptich. This is the second project Grey Matter Art has released under Marvel, and the first time working on a Captain America Poster.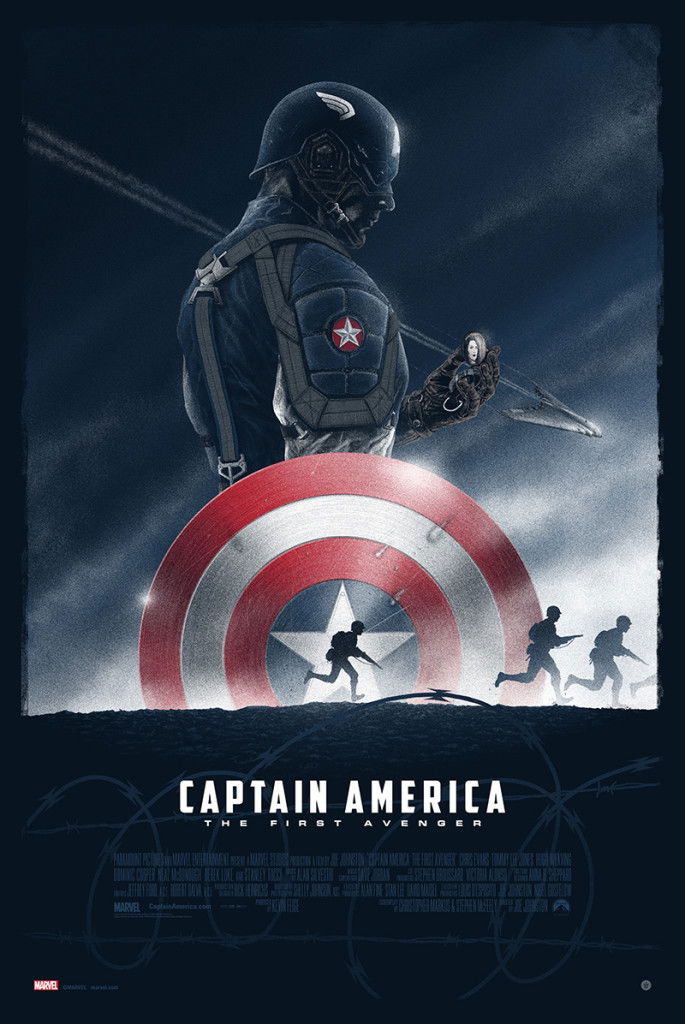 These posters will be released on Wednesday, June 17th on Grey Matter Art's OFFICIAL SHOP PAGE at a random time between 1:00-2:00 PM est. at www.greymatterart.com Follow Grey Matter Art on Twitter to get a jump on the drop. Also, follow Grey Matter Art on Facebook and Instagram, and sign up for their website newsletter for all future news & information.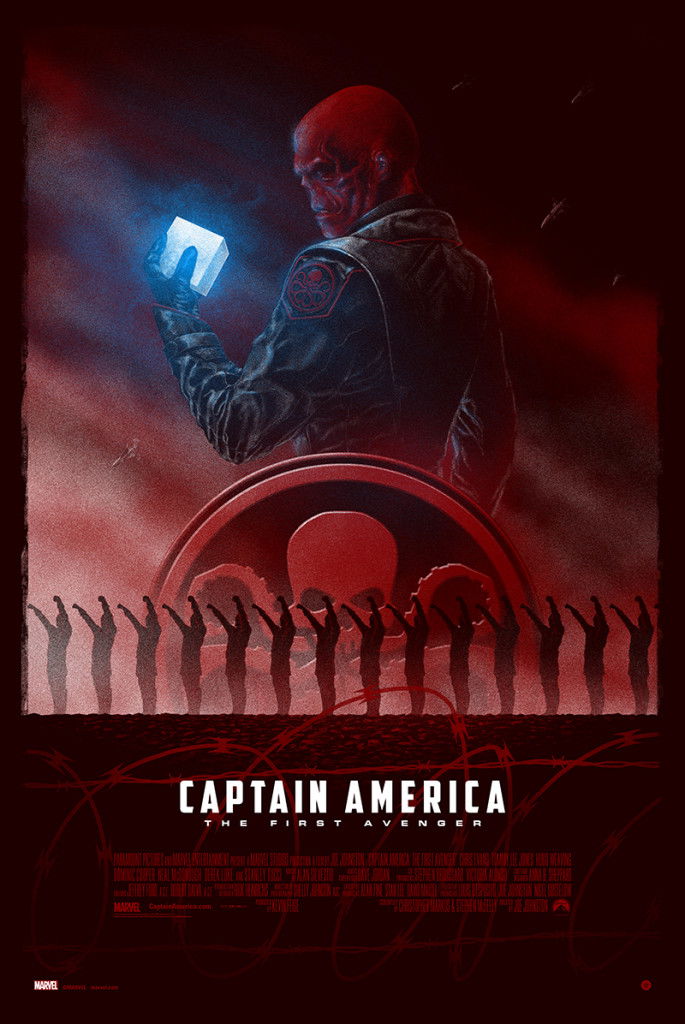 Artist: Marko Manev
Size: 24 x 36
Regular Edition (Captain America/Blue Version): 200/ $50.00
Variant Edition (Red Skull/Red Version): 200/ $50.00 
Regular & Variant Edition Set/ $90.00
Printed By: D & L Screen Printing
Follow Marko Manev on TWITTER for info about upcoming releases.  While you are at it, head over to his BEHANCE page to see the rest of his sensational portfolio and cruise on over to his OFFICIAL WEBSITE and hit his store to pick up some other gems he has.