Posse member Salvador Anguiano started his whole "Prolific Profiles" series earlier this year with his work in our 75th Anniversary Tribute to Batman. Today, Sal is launching phase 2 of his "Prolific Profiles" series with "a visual recap of the old web-head's history through comics, animation and movies."
Created by legendary writer-editor Stan "The Man" Lee and writer-artist Steve Ditko, Spider-man has been slinging webs and saving lives since his first appearance in Amazing Fantasy #15 back in 1962.  Since then he has undergone many changes.  Salvador Anguiano has created a fantastic new print that highlights 50 iterations of High school student, Peter Parker's, alter ego.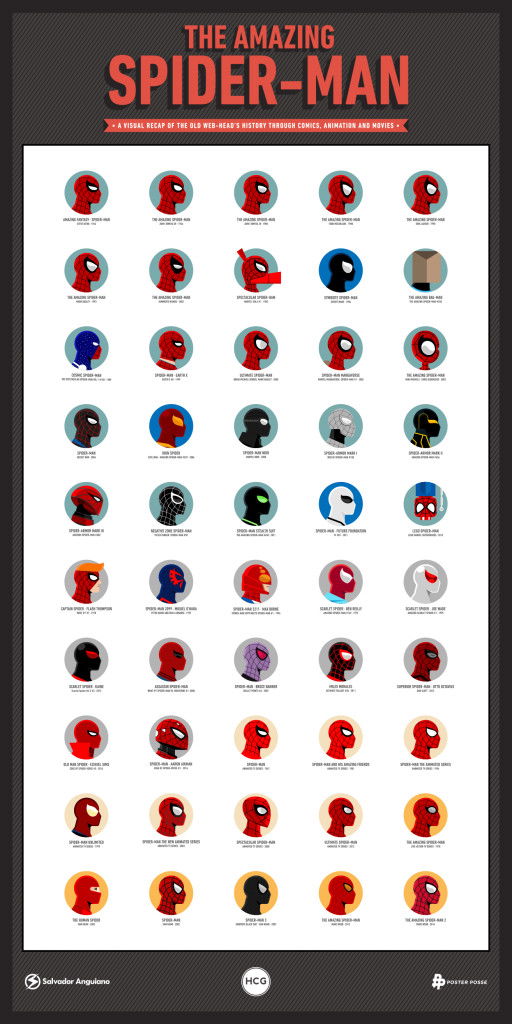 "The Amazing Spider-man" by Salvador Anguiano
18″ X 36″
Giclee edition of 50
$50
Here are some words about the project from Salvador.
I love Spider-Man, he used to be my favorite hero all the way back to when I was at least 5 years old, then One More Day came along and I just stopped reading… breaking up Pete and MJ was too much.

Still, I love the character. Design-wise I think it's even better than Batman and Superman, it's just a striking design and the fact that there are basically only two basic versions of the character should tell you how great and timeless Spidey's design is. Every artist chooses to work from either the classic Romita Sr. version or the Todd McFarlane one, sure the argument can be made that Mark Bagley defined the character's look for most of the 90s and even the movies but still he worked from the McFarlane template. That's how good Steve Ditko's character is!

I wanted to pay homage to one of the fundamental characters in pop culture, his history and the visual transformations he has gone through, there's just so many to choose from so I tried to stay close to what resonates with me, whether it's the way an artist draws his eyes or just the sheer coolnes of the design.

It is fun trying to convey the uniqueness of each version within a determined set of restrictions, this time being the minimalistic, geometric style I chose to work on.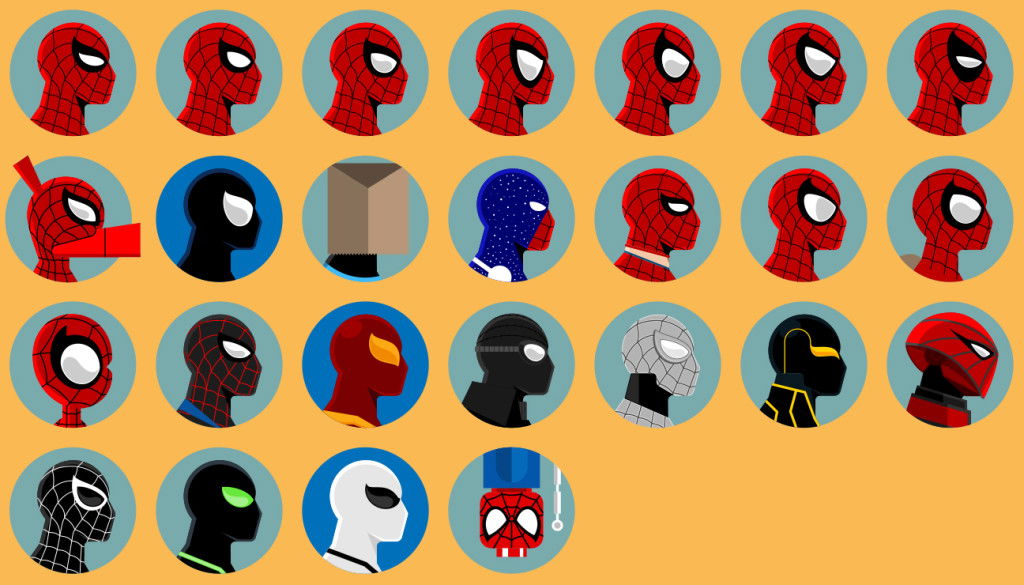 We were thrilled to see LEGO Spider-man make his appearance, the same as LEGO Batman did in Salvador's first Prolific Profiles piece.  Like that first print in the series, there is a lot to love here and we are hoping to add it to our collection so it can go up on the wall next to Salvador's Batman print.  Follow Hero Complex Gallery on TWITTER to get the exact time that this one will be going on sale later today, Wednesday, December 31st, 2014.  Reach out to Salvador on TWITTER and let him know what his next topic should be for Phase 3 of his "Prolific Profiles" series.  Head on over to his BEHANCE PAGE to learn more about these incredible images.