"Daddy needs to express some rage"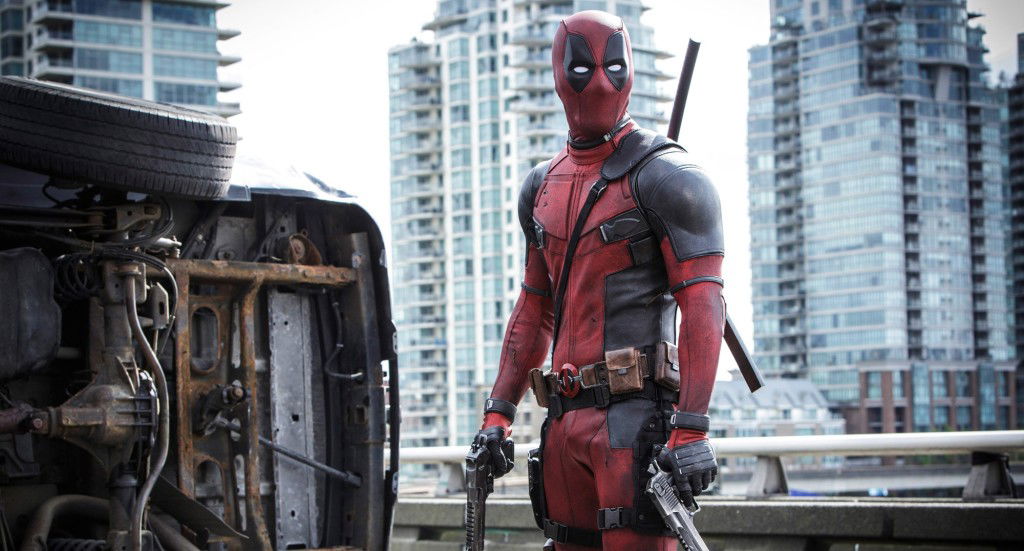 Let's face it, with "Deadpool" just over a week away, we can't stop touching ourselves, I mean, anticipating its arrival in theaters.  Yesterday we revealed Phase 1 of our tribute to The Merc With A Mouth and today….well today we unleash a little something we like to call…"Phase 2."  (#2 just sounded so wrong so we went with "Phase".)
For the last 11 years Ryan Reynolds has been on a quest to bring Deadpool to the big screen and finally….his perseverance and passion have paid off.  This is unlike ANY superhero film we have EVER seen.  Actually, he's an anti-hero but you know, "tomato, potato", (wait, that's not how it goes…)  Anyway, suffice to say, this one has been incubating for a long time and the birth of Wade Wilson on the big screen looks to be glorious.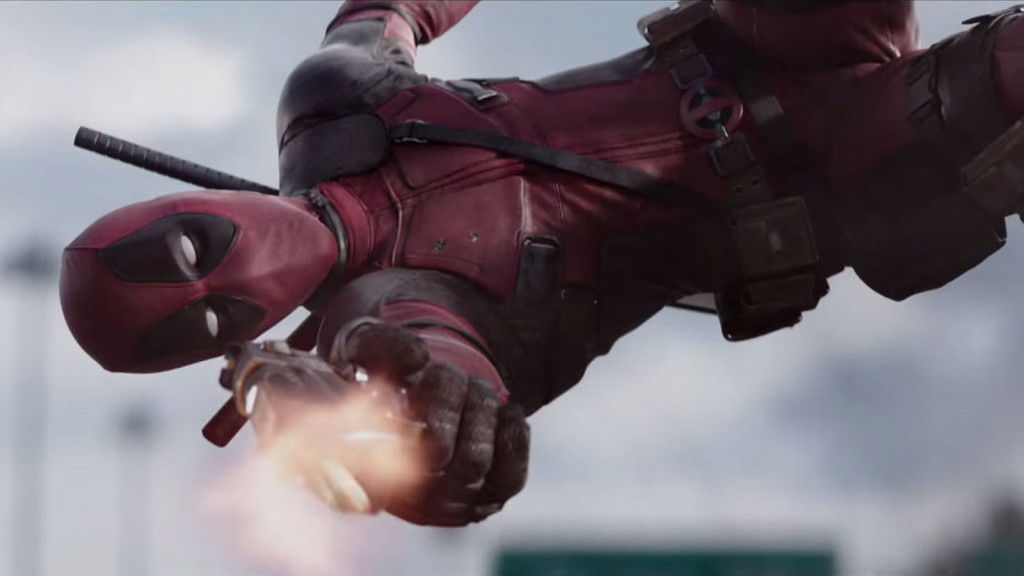 Today we are giving you another batch of beautiful, slightly raunchy, tribute images to the film that we believe will be a game changer.  As Ryan says in the interview above, whilst talking about Wade and the film itself, "he's funny, he's acerbic he knows he's in a comic book movie, it's super meta, it's super weird at times, it's hyper violent, pretty sexual, a lot of swear words, we don't sort of play by the typical rules of the super hero movie."  ( If we're being honest, he had us at "he's." )  Everything he said is EXACTLY what we want out of this film.  (Kuddos to Tim Miller, Ryan Reynolds, Rhett Reese, Paul Wernick, the cast of the film and 20th Century Fox for not being afraid to show this character in the light that best suits him…..)
Ok, that's enough babbling, let's do this….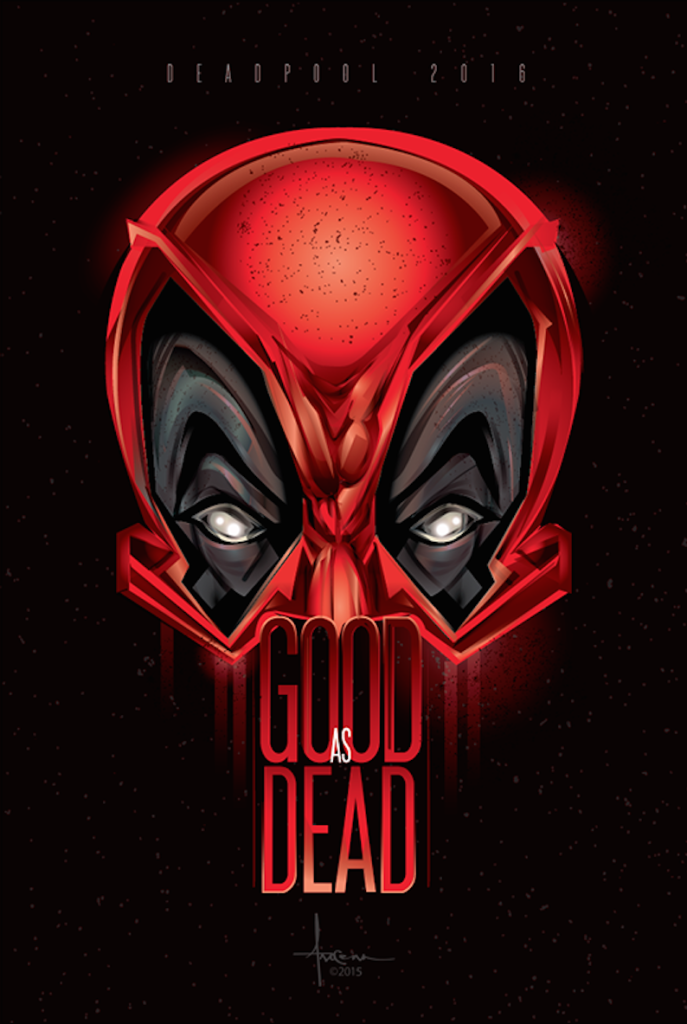 (heeeeeeee's baaaaaack.  We told you Orlando was amped for this film and here are 3 more prints out of the 10, (yes 10) he turned in.)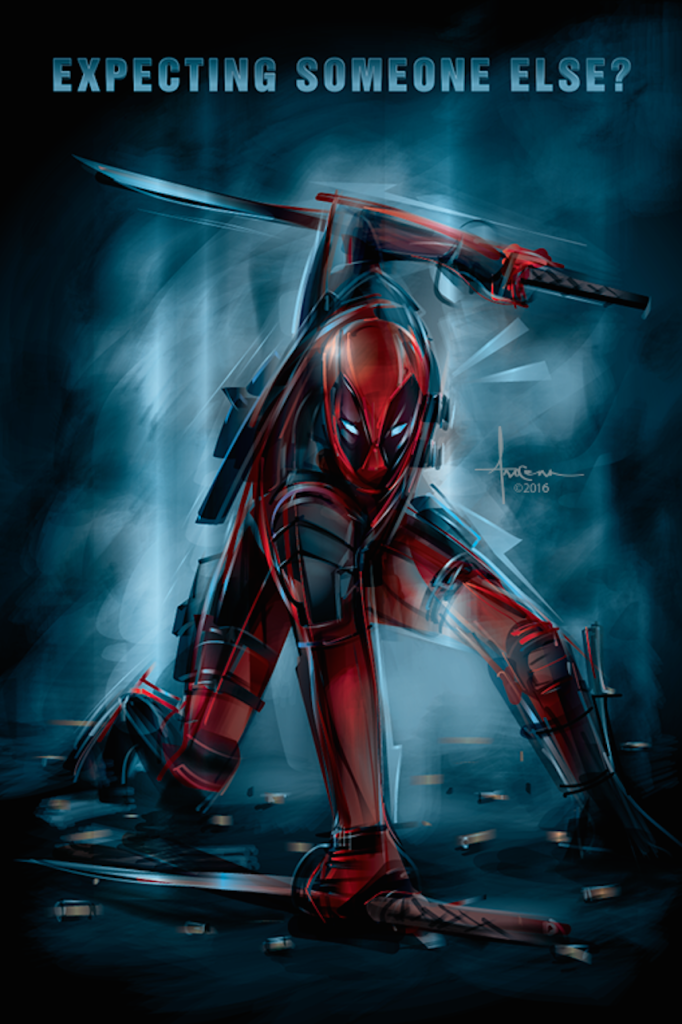 (there is a vague reference to someone else here but we juuuuuust can't put our finger on it.)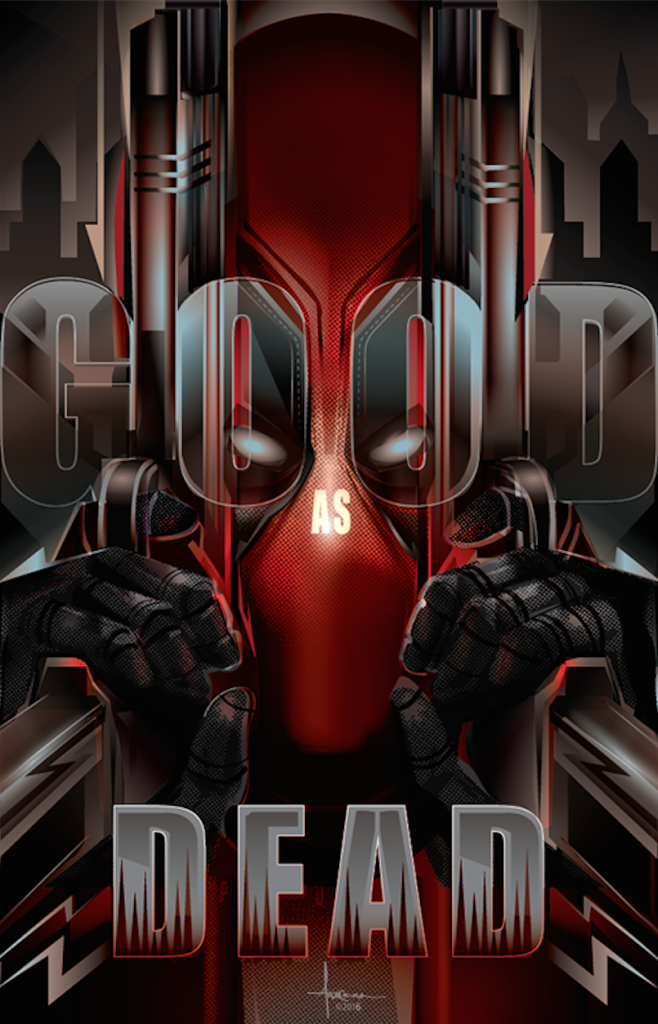 (oh, you can run but you can't hide…)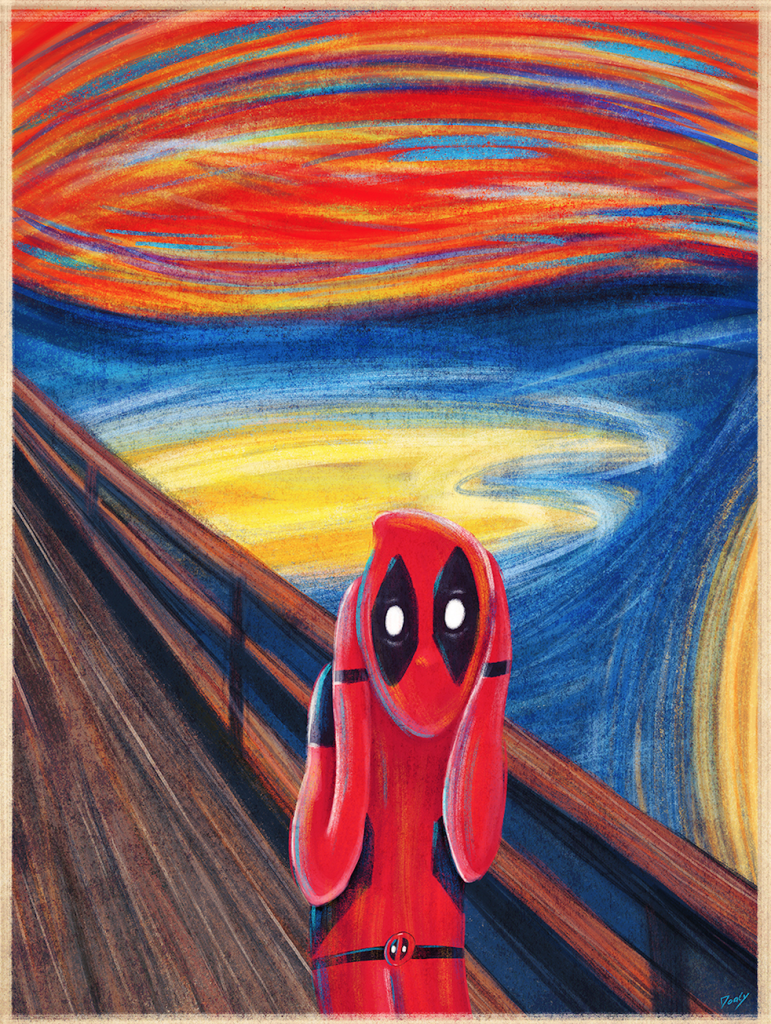 (Edvard Munch would be so proud)
(so THIS is what "artsy-fartsy" looks like…)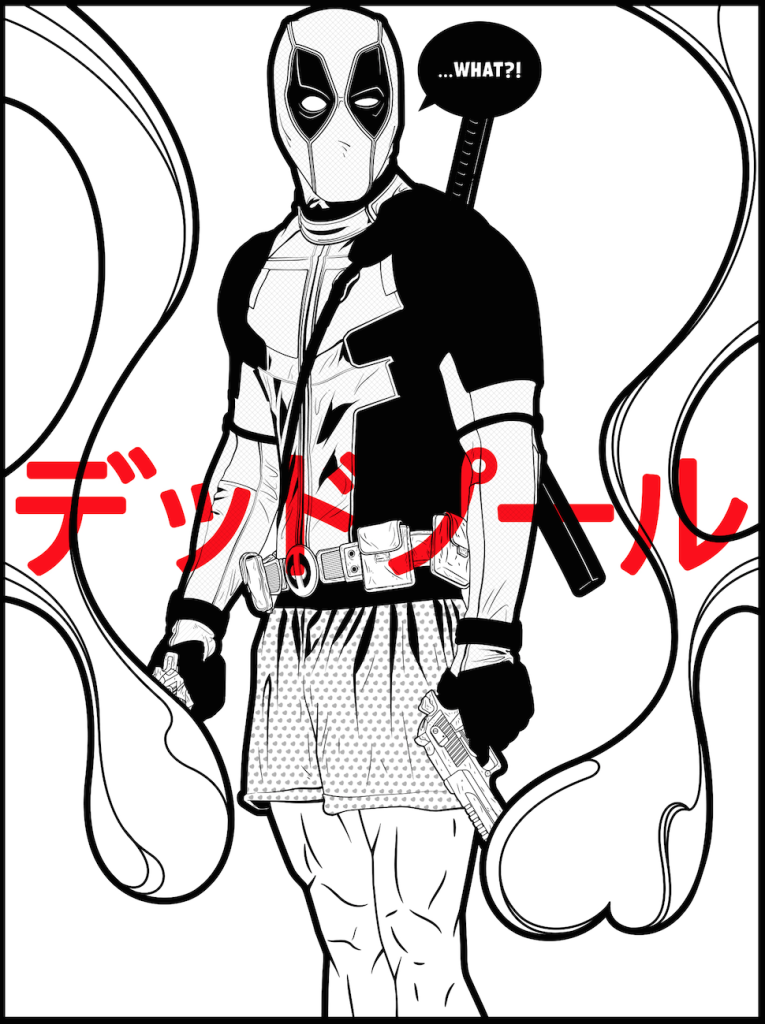 (mystery solved…..)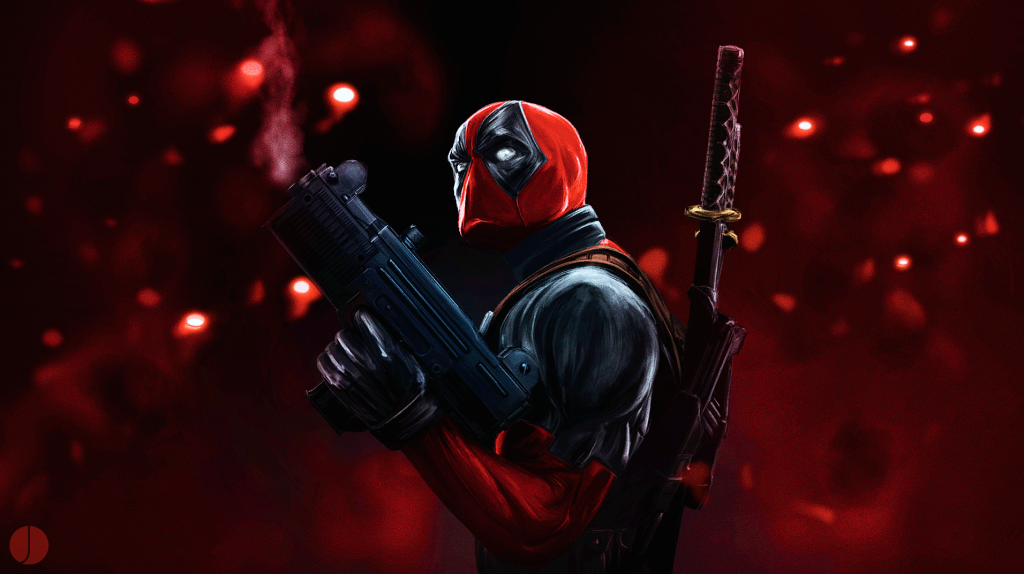 (here is my stoic look, it's also my good side)

(Shot through the heart and you're to blame Darlin' you give love a bad name)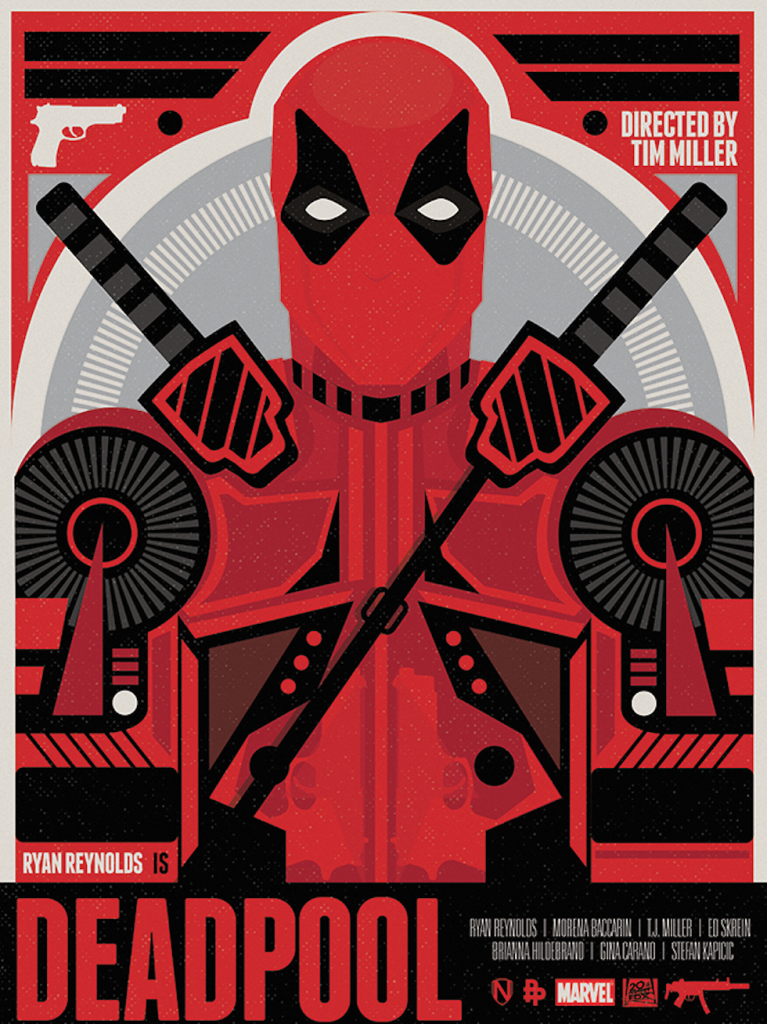 (does the color red make me look fat?)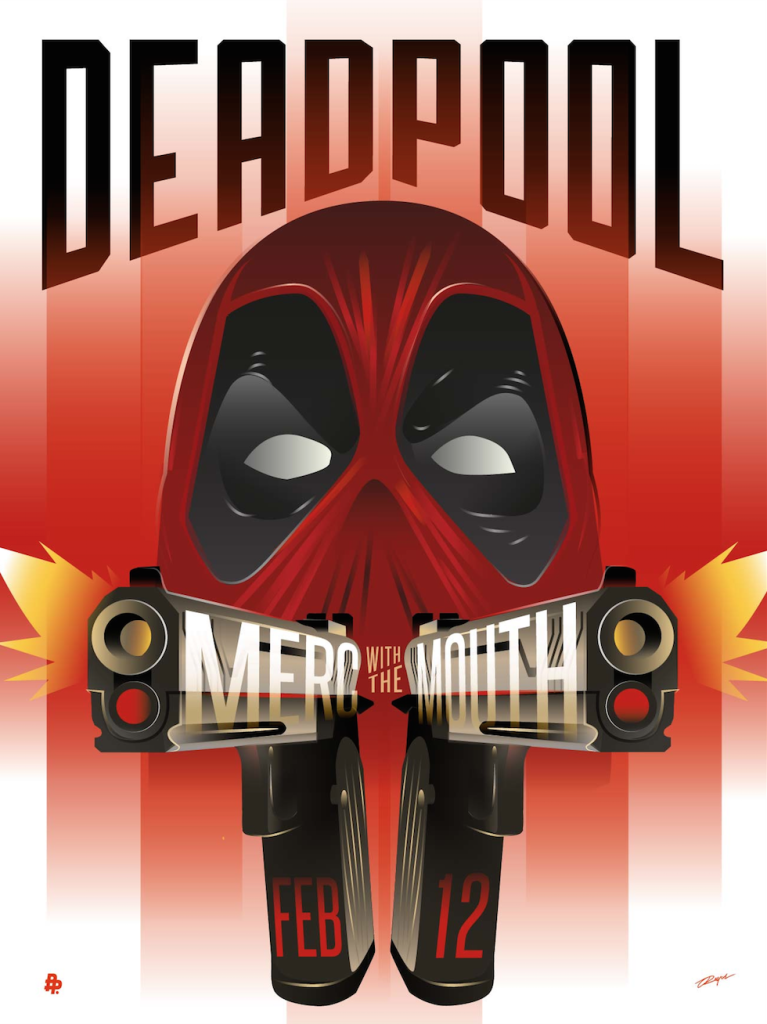 ( it's true, I tend to get a bit "lippy" )
Ok …ok, simmer down!  We'll be back tomorrow for Phase 3 of our tribute to 20th Century Fox's "Deadpool" and yes, it will offend someone, probably many people, but we're OK with that.  Thanks for all your support of Phase 1.  We have a lot of fun doing these tribute projects and it's great to see that fans and folks associated with the film dig it.  (Thanks Rhett, we're feeling a bit emotional that you think our project was "cool.")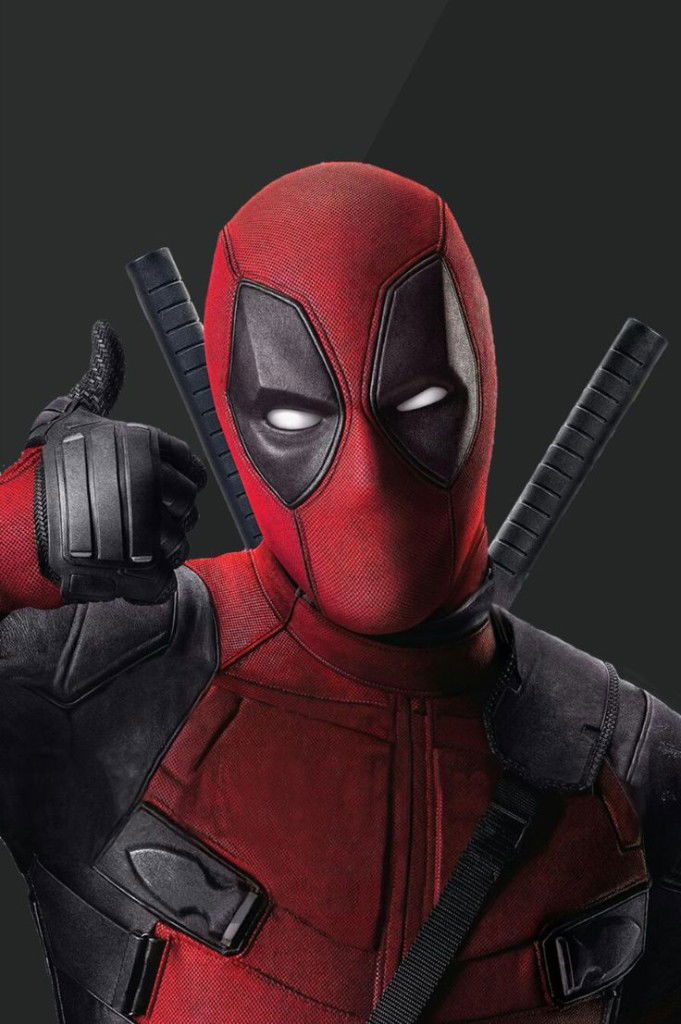 Directed by Tim Miller, "Deadpool" opens on February 12 and stars: Ryan Reynolds (yep, that's right, the guy from the 1996 X-Files episode named "Syzygy" ),  Morena Baccarin, Ed Skrein, T. J. Miller, Gina Carano, Brianna Hildebrand, Stefan Kapičić, and Leslie Uggams.  Stay up to date on the film and learn allllllllll about it's devious side via the following links.

P.S.  We will announce a Deadpool/ Poster Posse contest tomorrow so go to the kitchen, nuke your chimichangas and we'll see you tomorrow!