The other day we gave you a look at part one of an ongoing series from U.K. artist Matt Needle called "Oscar Bait."  The Oscar Bait project is based on films Matt believes will be in the running for plenty of nominations and wins during the Academy Awards.  This time out we get masterful, minimalist prints for Straight Outta Compton, The Martian, The Revenant, and Room.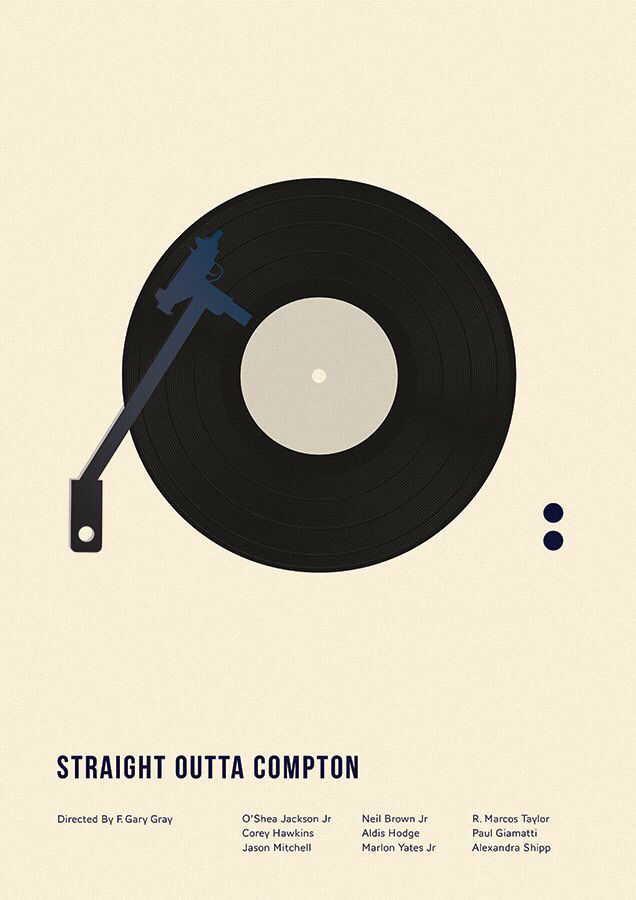 In the mid-1980s, the streets of Compton, California, were some of the most dangerous in the country. When five young men translated their experiences growing up into brutally honest music that rebelled against abusive authority, they gave an explosive voice to a silenced generation. Following the meteoric rise and fall of N.W.A., Straight Outta Compton tells the astonishing story of how these youngsters revolutionized music and pop culture forever the moment they told the world the truth about life in the hood and ignited a cultural war.
Starring O'Shea Jackson Jr., Corey Hawkins and Jason Mitchell as Ice Cube, Dr. Dre and Eazy-E, Straight Outta Compton is directed by F. Gary Gray (Friday, Set It Off, The Italian Job). The drama is produced by original N.W.A. members Ice Cube and Dr. Dre, who are joined by fellow producers Matt Alvarez and Tomica Woods-Wright. Will Packer serves as executive producer of the film alongside Gray.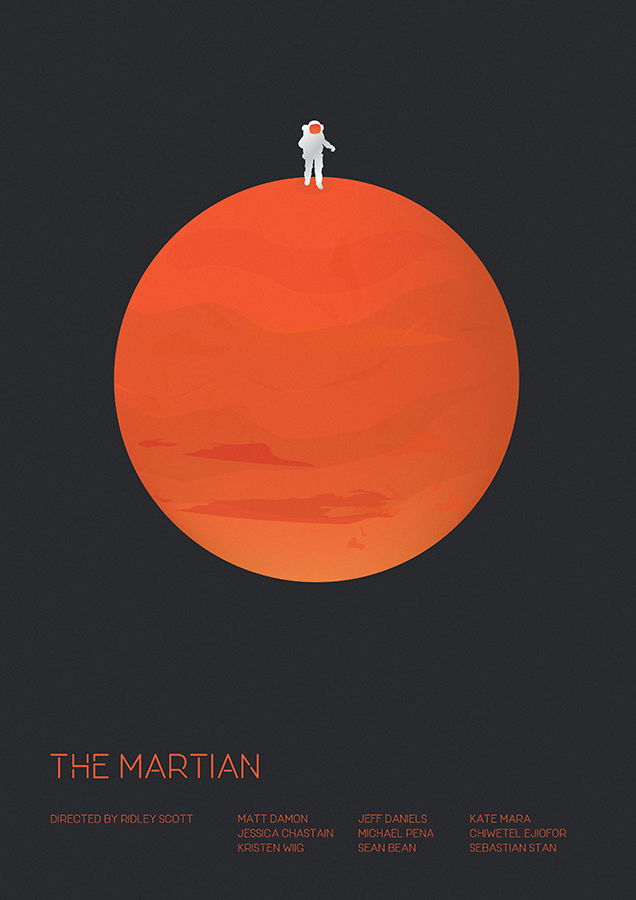 During a manned mission to Mars, Astronaut Mark Watney (Matt Damon) is presumed dead after a fierce storm and left behind by his crew. But Watney has survived and finds himself stranded and alone on the hostile planet. With only meager supplies, he must draw upon his ingenuity, wit and spirit to subsist and find a way to signal to Earth that he is alive. Millions of miles away, NASA and a team of international scientists work tirelessly to bring "the Martian" home, while his crewmates concurrently plot a daring, if not impossible rescue mission. As these stories of incredible bravery unfold, the world comes together to root for Watney's safe return. Based on a best-selling novel, and helmed by master director Ridley Scott, THE MARTIAN features a star studded cast that includes Jessica Chastain, Kristen Wiig, Kate Mara, Michael Peña, Jeff Daniels, Chiwetel Ejiofor, and Donald Glover.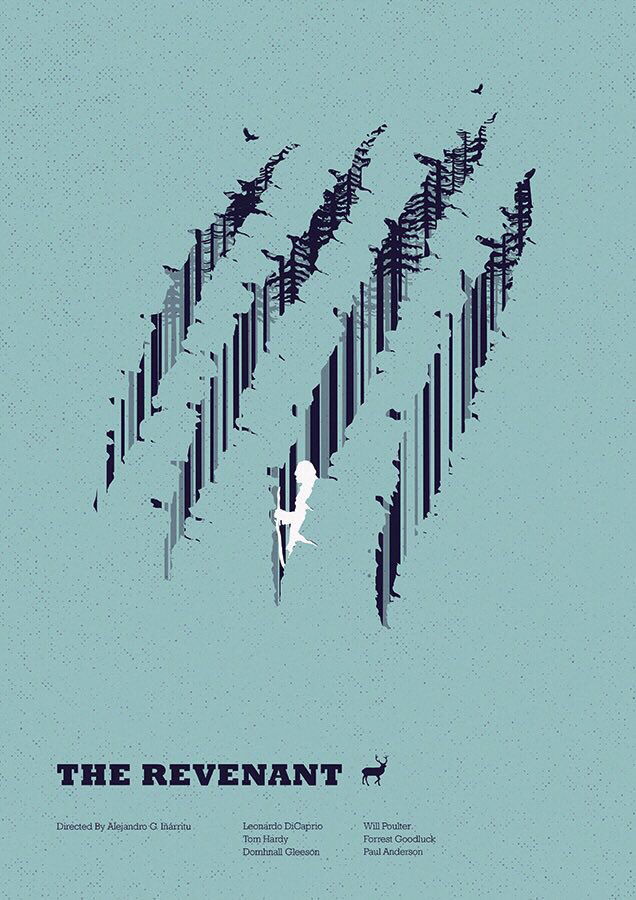 Inspired by true events, THE REVENANT is an immersive and visceral cinematic experience capturing one man's epic adventure of survival and the extraordinary power of the human spirit. In an expedition of the uncharted American wilderness, legendary explorer Hugh Glass (Leonardo DiCaprio) is brutally attacked by a bear and left for dead by members of his own hunting team. In a quest to survive, Glass endures unimaginable grief as well as the betrayal of his confidant John Fitzgerald (Tom Hardy). Guided by sheer will and the love of his family, Glass must navigate a vicious winter in a relentless pursuit to live and find redemption. THE REVENANT is directed and co-written by renowned filmmaker, Academy Award-winner Alejandro González Iñárritu (Birdman, Babel).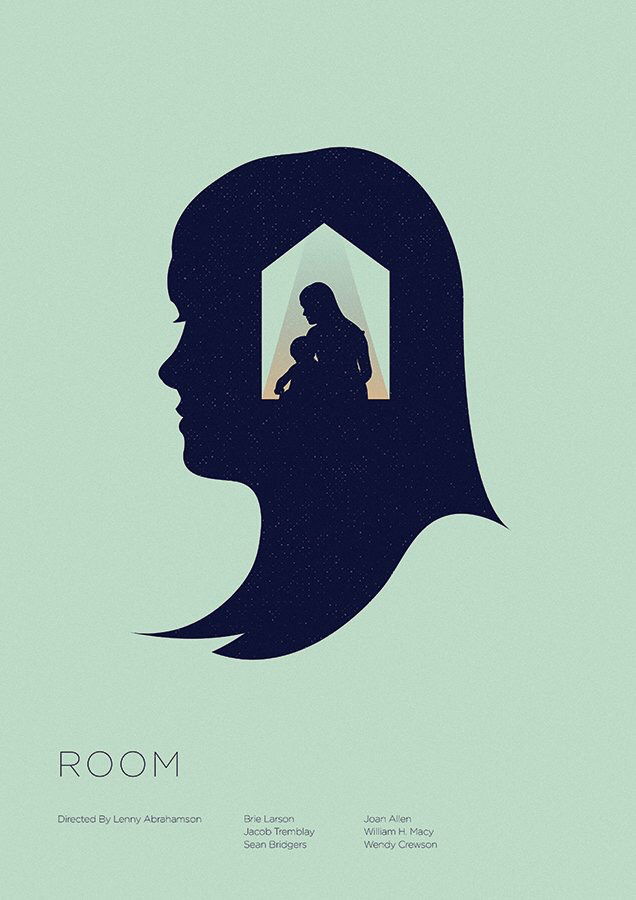 An intensely powerful and wonderfully life-affirming experience, Room is the new film from acclaimed director, Lenny Abrahamson, based on the best-selling novel from Emma Donoghue. A riveting emotional journey about the power of love, limitless imagination and the strength of the human spirit, Room is an unparalleled celebration of the bond between parent and child. Ma has created a whole universe in 'Room' for 5 year-old Jack, where they have both lived for Jack's whole life. But when Ma decides they have to escape, she risks everything to give Jack the chance to make a thrilling discovery. One of the most acclaimed films of the year, and featuring award-worthy performances from Brie Larson and Jacob Tremblay, Room is a must-see for audiences; a discovery of the world for the very first time.
A limited number of these prints are AVAILABLE ON MATT'S OFFICIAL STORE PAGE.  Be sure to follow him on TWITTER to get updates on upcoming prints from this series as well as everything else he has up his sleeves.