Grey Matter Art has been giving Rambo fans some great prints this year with Gabz "First Blood" print along with Anthony Petrie's "Rambo: First Blood Part II" piece.  Today they are announcing an all new Rambo print, this one by Marko Manev.

Marko has delivered an intense homage to "Rambo III." We asked him about this one and here is what he had to say.
PP: How was it working on such an iconic action star like John Rambo?
MM: I was really flattered that Grey Matter Art approached me for this project. Following the awesome poster for "First Blood" that Gabz did and then Anthony Petrie's poster for "Rambo: First Blood 2", was not an easy job. I hope I did it justice so people can add it up in their collection.  This one was a really fun project. I love the over-the-top testosterone-infused 80s action flicks. They bring me back to my childhood.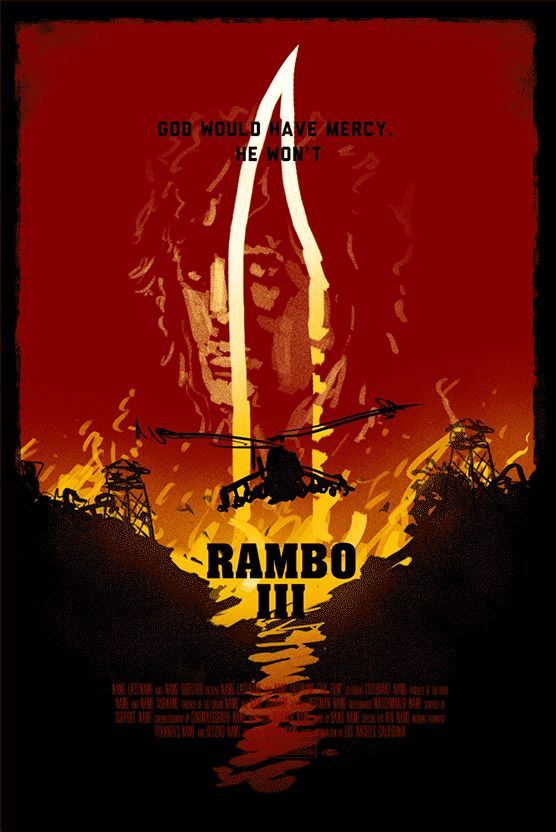 PP: What was your process for this one?
MM: When I work on a movie poster I always listen to the soundtrack of that particular movie. Music plays a big part in my design process. It sets the whole mood of the piece. I usually choose the track that leaves the biggest impression on me as an "anchor point". Whenever I stray away from the mood of the track or when I'm not sure about a direction I'm heading, I stop the music and "meditate" on the image for a couple of minutes. If the music continues to play in my mind when I look at the image, than I'm satisfied with what I'm doing and I know I'm on the right path.
The Rambo series is a fun thrill ride of unbelievable action and amazing one-liners and Grey Matter Art has put together a fitting poster tribute to these films. Marko's print will go onsale on Thursday, July 9th at 1 PM EST over on Grey Matter Art's OFFICIAL WEBSITE.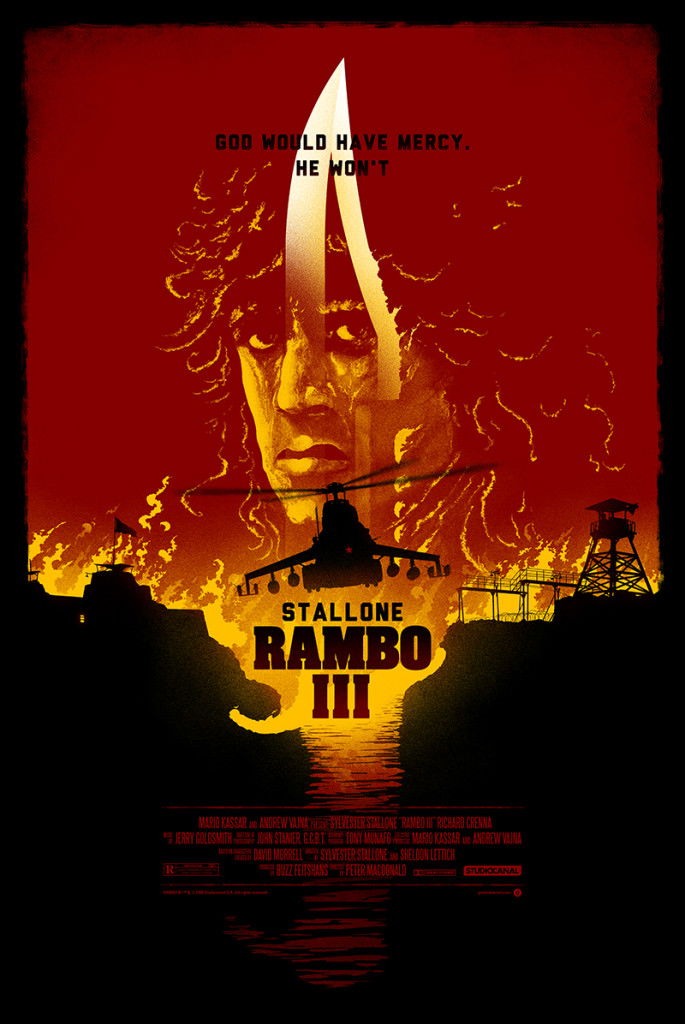 "Rambo III"
Artist: Marko Manev
Size: 24X36
Regular Edition: 100 / $50.00
Printed by: D&L Screen Printing
As an added bonus Grey Matter Art is offering all 3 Rambo prints as a set!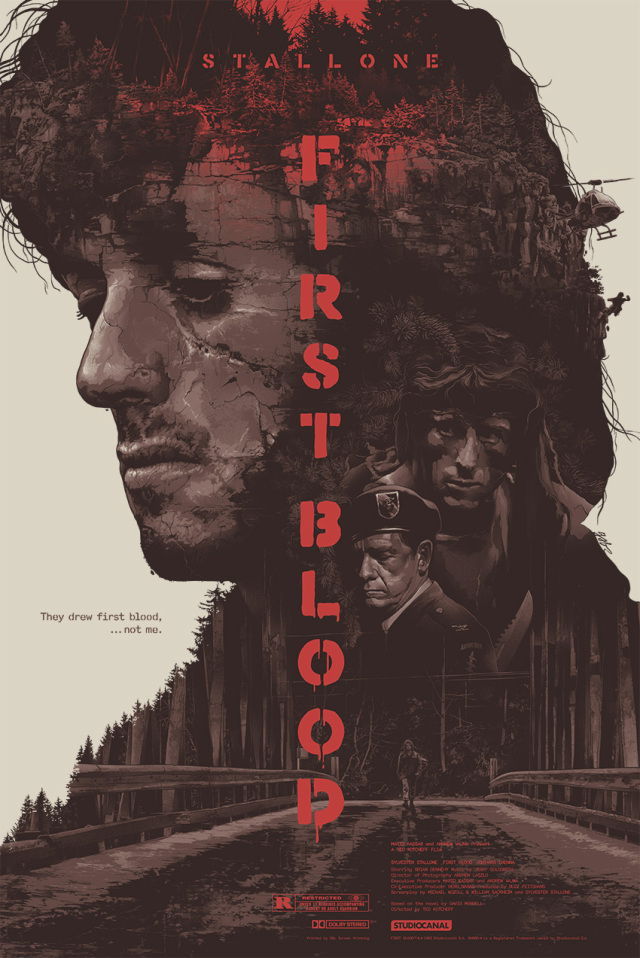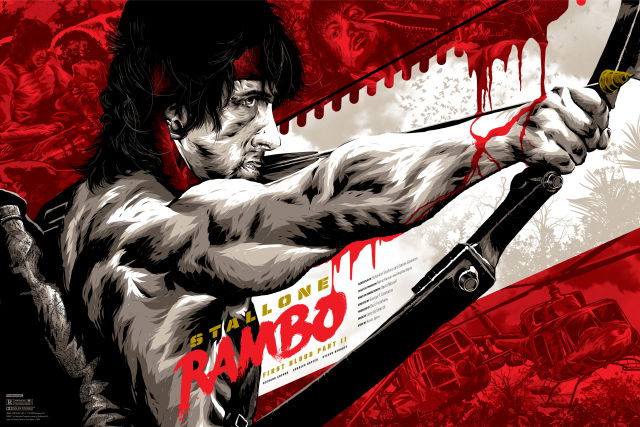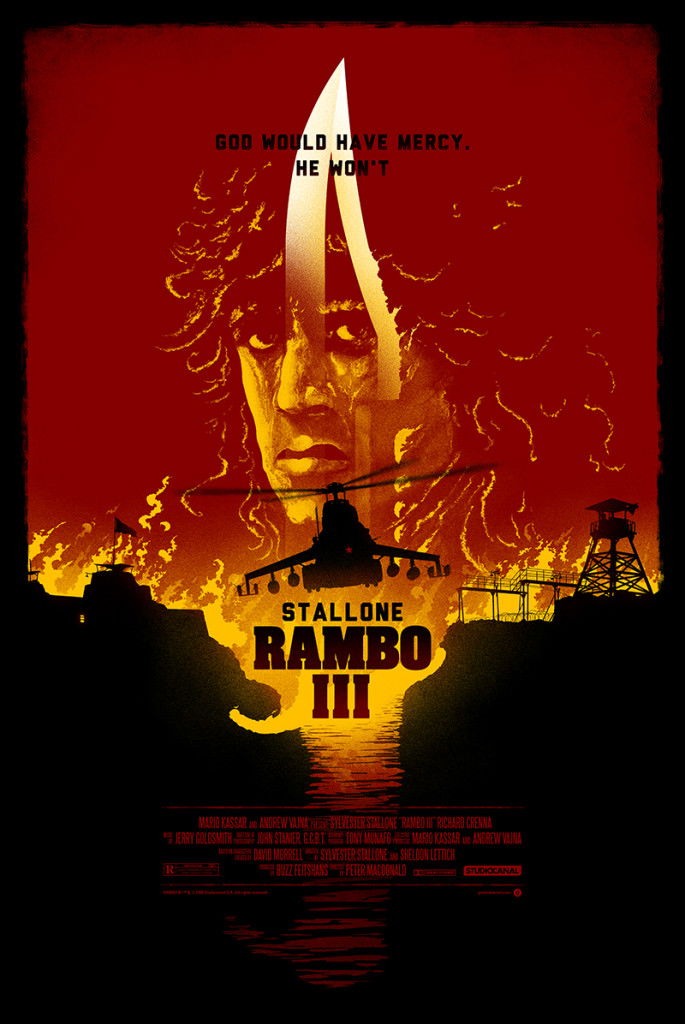 Regular Edition Set of all 3 Rambos: $120
Follow Marko on TWITTER for updates on new releases and upcoming collaborations and head on over to his OFFICIAL WEBSITE to see more of his impressive portfolio.