"Man is the warmest place to hide…."
Directed by John Carpenter and starring Kurt Russell with a musical score by Ennio Morricone, the 1982 sci-fi / horror film, "The Thing" is the epitome of the word "masterpiece."  Beloved by fans all over the world, the film is celebrating its 35th anniversary.  To mark this momentous occasion, the fine folks at Printed in Blood have released a sensational new, 400-page book featuring the art of over 360 artists from over 40 countries all over the world.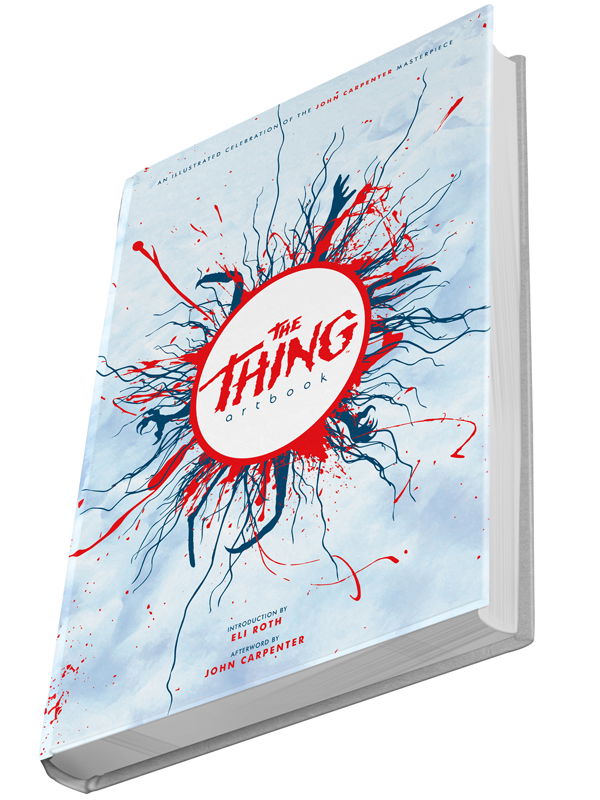 "We set out to create this book as a celebration and to show our love of this movie. The response we got from artists was massive and overwhelmingly positive." states Printed In Blood Director of Operations, Steven Hoveke. "Once the word got out about the project we had so many artists come to us wanting to be a part of it, the project grew to twice our original planned page count. Now, with the amount of pieces that we've included, we feel we have produced a worthy celebration to this movie that means so much to so many."
"The Thing: Artbook" features over 375 works of art with an introduction by Eli Roth and an afterword by living legend, John Carpenter.  Many members of The Poster Posse were invited to participate including: Salvador Anguiano, Orlando Arocena, Vincent Aseo, Arden Avett, Berkay Daglar, Rich Davies, Simon Delart, Doaly, Harlan Elam, Chris Garofalo, Sam Gilbey, Scott Hopko, Mike Mahle, Chris Malbon, Marko Manev, Daniel Nash, Matt Needle, Jeremy Pailler, Rodolfo Reyes, Rafal Rola, Maria Suarez-Inclan, Andrew Swainson, and The Dark Inker.  Here is a look at some highly desirable art for a very memorable movie from a must-have book.
"The Thing: Artbook" can be purchased from Printed in Blood HERE
Save
Save
Save
Save
Save