March 8th is International Women's Day and our newest passion project pays tribute to some sensational women.  We let our artists choose women that inspire, lead, and raise the bar.  Here are 12 images from our creatives along with some facts from Wikipedia.  We were not aware of all these women but after looking into each one, we can see why they were chosen.  #EachforEqual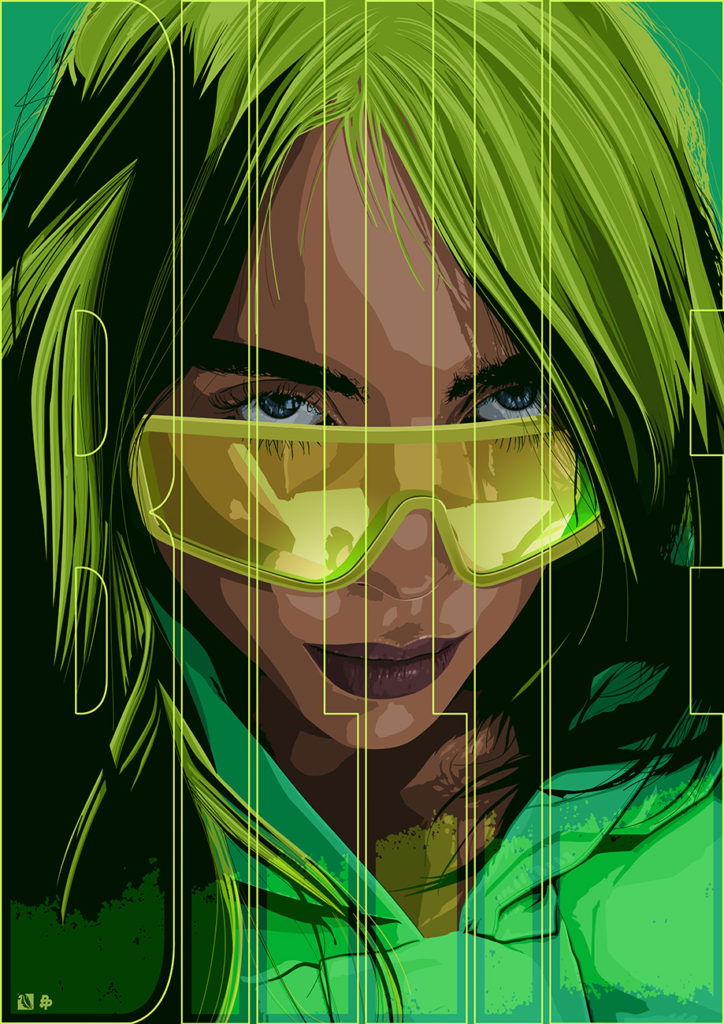 Billie Eilish by The Dark Inker
Let's face it, Billie Eilish is the most popular teenager on the planet. This woman is nothing short of an entertainment phenom. She has no fear when it comes to fashion, she collaborated with her brother to create the best selling album of the year, she's toured the world and she still lives with her parents…yes she is NOW only 19 and did ALL of the above when she was … 14-18 years old.  Here's some Wiki facts that you need to read to believe…. "Her accolades include five Grammy Awards, two American Music Awards, two Guinness World Records, three MTV Video Music Awards, and one Brit Award. She is the youngest person and second person ever to win the four main Grammy categories, Best New Artist, Record of the Year, Song of the Year, and Album of the Year in the same year. In 2019, TIME placed her on their inaugural Time 100 NEXT list."  It should also be mentioned that she just did the main song for the upcoming James Bond film, "No Time To Die" and in doing so, is the youngest to ever accomplish this.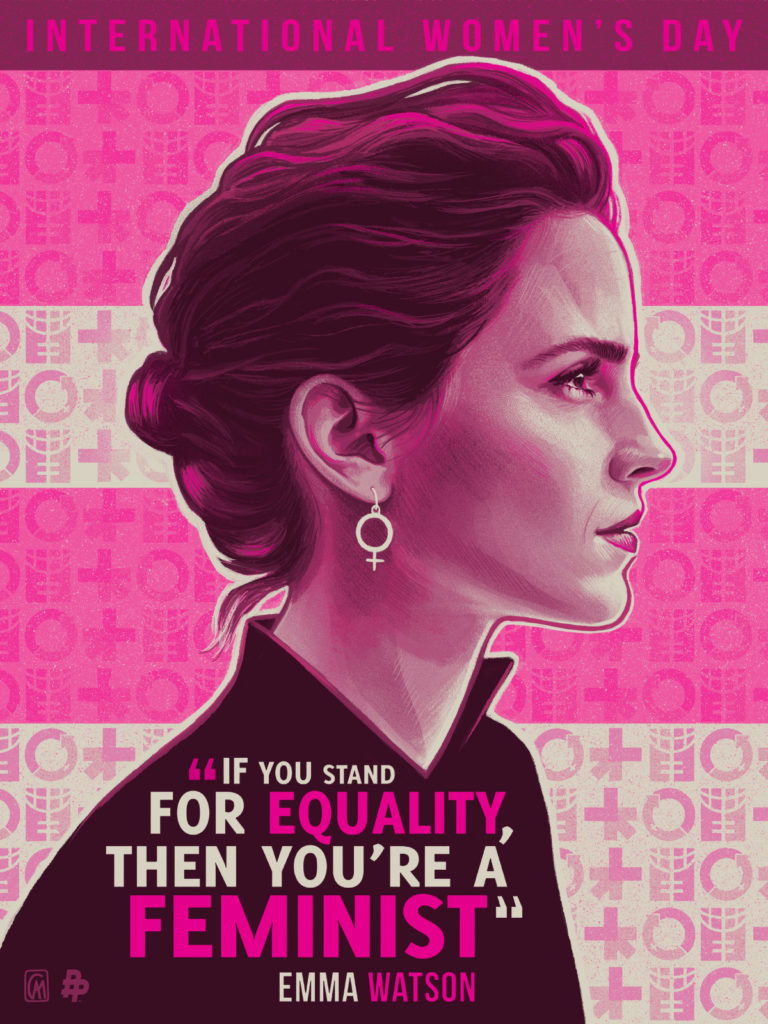 Emma Watson by Courtney A Martin
Emma Watson literally grew up in the public eye with her first acting role which was the beloved Hermione Jean Granger in the Harry Potter films.  Since then she has gone on to model and work with the United Nations.  Here is why Poster Posse Pro Courtney A Martin chose Emma in her own words, "I decided to highlight Emma Watson for International Women's Day. I think she is a worthy role model and admire the advocacy work she does for the UN Women's He For She campaign which promotes gender equality." (Click the He For She link to learn more and sign up.)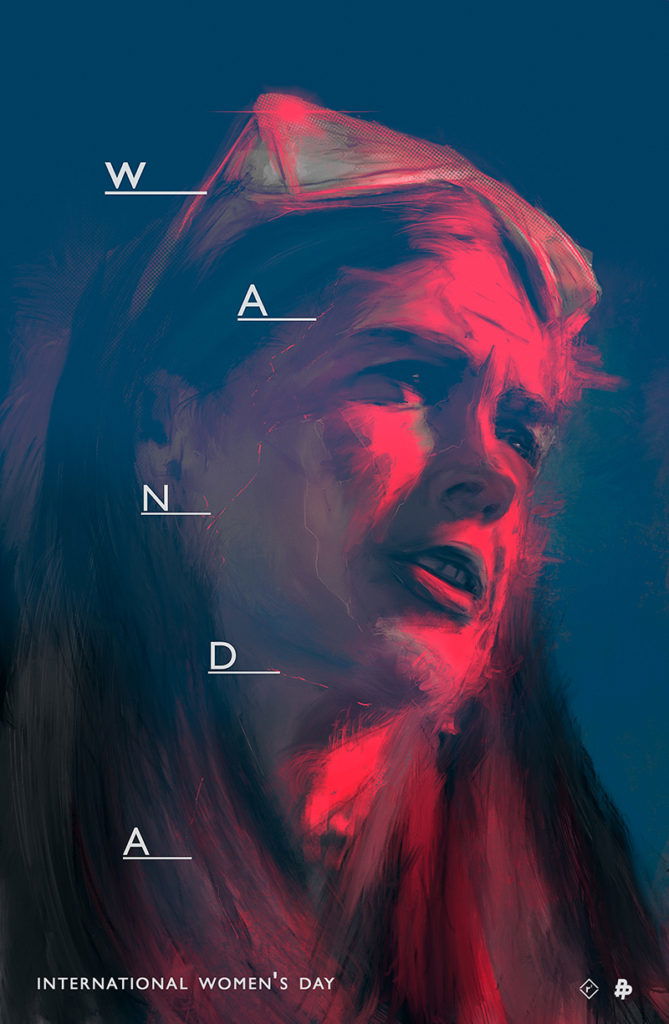 Wanda Rutkiewicz by Rafal Rola
Wanda Rutkiewicz "was a Polish mountain climber and computer engineer. She was the first woman to reach the summit of K2 and the third woman to climb Mount Everest.  On 16 October 1978, she became the first Pole, the third woman (after Junko Tabei and Phantog in 1975), and the first European woman to reach the summit of Mount Everest.  In 1986 she became the first woman to successfully climb K2, which she did without supplemental oxygen, as part of a small expedition."  Wanda passed away at the age of 49 while climbing Kanchenjunga, the third highest mountain in the world.  Her body has never been recovered.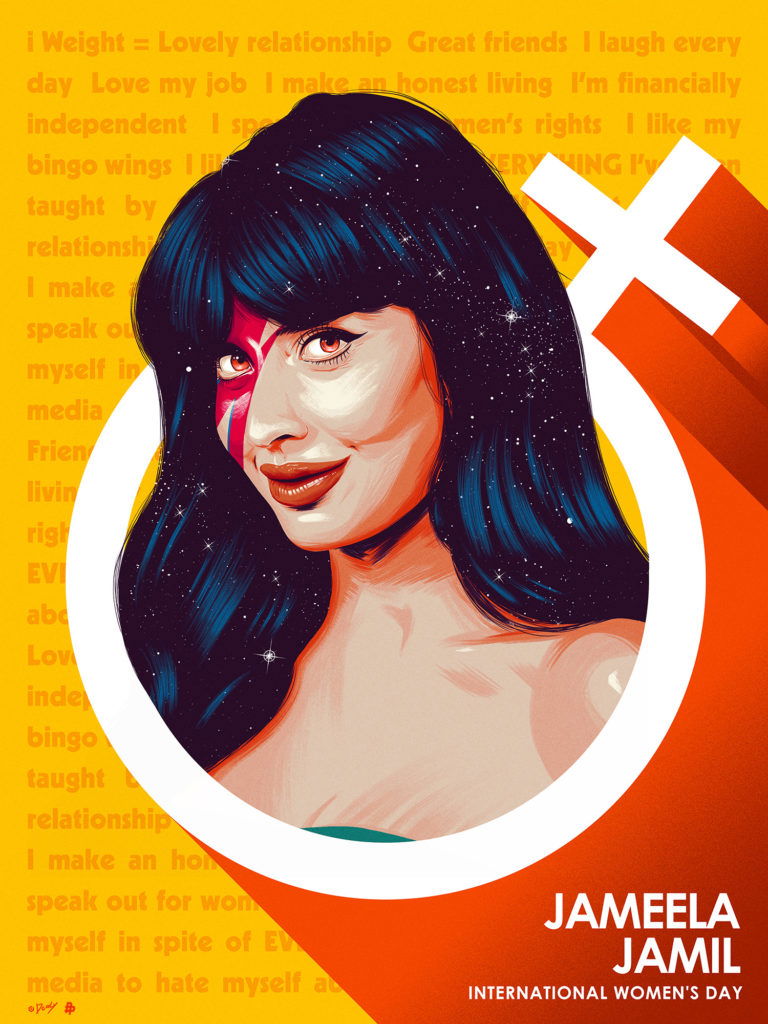 Jameela Jamil by Doaly
Jameela Jamil is an English actress, radio presenter, model, and writer. She began her career on T4, where she hosted a pop culture series from 2009 until 2012. She then became the radio host of The Official Chart, and was co-host of The Official Chart Update alongside Scott Mills on BBC Radio 1. She was the first solo female presenter of the BBC Radio 1 chart show.
Following a breast cancer scare in 2016, Jamil moved to the United States. Whilst there, she was cast as Tahani Al-Jamil in the NBC fantasy comedy series The Good Place. She has done modeling for both British and American Vogue, Glamour, Cosmopolitan, and Teen Vogue, and has written for The Times, Cosmopolitan, The Huffington Post, and Company.  She describes herself as a "feminist in progress"  and is the founder of "I Weigh"  which is "about radical inclusivity, so that no one feels alone. ? Our job is to amplify, advocate, and pass the mic."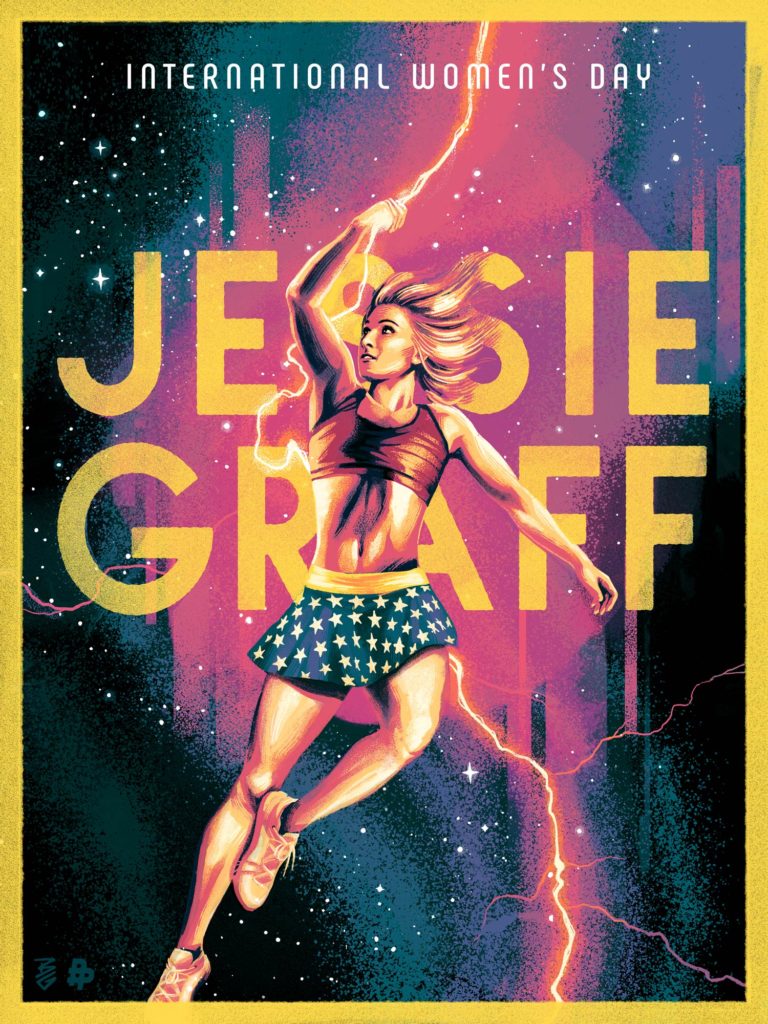 Jessie Graff by Isabella Grace
Jessie Graff, or "Tumbleweed" as her friends call her, is a professional stunt woman.  She is a black belt in Taekwondo, a black sash in Kung Fu, and is trained in five other styles of martial arts. She is also a championship pole vaulter and a competitive gymnast.   In 2016 she became the first woman ever to complete Stage 1 of the Las Vegas Finals course on American Ninja Warrior.  You will be able to watch her kick-ass next year as she just worked as a stuntwoman on Wonder Woman 1984.  She is sponsored by Under Armour and has her own athletic apparel collection. Her motto with the company is "Unlike Any." (Wikipedia)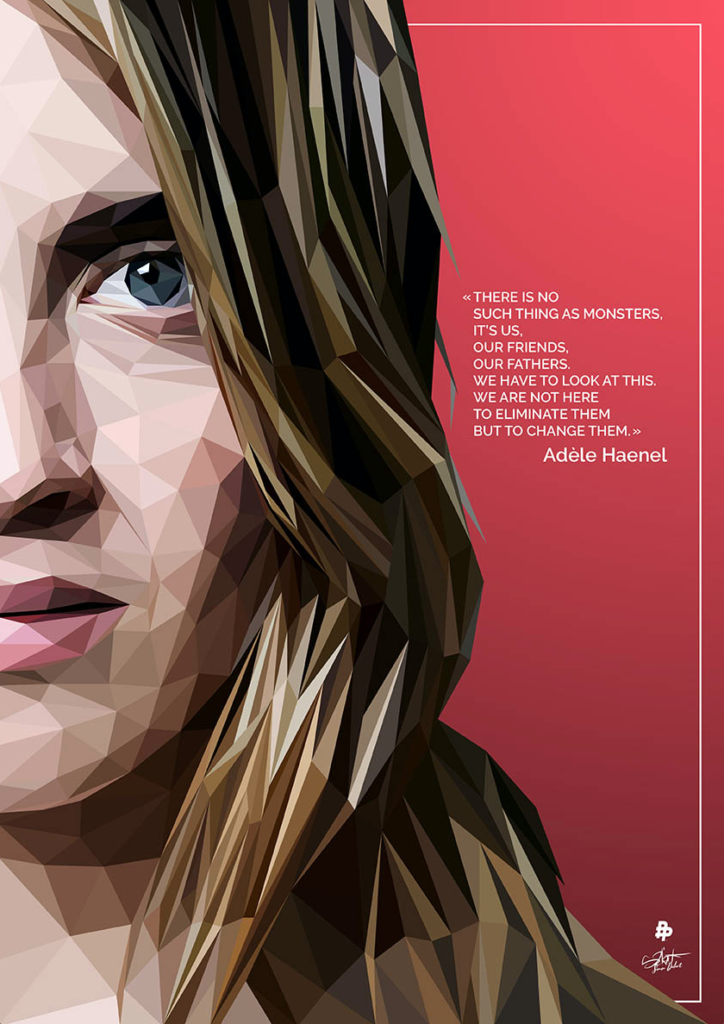 Adèle Haenel by Simon Delart
Haenel is a feminist and a prominent face of France's #MeToo movement.  She began her career as a child actress, making her film debut with Les Diables (2002) at the age of 12, and quickly rose to prominence in the French entertainment industry as a teenager. She received her first César Award nomination for her performance in Water Lilies (2007), which also marked the beginning of her long professional and personal relationship with director Céline Sciamma. In 2014, Haenel received her first César Award for her supporting role in Suzanne, and in 2015 won the César Award for Best Actress for Love at First Fight. She continued to garner recognition for her performances in BPM (Beats per Minute) (2017), The Trouble with You (2018) and Portrait of a Lady on Fire (2019). 
On 28 February 2020, Haenel walked out of the 45th César Awards ceremony after Roman Polanski, who was convicted of raping 13-year old Samantha Geimer, won the award for Best Director for his film An Officer and a Spy. As Haenel left, she cried "Shame!", and after exiting the auditorium, she was filmed clapping sarcastically and shouting "Bravo la pédophilie!" ("Well done, paedophilia!"). (Wikipedia)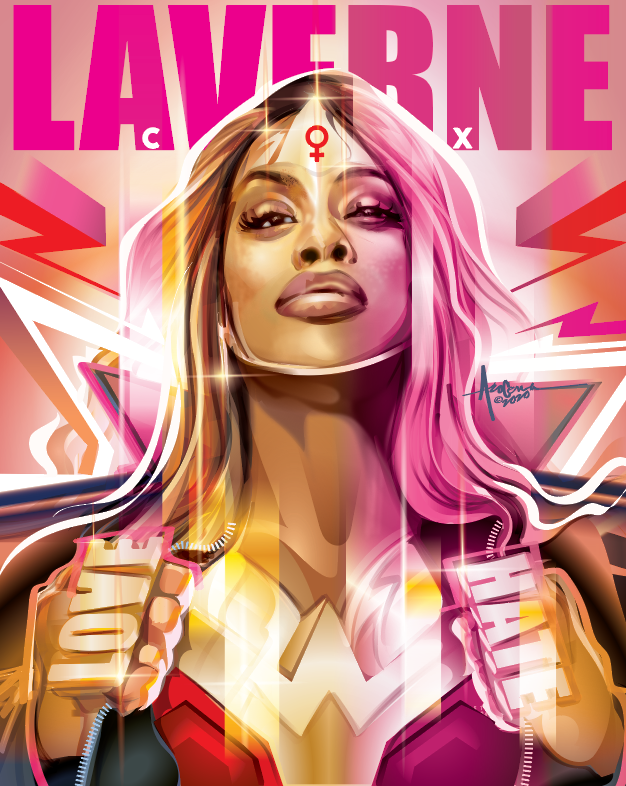 Laverne Cox by Orlando Arocena
Laverne Cox is an American actress and LGBTQ+ advocate. She rose to prominence with her role as Sophia Burset on the Netflix series Orange Is the New Black, becoming the first openly transgender person to be nominated for a Primetime Emmy Award in any acting category, and the first to be nominated for an Emmy Award since composer Angela Morley in 1990. In 2015, she won a Daytime Emmy Award in Outstanding Special Class Special as executive producer for Laverne Cox Presents: The T Word, making her the first openly transgender woman to win the award. In 2017, she became the first transgender person to play a transgender series regular on broadcast TV as Cameron Wirth on CBS's Doubt.
Cox appeared as a contestant on the first season of VH1's reality show I Want to Work for Diddy, and co-produced and co-hosted the VH1 makeover television series TRANSform Me. In April 2014, Cox was honored by GLAAD with its Stephen F. Kolzak Award for her work as an advocate for the transgender community. In June 2014, Cox became the first openly transgender person to appear on the cover of Time magazine. Cox is the first openly transgender person to appear on the cover of a Cosmopolitan magazine, with her February 2018 cover on the South African edition. She is also the first openly transgender person to have a wax figure of herself at Madame Tussauds. (Wikipedia)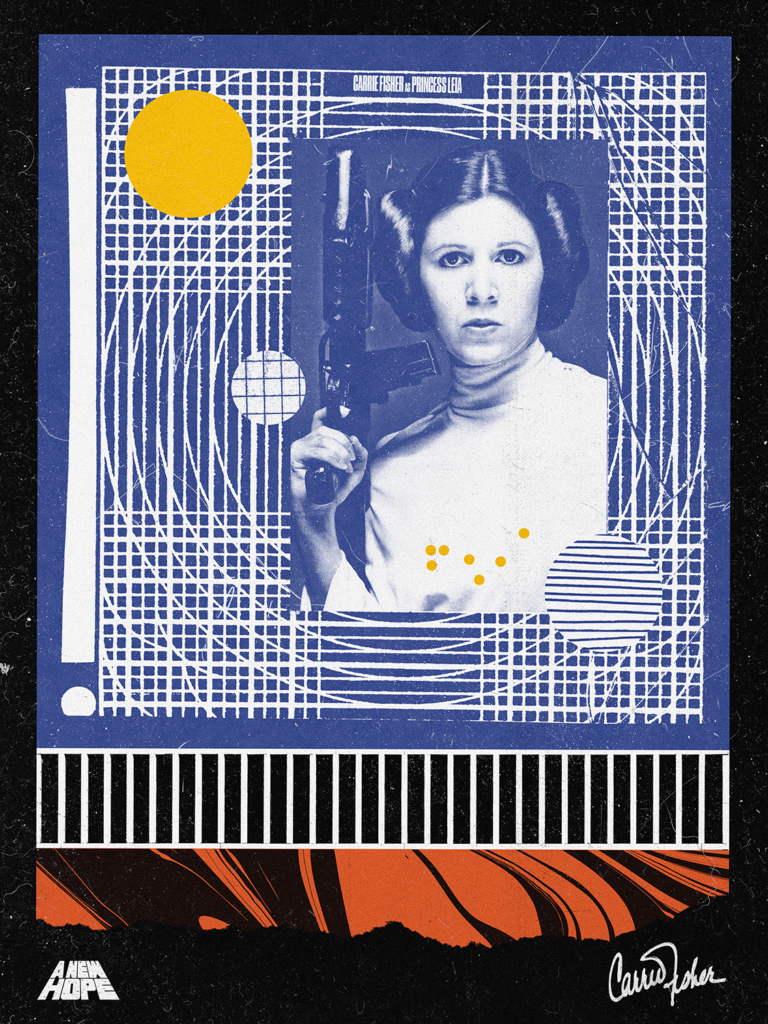 Carrie Fisher by Matt Needle
One of the most iconic women actors in pop culture history, Carrie Fisher was also a comedian, writer and activist against addiction, about mental illness, and agnosticism.  She won a Saturn Award, Grammy and a Teen Choice award.
Her other film credits include Shampoo (1975), The Blues Brothers (1980), Hannah and Her Sisters (1986), The 'Burbs (1989), When Harry Met Sally… (1989), Soapdish (1991), and The Women (2008).  She was nominated twice for the Primetime Emmy Award for Outstanding Guest Actress in a Comedy Series for her performances on the television series 30 Rock and Catastrophe. She was posthumously made a Disney Legend in 2017, and in 2018 she was awarded a posthumous Grammy Award for Best Spoken Word Album.
Fisher wrote several semi-autobiographical novels, including Postcards from the Edge and an autobiographical one-woman play, and its non-fiction book, Wishful Drinking, based on the play. She wrote the screenplay for the film version of Postcards From The Edge which garnered her a BAFTA Award for Best Adapted Screenplay nomination, and her one-woman stage show of Wishful Drinking was filmed for television and received a nomination for the Primetime Emmy Award for Outstanding Variety Special. She worked on other writers' screenplays as a script doctor, including tightening the scripts for Hook (1991), Sister Act (1992), The Wedding Singer (1998), and many of the films from the Star Wars franchise, among others. In later years, she earned praise for speaking publicly about her experiences with bipolar disorder and drug addiction.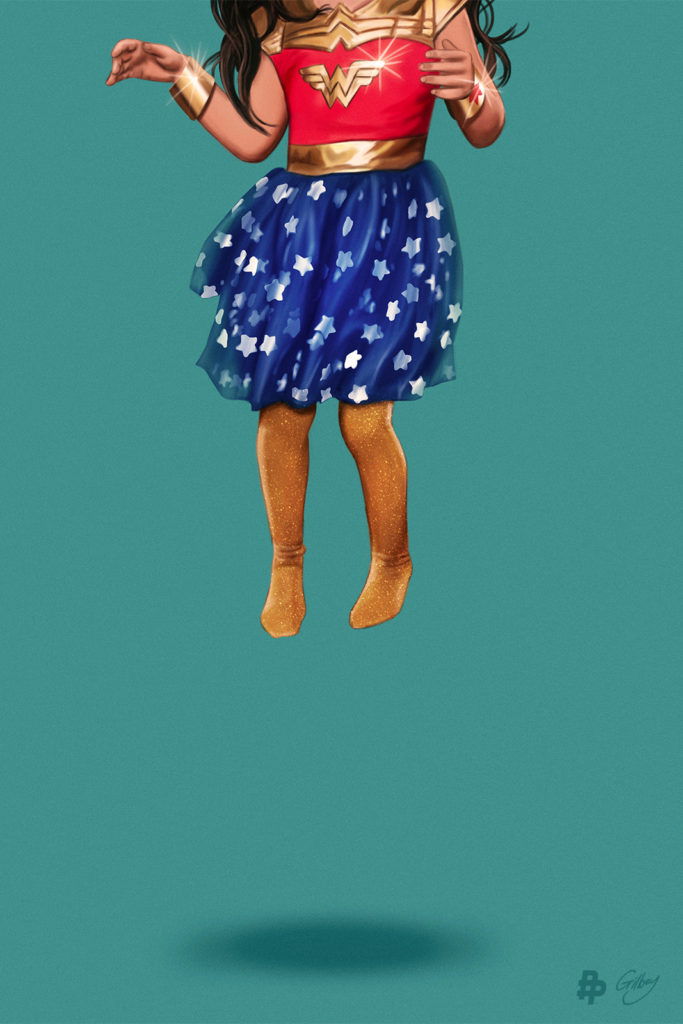 Bouncing by Sam Gilbey
Here is what Sam had to say about his piece for our tribute. "Happy International Women's Day! I took my 4 year old daughter to a birthday party last weekend, in the Wonder Woman costume she asked to wear, and as she was joyfully hopping on the bouncy castle, I knew I wanted to paint that striking image by way of celebration. I had originally planned to paint her portrait, and in fact I probably will for a print at home, but it seemed more appropriate, for a couple of reasons, to have her jumping so high that she's cropped out of the image. As a parent you know that not every day will be as easy for them (or you) as one where they're leaping around before and after eating cake. So I'm always mindful of savouring those moments, even when there's a tantrum or two thrown in! I think a lot about how I can help to prepare my daughter (and son) for the world, but I also know that every moment lived on a bouncy castle is time well spent. So keep bouncing, girl. It'll be time to come down and put your socks and shoes back on soon enough. My daughter is of course very lucky to have such a strong role model in her kind and tenacious mother, and two brilliant grandmothers also. Here's to my wife for generally being excellent and keeping me together and on track, to my mother for everything she did (and still does) for me, and to all the amazing women friends and colleagues I've known over the years."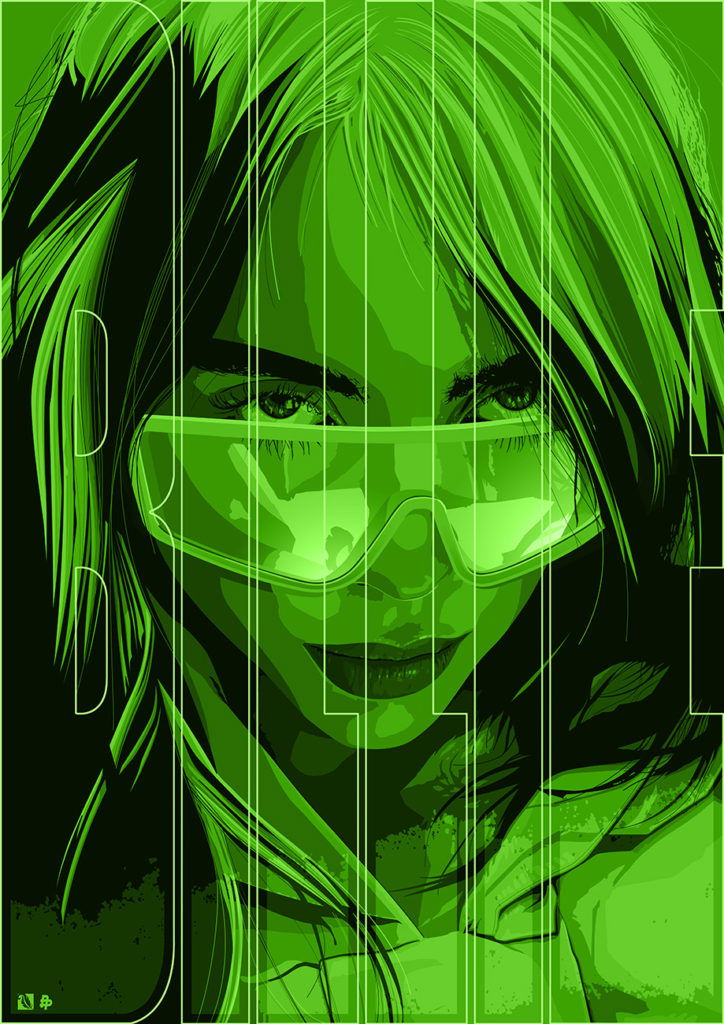 Billie Eilish Variant by The Dark Inker
If you'd like to share these images, please include #IWD2020 #EachforEqual in your post.  Be kind to each other, encourage each other, treat others the way YOU want to be treated… we are all on this planet together as equals, let's enjoy the ride.