"You stabbed the devil in the back. To him this isn't vengeance… this is justice."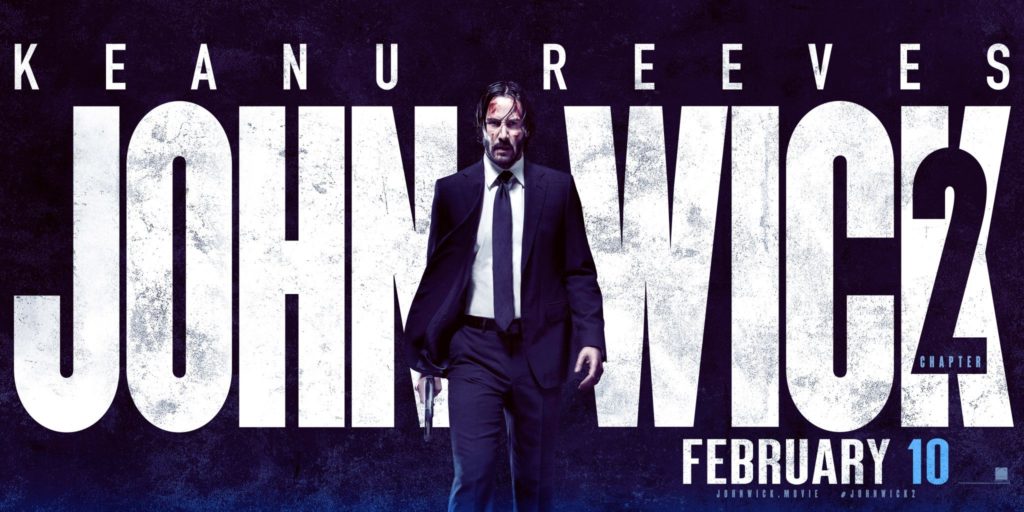 This weekend, some folks will be heading to theaters, enticed by a "darker" tale of love, but when it comes to darkness, I'll be watching John Wick take on the world.  "John Wick: Chapter 2" is the sequel to the 2014 film, "John Wick."  This super-sexy, hyper-violent, neo-noir kill-fest looks even better than the first film and that is saying a lot considering how much we were enamored with it's predecessor.
One of the great things about our agency is that our artists are as passionate about films as we are.  Between our official projects with clients, there are always members within our lot that are eager to partake in a tribute for the films THEY are dying to see, simply to show appreciation for the talent and artistry that goes into these radiant offerings to the silver screen.  Today we will show you a few posters that do just that along with a bit of what it took to bring "John Wick: Chapter 2 " to life from the people who fabricated the character and his brutal universe.
In this next chapter following the 2014 hit, legendary hitman John Wick [Keanu Reeves] is forced back out of retirement by a former associate plotting to seize control of a shadowy international assassins' guild. Bound by a blood oath to help him, John travels to Rome where he squares off against some of the world's deadliest killers.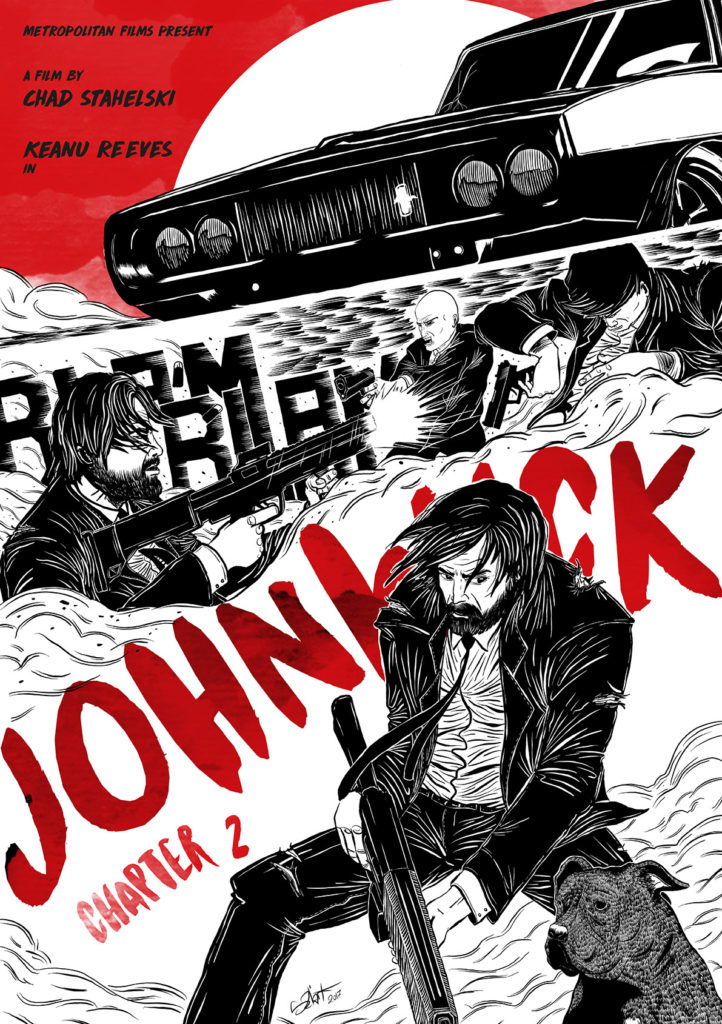 by Simon Delart – regular version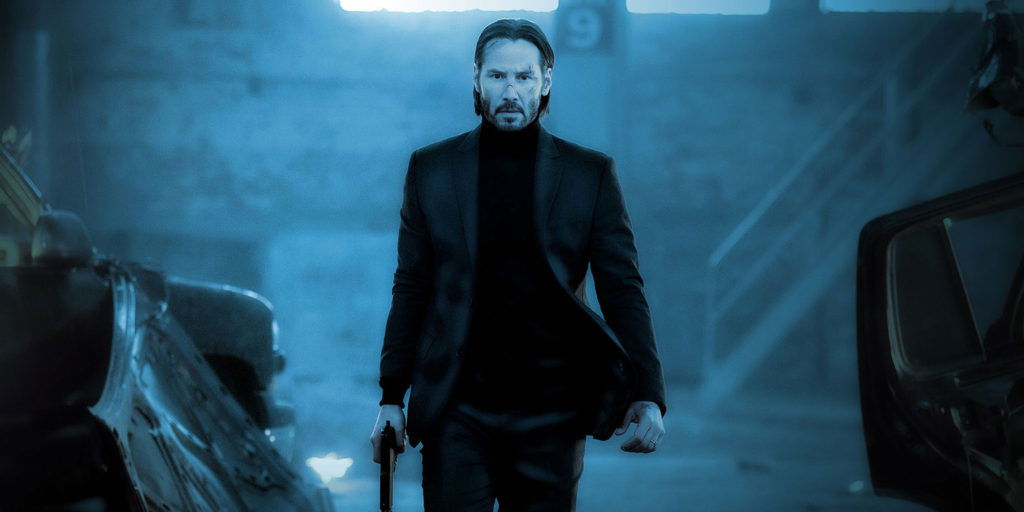 by Simon Delart – variant version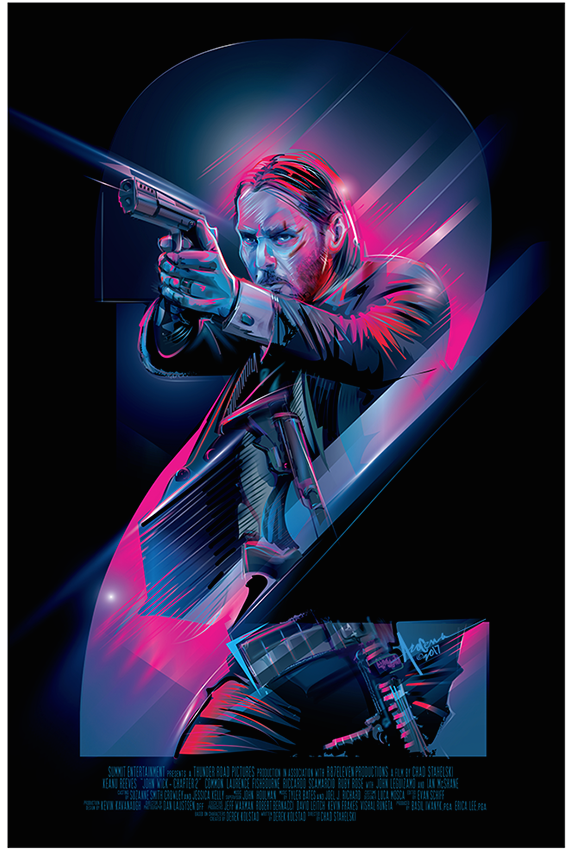 "John Wick: Chapter 2" by Orlando Arocena
Edition of 25
24 X 36
Giclee printed on Cold Press Bright 340gsm paper
$40
A percentage of the sales of this print will be donated to a local Dog Rescue Organization in Orlando's home town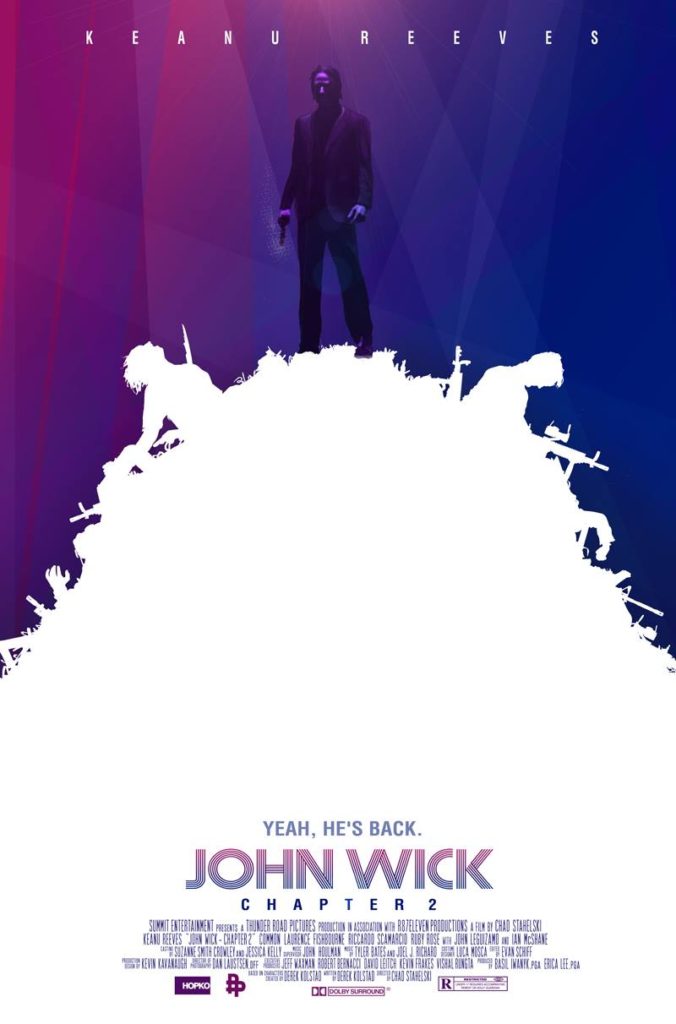 by Scott Hopko
Lionsgate's next chapter in the John Wick story is in theaters now.  We can only hope that a title with "Chapter 2" in it, means we have a few more "chapters" on the way.  We are SOOOO… down with "Gun-Fu"!!!!!  "John Wick: Chapter 2 " is directed by Chad Stahelski and stars: Keanu Reeves, Common, Laurence Fishburne, Riccardo Scamarcio, Ruby Rose, John Leguizamo, and Ian McShane as "Winston."
Fortis… Fortuna… Adiuvat