The Dark Inker, (AKA Stephen Sampson) is an experienced illustrator and concept artist working out of the South Coast of England.  Having worked in the entertainment industry for some
time now he has worked with some rather impressive clients including Marvel, Disney, Pixar, 20th Century Fox, 2000AD/Judge Dredd, NASA, BossAlien, and LucasFilm.  Today we get the pleasure to launch the first print, "Curious Red," in a series of prints called, "Keepers."  We asked Stephen what inspired him in this print and the series and here is what he had to say.
"'Curious Red' is inspired by so many classic childhood stories, 'Alice in Wonderland, Little Red Riding Hood, Beauty and the Beast' to name but a few.  Mixed in with these is my later love of Japanese art and Anime and specifically the works of Studio Ghibli.  All these inspiring stories of imaginative worlds with fascinating characters has grabbed my imagination for as long as I can remember.  So it is from such a fantastic source of inspiration that characters like Curious Red and many others have sprung to life!" – Stephen Sampson
Over the next few weeks we will be releasing other prints from the "Keepers" series.  Today's release, "Curious Red" comes with her own backstory.
Ever since she was a young girl, Red was known by her family and friends as "Curious Red."  Now, at the age of 1724, she is running out of time.  Although they have incredibly long life spans, Red's race ages backwards and she still has so much to learn before her last breath.
Red has been seeking something that has eluded generations before her.  She is seeking "The Light."  It is said that The Light possess great power and that in the distant past, it was held in the Hall of Hador.  The Light was a protector, a healer, an oracle, that possessed the knowledge of the Universe.  It shared this power and knowledge freely until the day that this information nearly destroyed Pretak, Red's planet.  Legend tells of The Light slipping away into seclusion feeling both anger and shame for having brought such havoc to such a peaceful place.
In the years that followed, pain and suffering became commonplace for every living thing on Pretak.  Despite its self imposed seclusion, it was rumored that The Light remained close, constantly watching, hoping to one day emerge from the shadows and bestow its gifts upon the life forces it so blatantly still loved.
Red has travelled to each of the 13 moons of Pretak, gone deep underground in the ancient passages of Xempar, spoken to the Rangoon Monks high in the blessed trees of the Pangon forests and every clue she has garnered along the way has led her to one place, Danbo.  The journey to Danbo will be long and treacherous but her time is short and she must use all of her gifts to see if she can coax The Light out of hiding.  She has spent her entire life on this quest and suffered much loss but she is driven.  Failure is not an option…..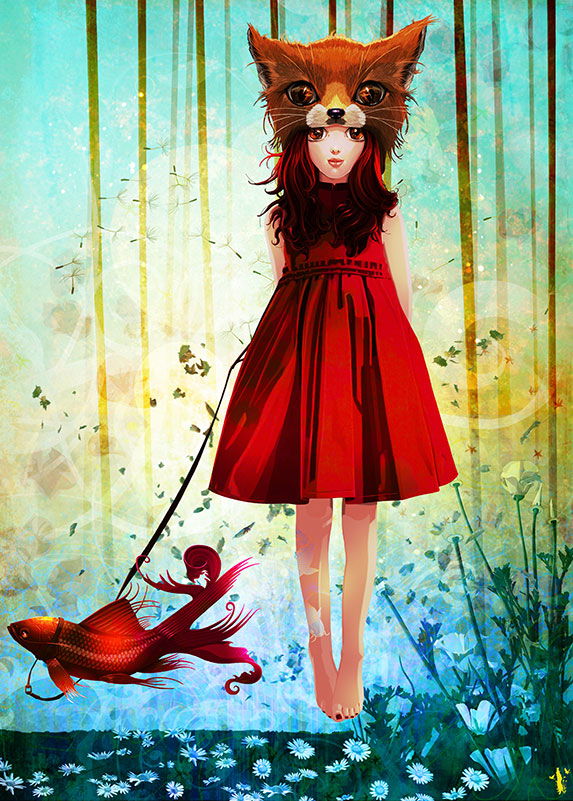 "Curious Red" by the Dark Inker
18″ X 24″
Limited Edition of 25
$40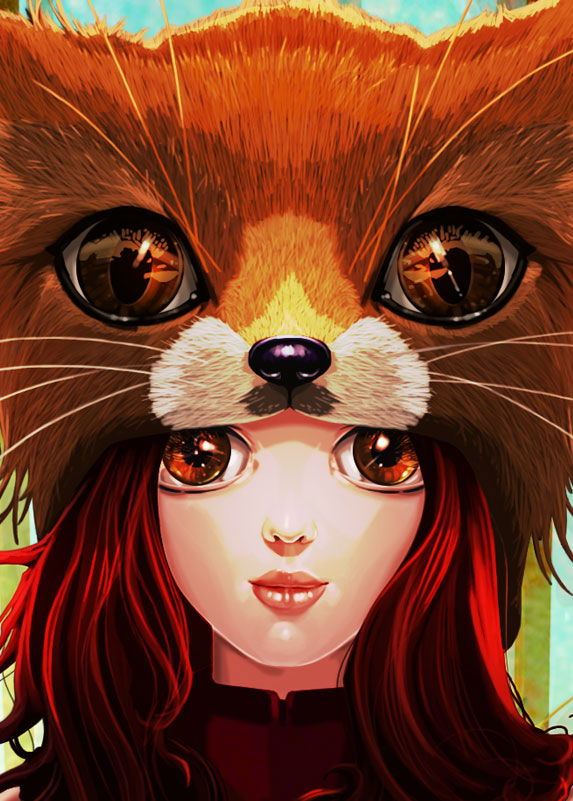 Stay tuned for the next print in the "Keepers" series.  Be sure to stay up to date with everything Stephen has going on by following his TWITTER and FACEBOOK pages.
As an added bonus, we have just launched our OFFICIAL TEE PUBLIC STORE.  You can now buy this image as a tee, hoody, and other apparel items as well as iPhone cases.  CLICK HERE to check out all the options!