"I am the shadow on the moon at night, filling your dreams to the brim with fright!"
-Oogie Boogie

Suffice to say, Tim Burton's masterpiece, the 1993 classic, "The Nightmare Before Christmas" ranks in our top tier of favorite films of all time. Burton's stop motion, dark fantasy combined with Danny Elfman's incredible score make a perfect pairing and have stood the test of time.  (We challenge you to watch the film and NOT sign the songs all day afterwards…IMPOSSIBLE!)
French artist Simon Delart loves the film as much as we do and has just finished a new print, inspired by the film, that is a glorious tribute to the brilliance of Burton's vision.  We asked Delart about the film / project and here is what he had to say.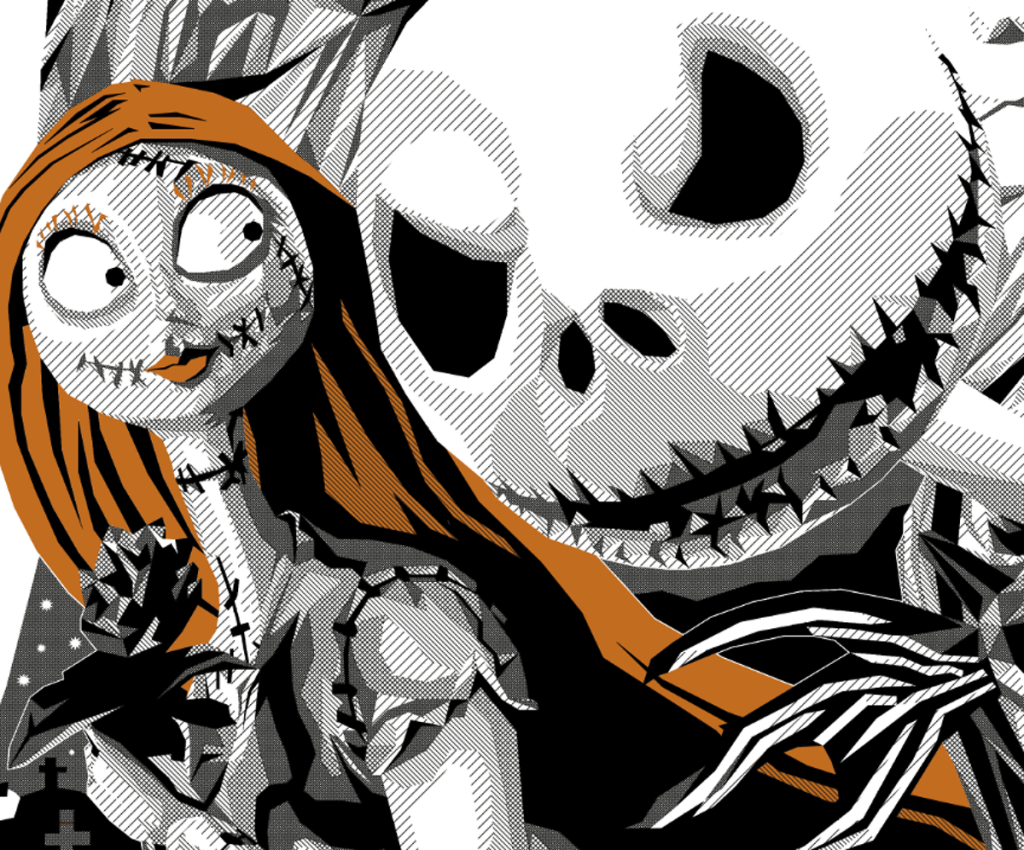 POSTER POSSE – This Nightmare Before Christmas print is absolutely spectacular!  There are so many amazing characters and moments in the film, what was your process for this one?
Simon Delart – After watching the movie (for the hundredth time), I made a list of my favorite characters and started to think about the composition. I wanted to include every one into the spiral hill, which is a pretty strong part of the identity of the movie. For this print I wanted to try something else. I replaced every color by a tone and every tone by a frame. I had in mind to use only black and orange for this one.

POSTER POSSE – Mission accomplished!  This looks different from your past compositions and it is wonderful. What do you feel it is about the film that seems to resonate with everyone who watches it?
Simon Delart – I think this film is pure magic. Everyone loves Christmas and Halloween. When I first saw this movie, as a child, I was amazed by all the creativity! It's fun, poetic, romantic, scary, magic and honest! In France, Halloween is not as celebrated as it is in the US, but all the codes, and icons are still popular. This film was not just a perfect family movie, it was something else. The songs are beautiful, the colors, everything is good about this film!

POSTER POSSE – I agree, it transcends being just a "great Halloween film," it's WAY more. This MAY be impossible to do but what is your favorite scene from the film?
Simon Delart – I love the scene from the film featuring Jack's lament, after the opening scene. Beautiful ! BUT my favorite one is when Jack arrives in Christmas Town. I WANT TO LIVE THERE!

POSTER POSSE – It does look like a magical place but I'd also like to have a stay in Halloween town too. Who is your favorite character?
Simon Delart – Jack. Because it's a creative and clever character. Complex and not silly. And I love one, the dumb character with an axe in his head. He always makes me laugh!

POSTER POSSE – BEHOMETH!  I love when he says, "Bunny." I'm torn, I LOVE the Mayor. Voiced by Glenn Shadix I adore his enthusiasm to make each Halloween the BEST it can be in the town and his HAPPY and SCARED faces rock.  That being said, I would go with the Vampire Brothers – Prince, Baron, Lord, and Count.  I like the way the float around, use umbrellas to block out the sun and the scene of them playing hockey with a decapitated head.  If you could talk to Tim Burton about the film and ask any question or say ANYTHING to him, what would it be?


Simon Delart – I would say : Tim, thank you for Batman, The Nightmare Before Christmas, Sleepy Hollow ( <3 ) ! But, when will you do another dark, gothic and bloody movie ?
Here is a look at Simon's print and we'd love to hear what you think about it down in the comments section below.  We've included a link for you to pick one up but there are only 50 copies!
Inspired by The Nightmare Before Christmas
Limited edition of 50, numbered and hand signed
A3 (29,7 x 42 cm)
Printed on 300 gr Turner Fine Art paper
Please allow 4 weeks for delivery