"I believe you either choose your path in life and your career, or it chooses you."
-Timba Smits
71a's Design Week is fast approaching (September 19 – 24th) and if you are a creative who lives in or near London, this is something that needs to be on your calendar.  (If it isn't already.)

71a is the home of award-winning magazines Huck and Little White Lies, and Design Week pulls together a range of influential experts to provide audiences with the invaluable opportunity to attend a series of design workshops, talks and masterclasses and interface with some of the world's most creative people.  These sessions are aimed at those looking to learn from the best. Dan Mumford will head up an instructive class on using digital tablets for illustration. Illustration Unplugged is a workshop with Miss Led offering advice on stepping away from the screen and improving analogue drawing skills.  Whatever your skill level, Design Week at 71a will be packed heavy with valuable industry tips and give you the confidence to experiment with new techniques and methods.  As a bonus, our very own Creative Director, Timba Smits, will round up the week with essential advice for design professionals in a free talk: How to Make Friends and Influence Art Directors. A must-attend session for anyone looking to get their foot in that big industry door.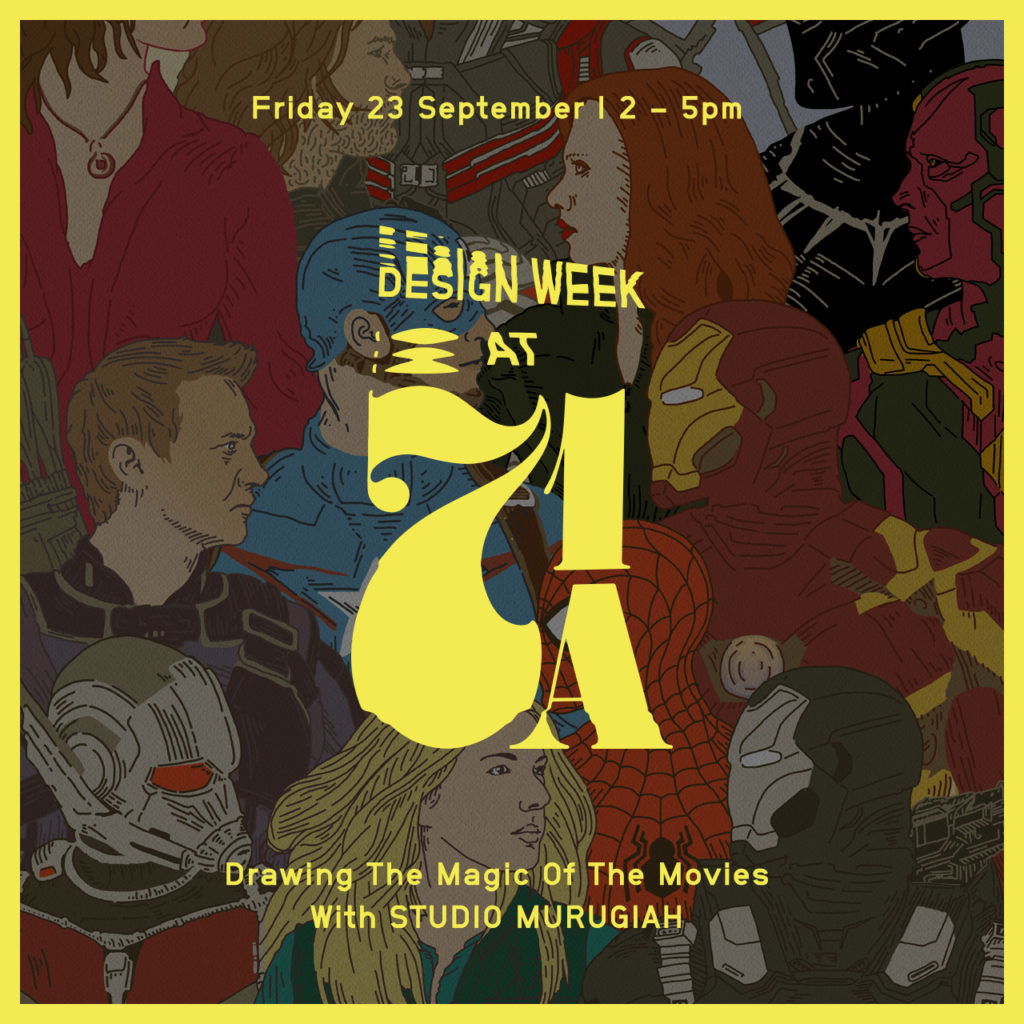 One of workshops will be run by Poster Posse's very own, Sharm Murugiah.  Sharm has recently jumped headfirst into the full-time world of freelance and has a ton to share with folks in attendance.  Titled 'Illustrating the illusion – Drawing Magic from the Movies' here's how Sharm describes his workshop: Movie lovers! Capture the essence of your favorite films in this workshop by Sharm Murugiah. He'll push you to think outside the box, discussing ideas of abstraction, surrealism and juxtaposition through illustration and art. By the end, you'll have learnt how to add that little bit of magic into your own playful and clever movie poster.
Tickets for 71a's DESIGN WEEK are available HERE.  You can also go to the event's FACEBOOK PAGE HERE.
Interested in more than one workshop? Use the code: MAGIC3 to receive a 20% DISCOUNT when you book three workshops throughout the week. 
Stay up to date with EVERYTHING 71a has going on via their official TWITTER and INSTAGRAM feeds.