Our ongoing collaboration with SciFiNow continues and this month Luke Butland was brought in to re-imagine the cover to "Kingdom Come" for their book of the month club.  The beloved four-issue comic book mini-series from DC came out in 1996 and was written by Mark Waid and Alex Ross with art by Ross.  SciFiNow spoke to Luke about being an artist and here is what he had to say.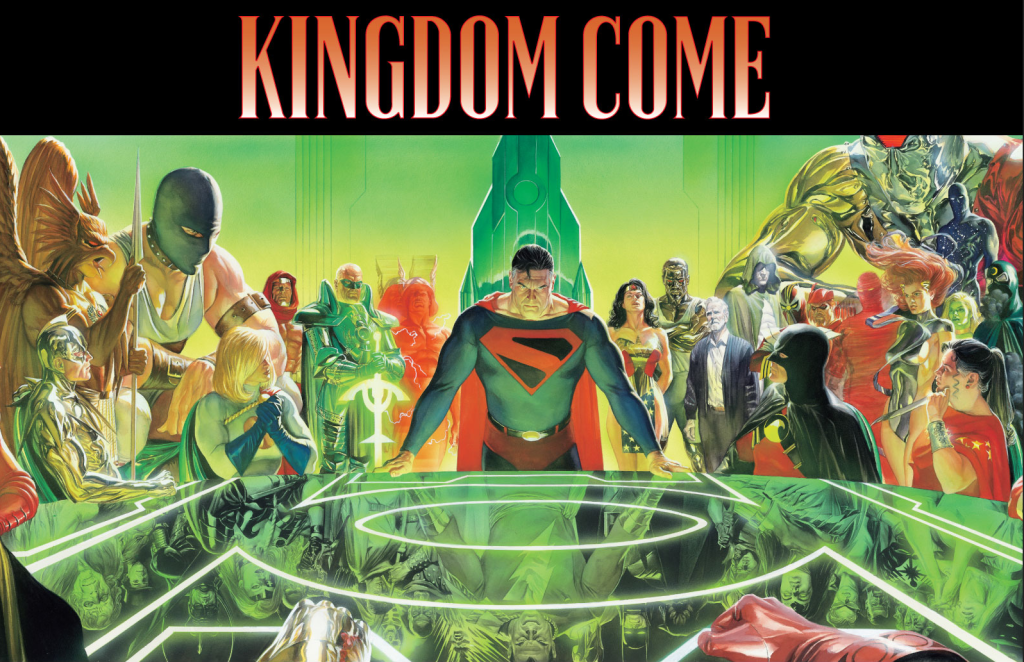 1. Tell us about your background as an artist. Where did you study and how did you get in to digital art?
Luke Butland – I used to sit at school and draw Marvel, DC characters and admire the work of H.R Giger as I was growing up. Which I suppose is were my love for pop culture and art began. Originally I studied to be a graphic designer in college and then furthered my study at The Arts Institute at Bournemouth. I left there thinking digital design was for me, it wasn't, I lack the patience to code, and to teach apparently…dabbled in that for three months. But my first foray into pop culture art was ignited by the work of a fellow college friend and Poster Posse member Matt Needle, his work was doing well and I thought why not give it a go. My early work was completely vector, which then developed back to traditional illustration but it took an appendicitis to bed ridden me (causing me to be unable to sketch) and gave me the time to start practicing digital illustration and then it kind of developed from there, so thank you appendix !!
2. How would you sum up your style? And how has this developed over the years?
Luke Butland – As previously mentioned my styles changed drastically over the years, from Vector, to Hand drawn, to digital. And the way I draw digitally has also developed. I struggled for a long time trying to find who I was as an Illustrator, I like to experiment with what I do, but I'm starting to think that I have my own style. Personally I don't think I could some up my style, but whilst speaking to one of the other Posse members the other day Salvador Anguiano he said my work had a "raw energy" to it, and I liked the sound of that, so lets go with that…..my style is just raw energy.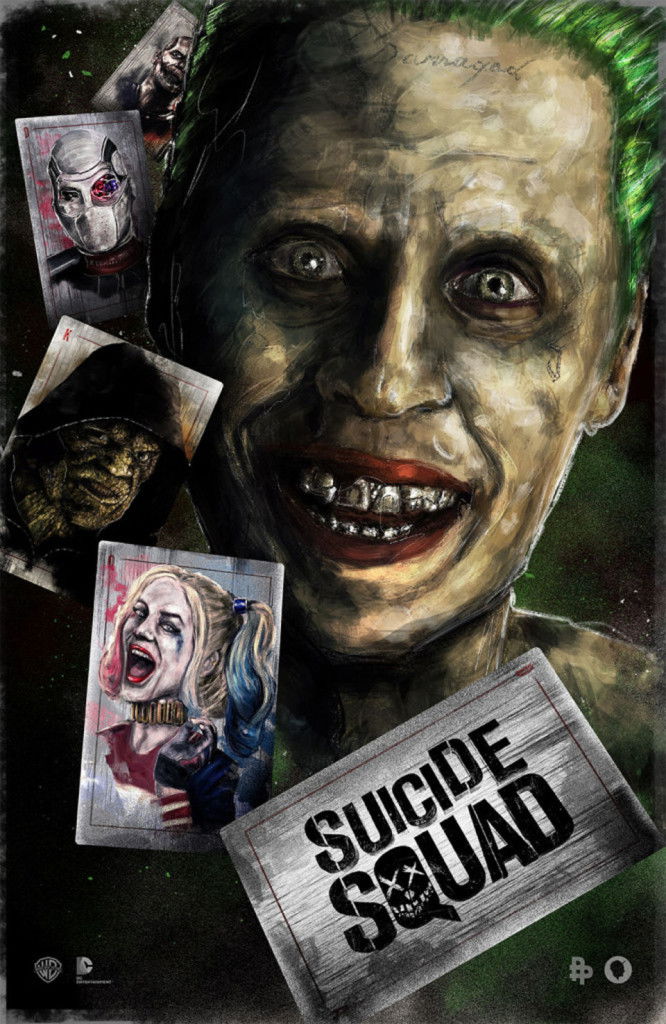 3. What have been your favorite projects to work on so far?
Luke Butland – Wow this is tough one, I kind of get a bit lost when it comes to picking definitive stand outs, everything I work on at the time I pour everything into so I kind of get tunnel vision. If i had to pick a couple though they would probably be Guardians, Interstellar, Black Hawk Down and most recently my Suicide Squad print, which for me was the best thing I had created to date, some people may disagree but I was really happy with how that one came out.
4. A lot of your work is based on popular culture, what attracts you to this kind of work?
Luke Butland – I'm a geek, it's really that simple. I've loved film from a young age and comics were always around whilst growing up. So it seems natural for me to be creating work within this world, you do work you have passion for and my passions all sit within this realm of geekery. It's also just great to work on films, games, comics and show what you would have done differently.
5. Are there any dream clients/collaborators you'd love to work with and why?
Luke Butland – I'd absolutely love to do cover art for both DC and Marvel, just getting to riff on some of my favorite characters would be great fun. (Needless to say this project was a real pleasure to work on). And pretty much just to be given the opportunity to create some official film art would be amazing, I think the photo bash comps have there place and some can be quite beautiful, but wouldn't it be great to go to a cinema foyer and have it look more like an art gallery?
6. What is usually the most challenging part of a commission?
Luke Butland – Getting your idea across whilst trying to both please the client and maintain artistic integrity and your style in the process. Sometimes it's easy and you and the client/clients will see eye to eye from the get go, other times not so much. Also when your working on group projects you have to come to a happy medium as your never going to be able to please everyone….it can get frustrating at times but that's also what's so great about art, it's subjective.
7. What is your process? Are you a 'tight' sketcher of ideas or does it start loose and come together digitally?
Luke Butland – It varies, sometimes i'll just jump straight on the comp if I have a strong vision in my head and just start riffing. Other times it will start with a sketch which i'll then refine more and use that as a starting block for when I move into the digital realm, like I did for this peace in fact. Started as a rough Idea which I then took onto the computer and developed it further into the finished product, although this one stayed pretty close to the original concept sketch.
8. What programs/tools can't you live without?
Luke Butland – I couldn't live without my Wacom Intuos (would love a Cintiq some day) I really don't know how people work with a mouse it baffles me. And then the standard Photoshop, Illustrator and my traditional tools that I carry everywhere my sketch book and Micron Fine Liners, you never know when creativity will strike.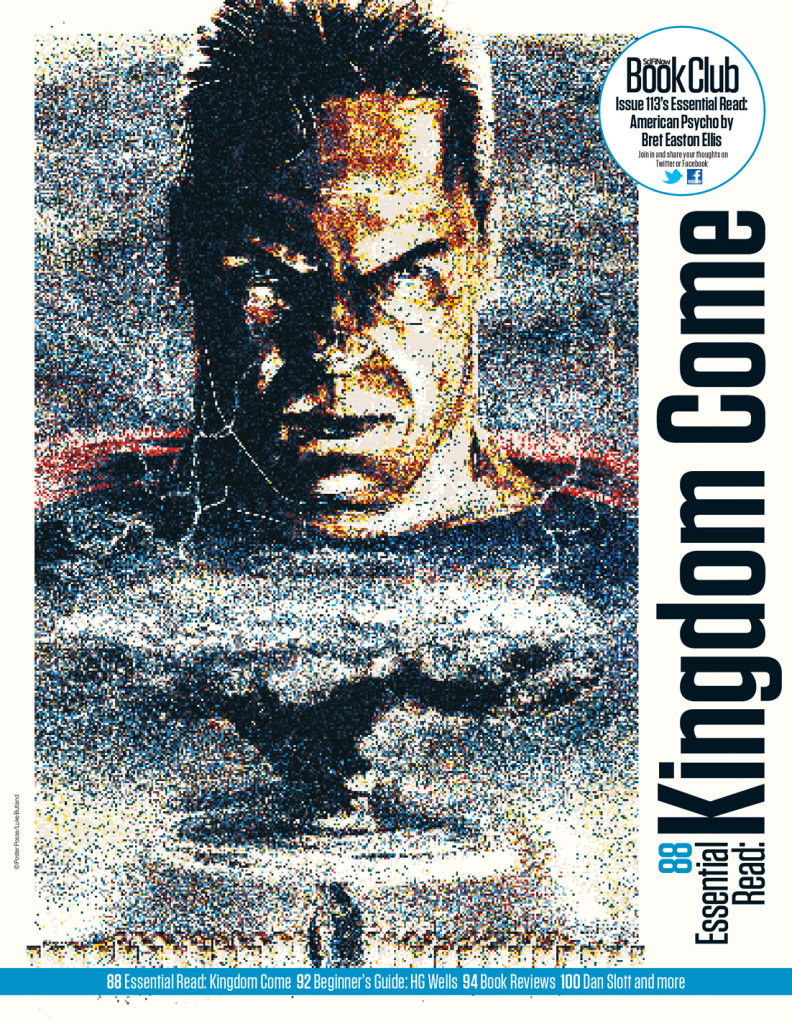 9. What would you say separates you from other artists?
Luke Butland – I would have to say the style and the way in which ill tackle a project. I mean Everyone has their own unique vision and certain way in which they create their own art, like previously mentioned I think I have gotten to a point now where my style has started to become recognizable and differentiates me from other artists. Being part of the Poster Posse has really helped with this, as working alongside all those guys and girls from across the globe you start to develop the way in which you work, and it's helped me grow and refine my style.
10. What advice would you give to yourself if you could travel back in time to the start of your career?
Luke Butland – DON'T STOP DRAWING !!! Seriously I wish i had kept sketching, it's my biggest annoyance with myself and I have no real answer for why I stopped. Over the past couple of years I have started again but, yeah keep sketching. Also don't be so hard on yourself, I still do this now and I think all creatives are prone to this, we like to kick ourselves when we are down and nothings ever good enough.
11. What would be your three key tips or pieces of advice for artists trying to start a career?
Luke Butland – Prepare for the cheese…. follow your dreams and don't let someone tell you can't do something. Read a lot, visit galleries, Put your work out there and amerce yourself within your chosen field and don't give up. If your first thing doesn't work, don't worry, learn from it and grow. And finally it goes without saying but PRACTICE, PRACTICE, PRACTICE!
12. Anything you are working on/upcoming that you would like to plug?
Luke Butland – Well I'm going to have to be boring and do the usual I have some exciting projects coming up but I can't talk about them. But of the things I can talk about currently working on a fun group commission for the classic Clint Eastwood revenge western High Plains Drifter along with some very limited art which will be available at Salt Lake Comic Con at the Poster Posse booth called 'Girls of Sin City' and then there's all the fun PP projects that will be dropping later this year.  I'd just like to finish by saying thanks for getting me on board to do this, was a great project to work on !!!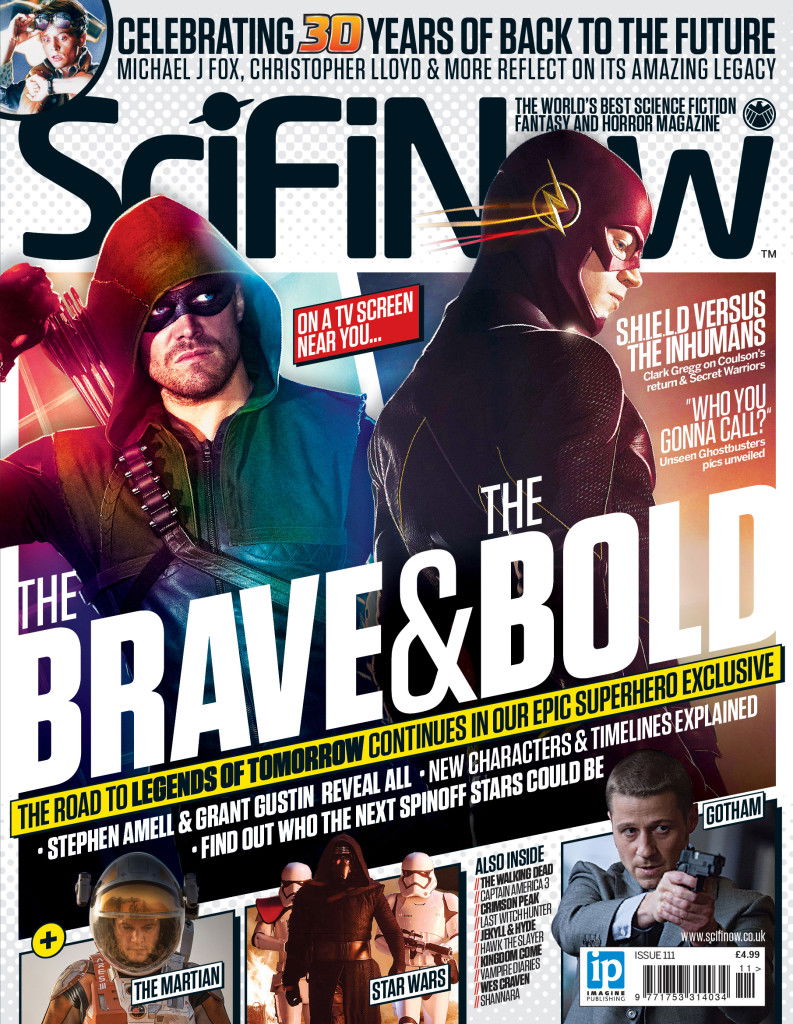 Luke's art and interview are in this month's issue of SciFiNow.  Be sure to pick up your copy today and follow Luke and SciFiNow on Twitter to stay up to date with new projects and collaborations.