Earlier this year the Poster Posse did a five-phase tribute to Batman to celebrate his 75th anniversary.  Rodolfo Reyes partnered with Dark City Gallery at this years London Film & Comic Con to release a very limited run of his print for Tim Burton's "Batman Returns."  "Batman Returns" was released on June 19th, 1992 and was the second installment of Warner Bros.' initial Batman film series, with Michael Keaton reprising the title role of Bruce Wayne/Batman. The film introduces the characters of Max Shreck (Christopher Walken), a business tycoon who teams up with the Penguin (Danny DeVito) to take over Gotham City, as well as the character of Catwoman (Michelle Pfeiffer).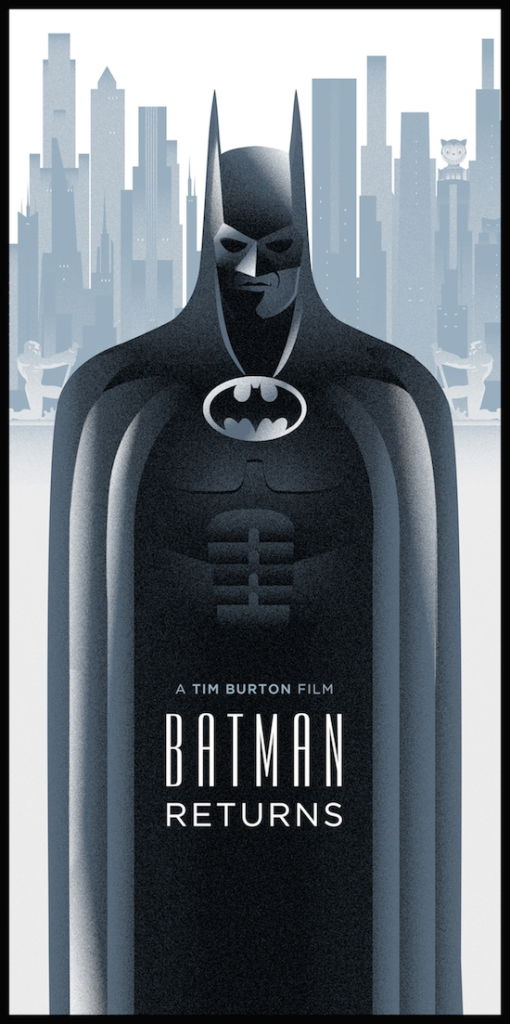 "Batman Returns" by Rodolfo Reyes
Event: London Film & Comic Con
Format: Hand printed silkscreen
Edition: Limited Edition of 75 pieces
Size: 16.5″ X 32.5″ (inches)
As an added bonus, use the code
BATMAN75
and get 10% off your purchase, including framed or unframed pieces! Be sure to
follow Rodolfo Reyes on TWITTER
for updates on future releases and check out his
OFFICIAL WEBSITE
to see more of his sensational art.  You can also
CLICK HERE
to head over to Dark City Gallery's store to pick up some more art by Rodolfo that will DEFINITELY make your walls look better.