"Oh, the silent majesty of a winter's morn… the clean, cool chill of the holiday air… an asshole in his bathrobe, emptying a chemical toilet into my sewer…"
– Clark Griswold "National Lampoon's Christmas Vacation"

Recently Rich Davies was commissioned to do a movie poster for one of our all-time favorite holiday classics, "National Lampoon's Christmas Vacation."  Written by John Hughes, and released in 1989, this one STILL makes us laugh to this day.  Chevy Chase is absolutely brilliant.

As the holidays approach, Clark Griswold (Chevy Chase) wants to have a perfect family Christmas, so he pesters his wife, Ellen (Beverly D'Angelo), and children, as he tries to make sure everything is in line, including the tree and house decorations. However, things go awry quickly. His hick cousin, Eddie (Randy Quaid), and his family show up unplanned and start living in their camper on the Griswold property. Even worse, Clark's employers renege on the holiday bonus he needs.

Rich has brought his considerable talents to bear on this project and the end result is as joyous as the movie itself. Follow Rich on TWITTER to stay up to date on upcoming releases and collaborations. Once that is done, head over to his BEHANCE page and his OFFICIAL WEBSITE to see more gems from his portfolio.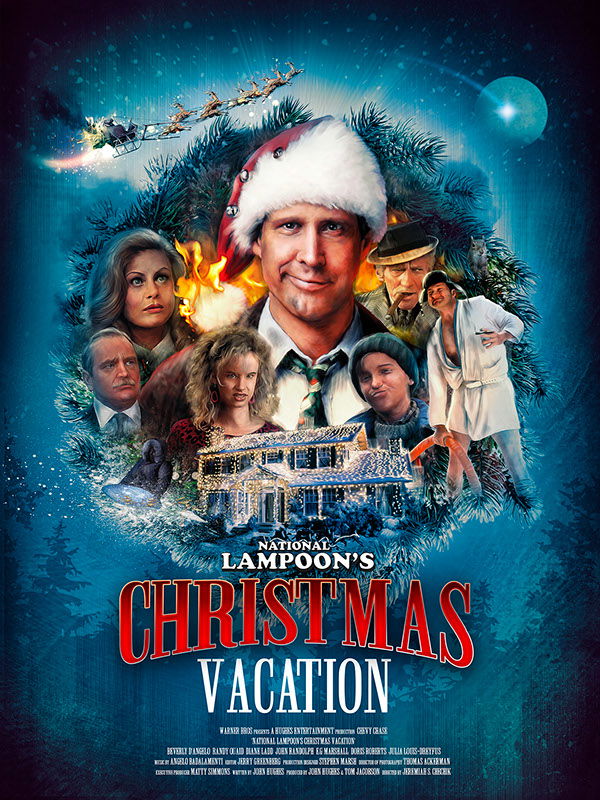 Where do you think you're going? Nobody's leaving. Nobody's walking out on this fun, old-fashioned family Christmas. No, no. We're all in this together. This is a full-blown, four-alarm holiday emergency here. We're gonna press on, and we're gonna have the hap, hap, happiest Christmas since Bing Crosby tap-danced with Danny f**king Kaye. And when Santa squeezes his fat white ass down that chimney tonight, he's gonna find the jolliest bunch of assholes this side of the nuthouse. 
– Clark Griswold "National Lampoon's Christmas Vacation"