PangeaSeed is an international organization who collaborates with members of the art, science, and environmental activist communities. For almost a decade they have been dedicated to raising public awareness and education surrounding the conservation and preservation of sharks and other marine species in peril.  The organization is deeply passionate about preserving the species living in the ocean and this year they are embarking on a fantastic new project to help bring awareness to their cause.  Titled, "Tales From the Deep: Stories, Myths, & Monsters" they will be releasing a new print from a new artist each month.  This month/ January, they have worked with Marko Manev who delivered an outstanding print called, "Descent Into Madness."  Read the official press release for the project and take a look at Marko's amazing work below.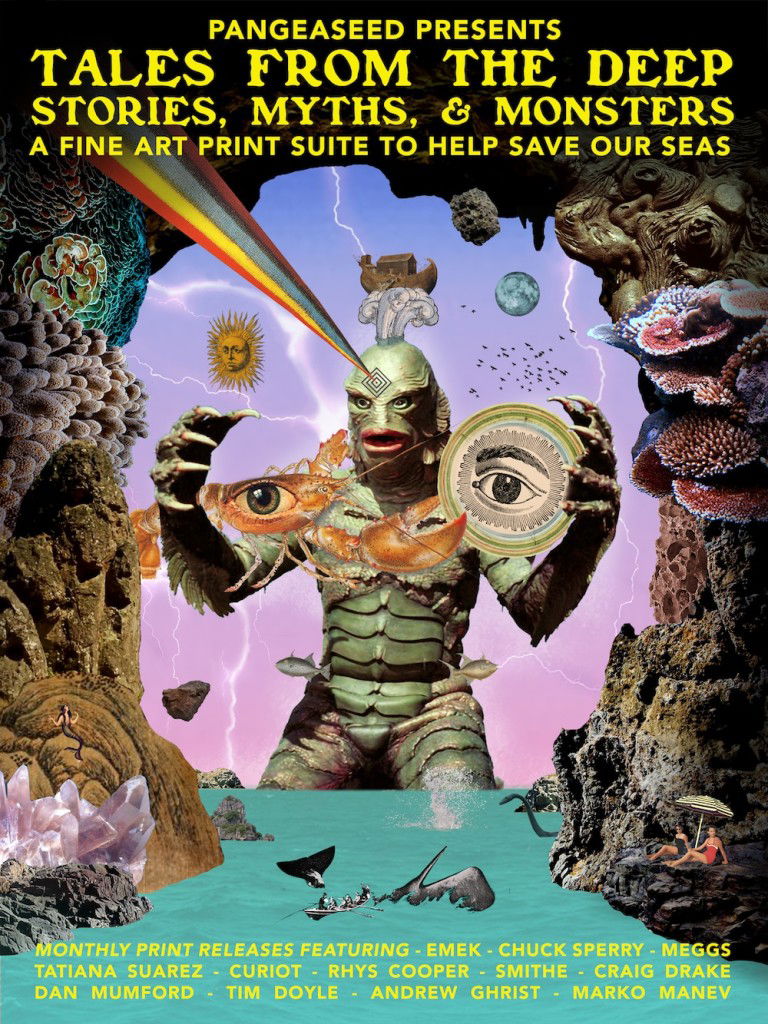 For 2015, PangeaSeed is pleased to announce Tales from the Deep: Stories, Monsters and Myths – A Fine Art Print Suite to Help Save Our Seas. Drawing from the concept and success of Sea of Change, our 2013 print suite project focusing on endangered oceans animals and 2014's HOME: A Fine Art Print Suite for Threatened Ocean Habitats, Tales from the Deep aims to celebrate our relationship and fascination with oceans via popular culture.
Highlighted ocean stories, monsters and myths will be sirens, shipwrecks, Neptune, the Bermuda Triangle, Creature from the Black Lagoon, the Kraken, mermaids and more.
Featuring new original artworks from 12 of today's top and most sough-after contemporary artists including Emek, Chuck Sperry, Tatiana Suarez, Curiot, Tim Doyle, Meggs, Dan Mumford, Rhys Cooper, Andrew Ghrist, Smithe, Craig Drake and Marko Manev – together we aim to save our seas through the power of art and imagination.
For collectors who already know they want the entire Tales from the Deep suite of 12 prints, we are offering a small number of complete, matched-numbered sets for sale for a limited time.
Recipients will not only receive all 12 of the amazing fine art prints created for Tales from the Deep, PangeaSeed is also including a very special free print created specifically for the project by a guest supporting artist that will only be available to subscribers of the print suite. All complete suite purchases will be shipped out on a quarterly basis during 2015, as the prints get released.
Link to purchase Tales from the Deep: Stories, Monsters and Myths – A Fine Art Print Suite to Help Save Our Seas prints and complete print suite: http://shop.pangeaseed.org/collections/tales-from-the-deep-stories-myths-and-monsters
With coral reefs, rain forests and global fish stocks estimated to be in full collapse by mid- century, the threat of extinction greatly affects us all. Without healthy oceans, a healthy life on Earth becomes a significant challenge and it's going to take a global movement of awareness, education and action to bring about a sea change necessary to encourage citizens and governments to protect and sustain what cannot protect itself.
At PangeaSeed we believe art and activism can spark positive change within individuals and their communities. No matter how large or small the effort, we are all morally responsible to take action and make better decisions for future generations and the natural world. For more information on how you can help save our seas, please visit PangeaSeed.org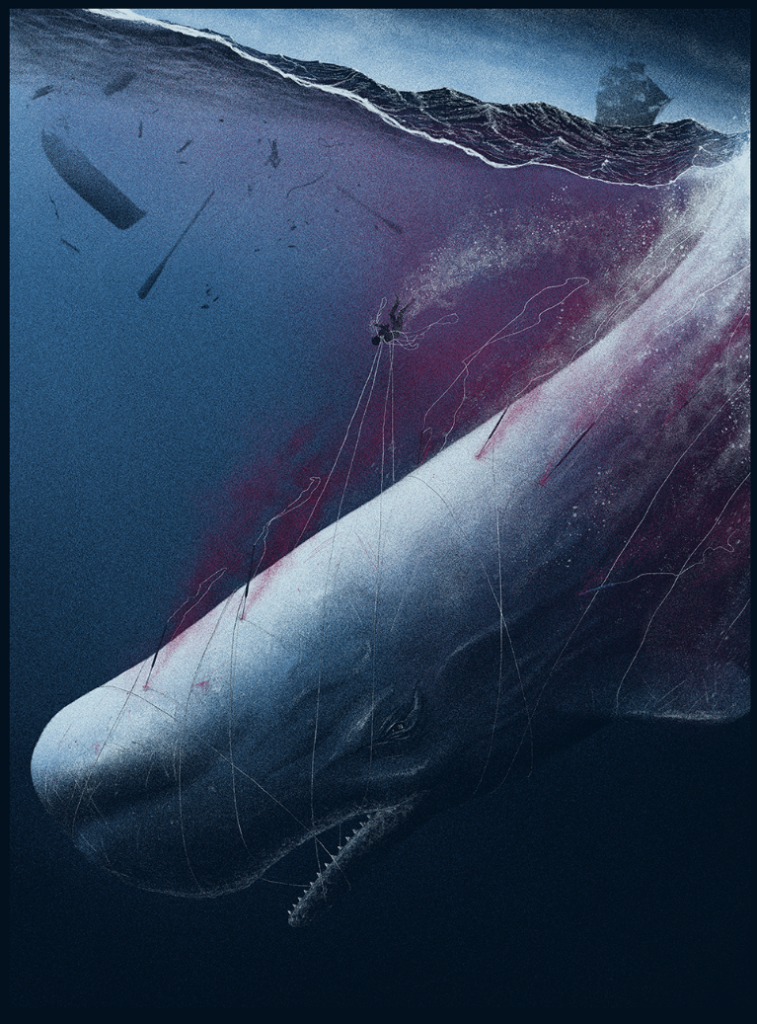 "Descent Into Madness" by Marko Manev
Regular Edition of 50 signed and numbered prints
18″ X 24″
4 color screen print on 100lb Cougar White
Printed by Seizure Palace
$55
"I choose to do a tribute of the classic book by Herman Melville because of the timeless struggle of man vs nature I think that Ahab's irrational drive to hunt and kill his "nemesis", an albino sperm whale, really resonates with todays mindless consumption and destroying of the ocean habitats by man. Humanity needs to finally realize that we can no longer dissociate us of nature. By destroying everything around us, we are destroying ourselves most of all. Nature will continue to exist in one form or another, with or without humanity. It is our responsibility as dominant species on the planet to be custodians of everything around us." – Marko Manev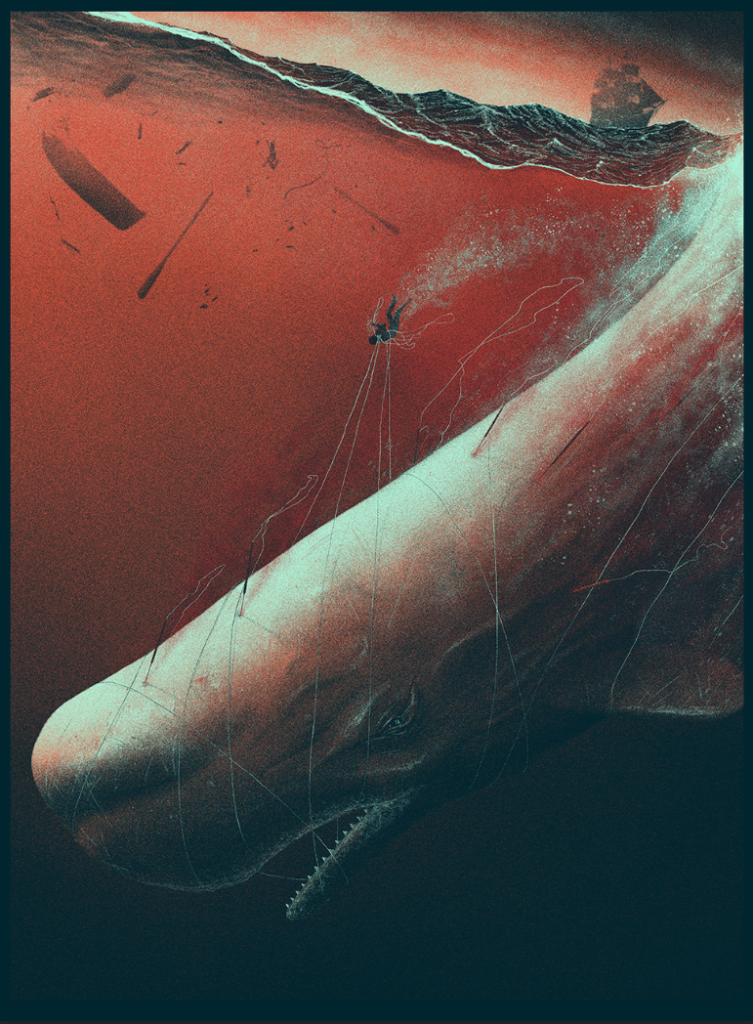 "Descent Into Madness" by Marko Manev
Variant Edition of 20 signed and numbered prints
18″ X 24″
4 color screen print on 100lb Cougar White
Printed by Seizure Palace
$55
Support this great cause and get some outstanding art at the same time.  Follow PangeaSeed on TWITTER for updates on new releases and fund raising events. You should ALSO follow Marko Manev on TWITTER because we have a feeling he has a LOT in store for fans in 2015.  Head over to his OFFICIAL WEBSITE to see more from his impressive portfolio.