Poster Posse member Orlando Arocena is a brilliant vector artist.  His work is riveting, compelling, unique, awe-inspiring and many more complimentary adjectives.  This is probably why Adobe commissioned him to come up with the image for their new splash page.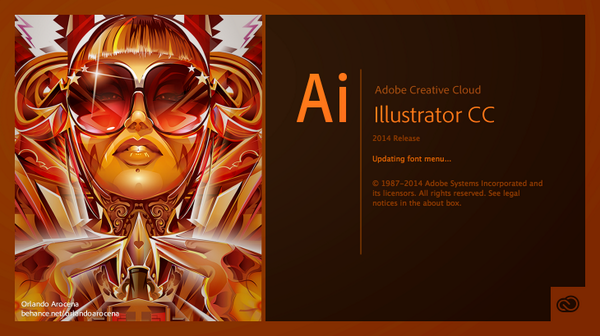 Adobe flew Orlando out to their Adobe MAX creativity conference to take in all the new goodies they were coming out with.  A perk of attending the conference was that Kings of Leon where scheduled to play at an after-party.  Orlando, always seeing opportunity, decided to come up with a poster to commemorate the event and band.  The day before he flew out to Los Angeles, Orlando started working on his surprise gift for the band.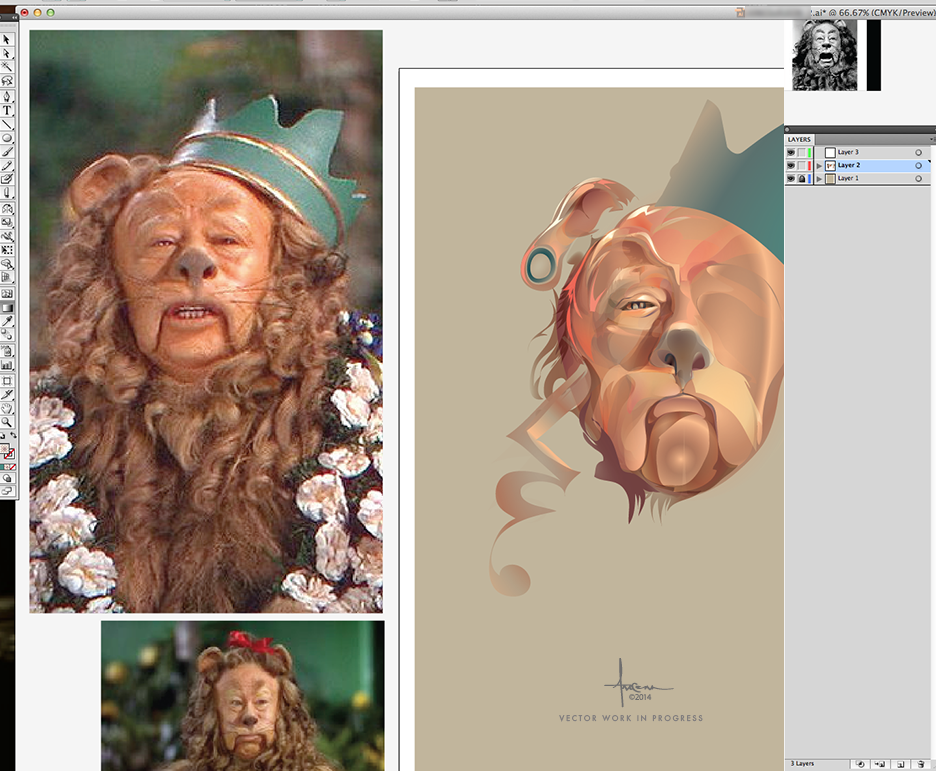 The project immediately consumed him and he worked at a feverish pace to get it just right.  One thing to note is that Orlando doesn't sketch this stuff out.  He goes solely off inspiration and the image he sees in his head.  He says it let's him be more creative on the fly and things just come to him as he goes.  Here is a quick detail shot of the face along with some notes by Orlando.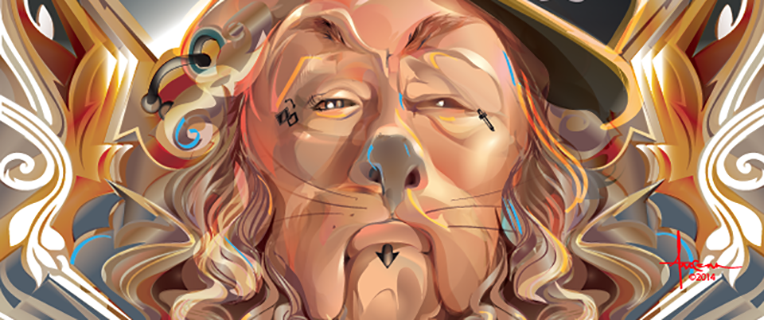 I didn't want the tattoos to come across being a negative representation or better yet "too thug or gangster" in actuality it's me having more fun bringing in elements / tools that are synonymous with the 3 adobe platforms that I play with ( indesign, photoshop & Illustrator)  + the "eye-dropper" instead of a "tear drop" , made me chuckle…- Orlando Arocena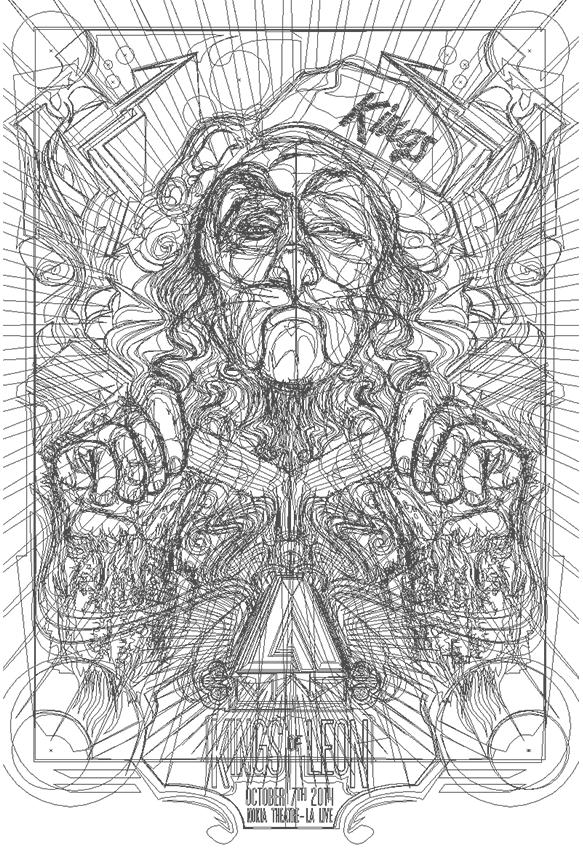 The end result is pretty fantastic. Orlando was able to present this to the band before the show and even take a picture with the group.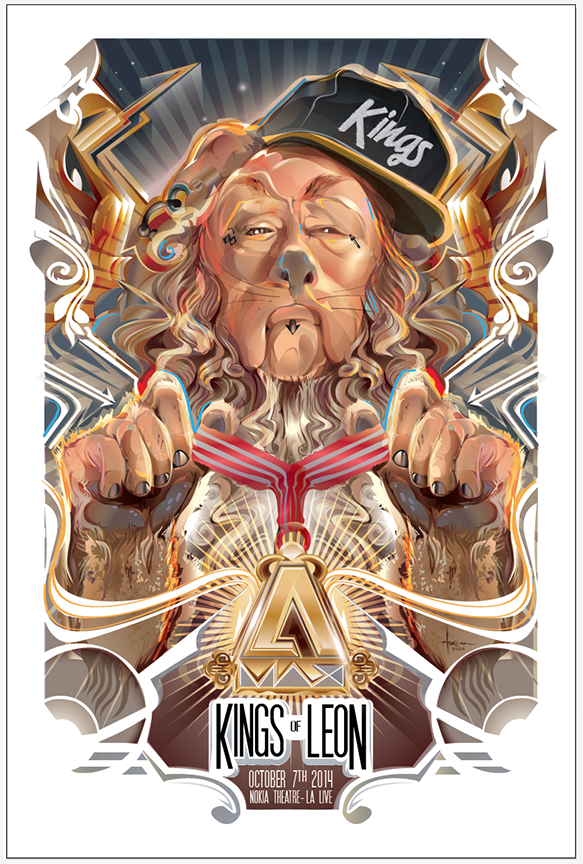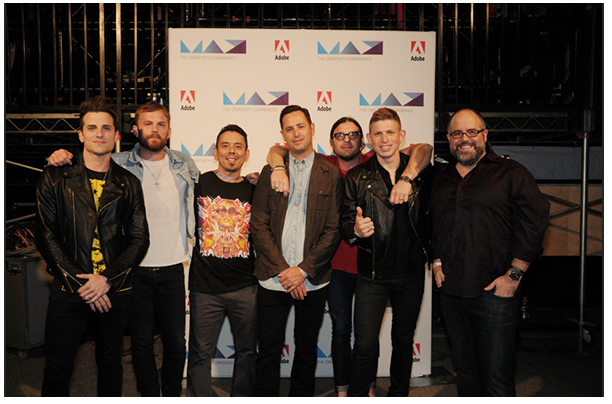 Aside from his work being officially used by Adobe and aside from the amazing concert by Kings Of Leon, one of the things at the conference that really struck a cord with Orlando was  "The Bully Project" which is sponsored by Adobe. Here is some insight to the project that everyone should support. The BULLY Project is the social action campaign inspired by the award-winning film BULLY, directed by Lee Hirsch. We've sparked a national movement to stop bullying that is transforming kids' lives and changing a culture of bullying into one of empathy and action.  The power of our work lies in the participation of individuals like you and the remarkable list of partners we've gathered who collectively work to create safe, caring, and respectful schools and communities. Our goal is to reach 10 million kids or more, causing a tipping point that ends bullying in America.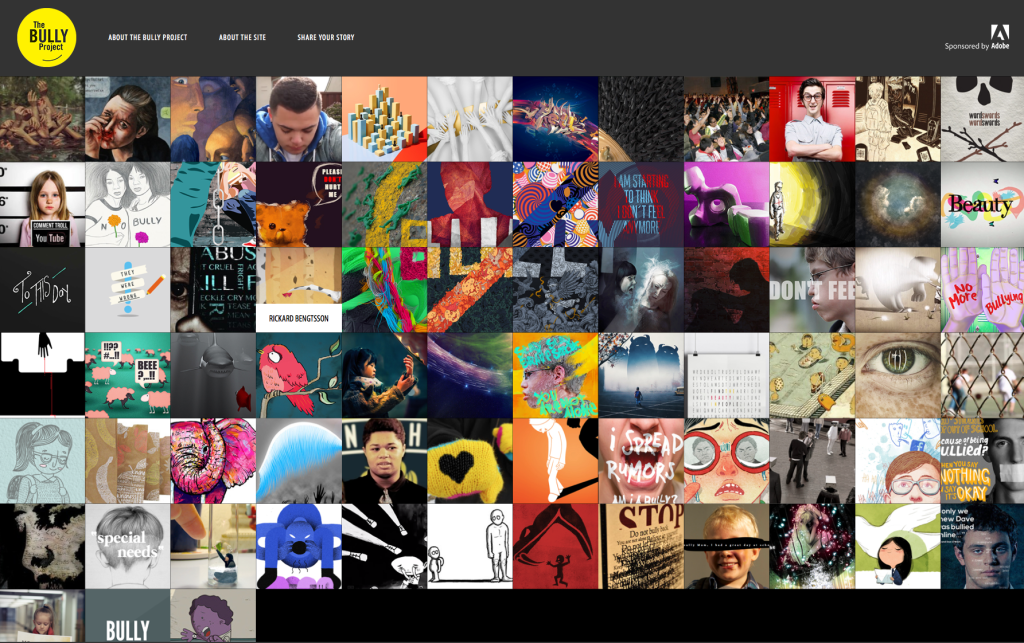 Orlando was fortunate enough to meet with Lee and share his amazing vector with him.  So inspired was Orlando that the project took on a whole different meaning to him.  Because of his talk and interaction with Lee Hirsch and the inspiration he felt towards The Bully Project, Orlando's  "AdobeMax- Kings of Leon – gig poster" was no longer just that, it had transformed into something more. It's true spirit was revealed and titled "AdobeMAX Brave Leon".
We encourage you to look closer at The Bully Project. It's an extremely worth while cause and it is changing people's lives for the better.  Creatives can get involved by participating in the Adobe Bully Project Mural.  Here is a brief description.  The Adobe Bully Project Mural is a digital destination where people can share art, stories, and perspectives about bullying, its impact, and how we — the creative community — can help stop it. All the artwork and projects on this site come from the Behance creative community.

To share your story, go to Behance, create a new project, and add your art and words to the growing number of creative voices stepping up to stop bullying. Make sure you use the hashtag #thebullyprojectmural so we can locate your project on Behance. Download step-by-step instructions on how to contribute HERE.
CLICK HERE to help spread the word about The Bully Project.
CLICK HERE to head over to Orlando's BEHANCE PAGE to see and learn more about this project and his experience.
CLICK HERE to follow Lee Hirsch on Twitter.