Yep Star Wars is crushing it at the box office and you have probably already seen it multiple times by now.  Before you go back for ANOTHER round of a galaxy far, far away, take a three hour break and go see Quentin Tarantino's eighth film, "The Hateful 8."  In fact, do yourself a favor and CLICK HERE to go see it at a special 70mm showing of the film near you, you will be glad you did.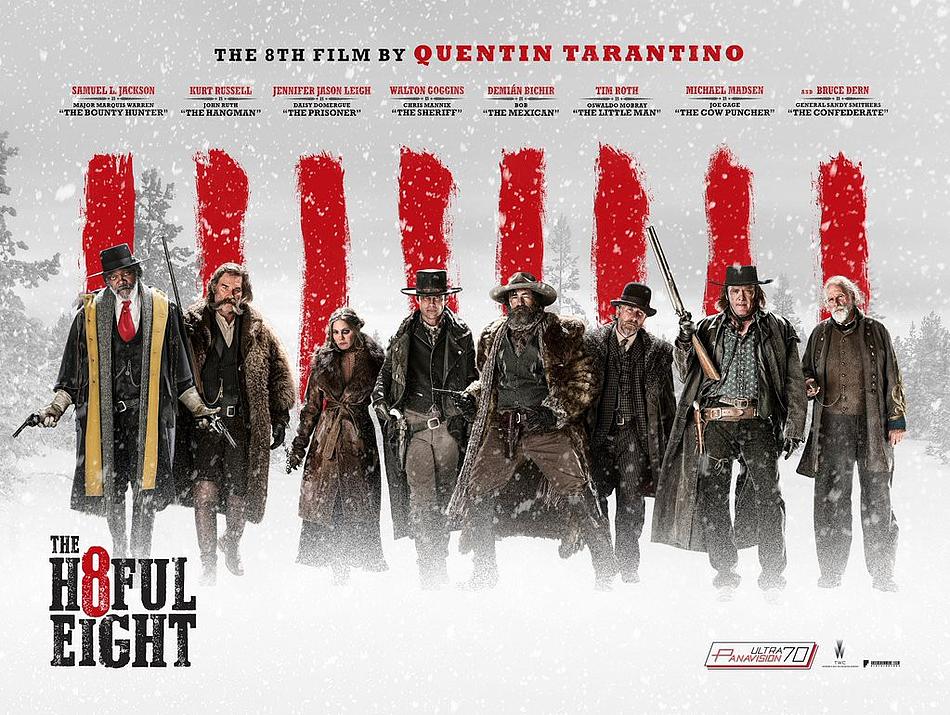 In THE HATEFUL EIGHT, set six or eight or twelve years after the Civil War, a stagecoach hurtles through the wintry Wyoming landscape. The passengers, bounty hunter John Ruth (Russell) and his fugitive Daisy Domergue (Leigh), race towards the town of Red Rock where Ruth, known in these parts as "The Hangman," will bring Domergue to justice. Along the road, they encounter two strangers: Major Marquis Warren (Jackson), a black former union soldier turned infamous bounty hunter, and Chris Mannix (Goggins), a southern renegade who claims to be the town's new Sheriff.
Losing their lead on the blizzard, Ruth, Domergue, Warren and Mannix seek refuge at Minnie's Haberdashery, a stagecoach stopover on a mountain pass. When they arrive at Minnie's, they are greeted not by the proprietor but by four unfamiliar faces. Bob (Bichir), who's taking care of Minnie's while she's visiting her mother, is holed up with Oswaldo Mobray (Roth), the hangman of Red Rock, cow-puncher Joe Gage (Madsen), and Confederate General Sanford Smithers (Dern). As the storm overtakes the mountainside stopover, our eight travelers come to learn they may not make it to Red Rock after all…
The other day we gave you a look at U.K. artist Doaly's tribute to the film and today we are going to share one by vector artist, Orlando Arocena.  Like many of us, Fandango is a HUGE fan of Orlando's work and they commissioned him to create an homage to the film….poster style.  The end result is pure Arocena magic.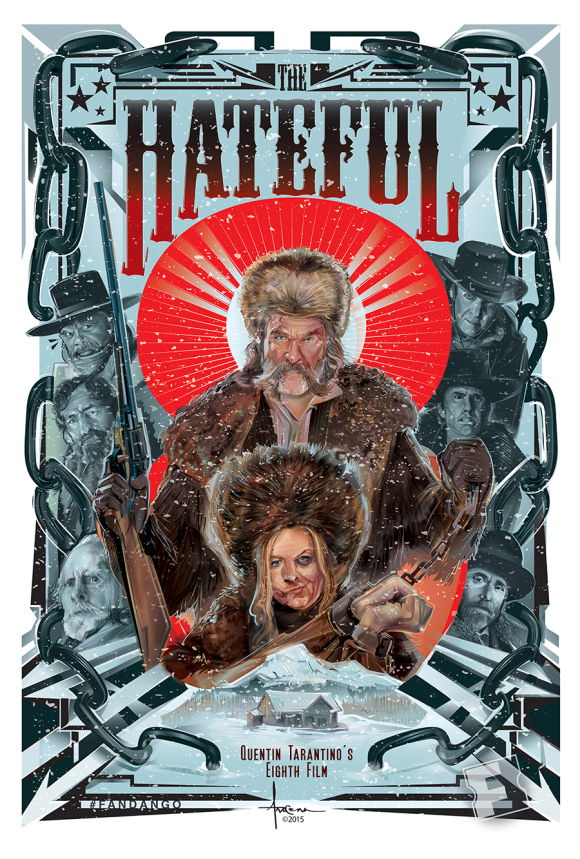 Head on over to Orlando's official BEHANCE PAGE to see a ton of incredible process shots on how this poster came to be.