Each time we went to the theater to watch Marvel's "Guardians of the Galaxy" this summer we liked it more and more.  Now we are counting the days until December 9th when it comes out on Blu-ray.  We are REALLY looking forward to the Gag Reel and all the other extras that will be packed into this disc.  As we stated last week we got a chance to go to the press launch for this Blu-ray release but we ALSO got a chance to get some face time with Director James Gunn.  We had Orlando Arocena in tow as he did the limited edition print for this press launch but he also had something else up his sleeve.  Apparently Orlando loved the movie as much as we did because as soon as James Gunn was announced to come back for the sequel to the biggest movie of 2014, Orlando got to work.

What was he working on you ask?  Well he put his considerable talents to work and crafted a new poster for "Guardians of the Galaxy II" with Big-Bad Thanos taking center stage.  To make this even more special he then transferred to image to word for a one of one original.  Along with his two images of Starlord and Gamora, he had quite the set of wood transfers to present to James Gunn.  Here is a pic of James Gunn flanked by yours truly and Orlando Arocena who is obviously excited given that he is smiling from ear to ear.  (I chose to play it "cool" but INSIDE I was jumping up and down like a kid who has just had ice cream for the first time.)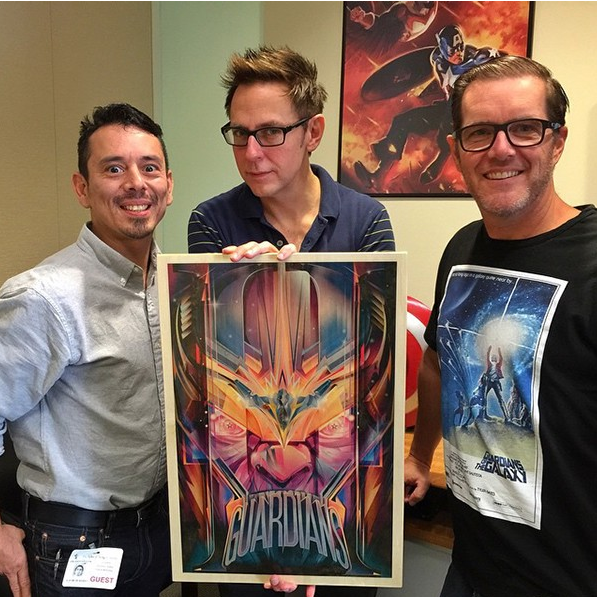 Here is what Orlando had to say about the experience over on his BEHANCE PAGE along with some images of the print.  Understanding that this particular production won't happen til several years from now. I couldn't help myself to show my creative appreciation with a GOTG II vector tribute.  I rather show up with gifts, than empty handed…..so before my trip to meet up with Marvel and James Gunn for the Press release party for Guardians ( now available in HD / Blu-Ray Dec. 9) , I created these 3,1 of Kind ( 1:1) vector hand transfers on wood.  It was great to meet up with great friends! Me • and my two friends – Writer/Director James Gunn – Don Thompson ( Principal of the Poster Posse) and yes, that AWESOME Tee shirt Don is sporting is the artwork of my Poster Posse brother Matt Ferguson.  We had 4 cameras taking pictures at the same time. It's not the flashes from the cameras, but more likely my expression has more to do with the fact I had Waaaay too much Coffee! 🙂 LOL!!!  – Orlando Arocena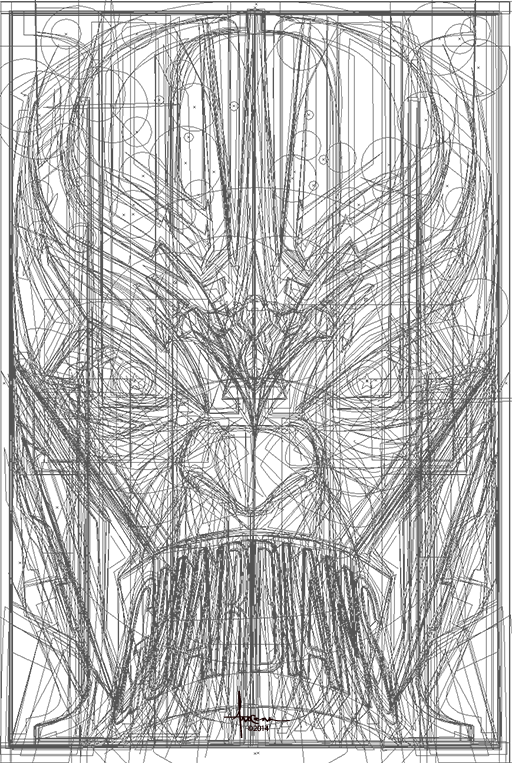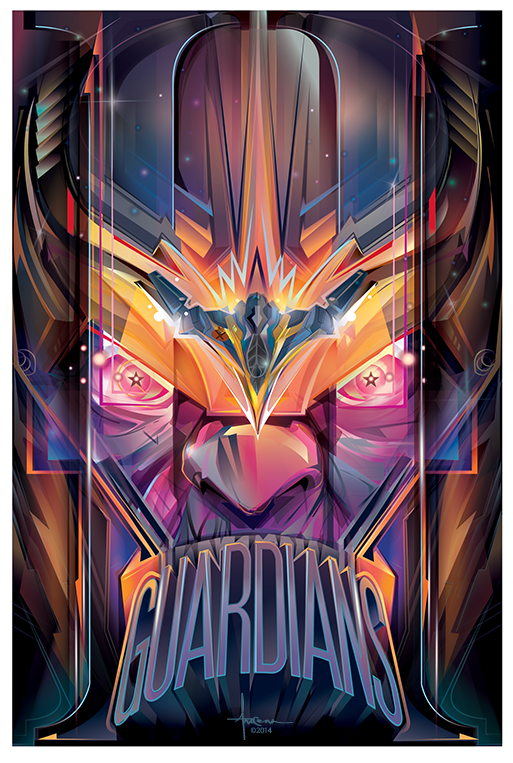 Follow Orlando on TWITTER to get updates on upcoming projects and releases.  He is a social media junkie and it's hard to determine if he is more addicted to social media, Starbucks coffee or Pedro's Tacos in San Clemente.  If you want to see our official collaboration with Marvel for "Guardians of the Galaxy", check out PHASE 1 and PHASE 2 and let us know which ones are your favorites.