First released back in 1986, "The Legend Of Zelda" has since become the best selling role playing, puzzle and action franchise for Nintendo systems.  Canadian artist, Marie Bergeron has just released a new project that pays tribute to the franchise called "Zelda Series X Weapons."  Marie has made eight mini-prints out of the games weapons.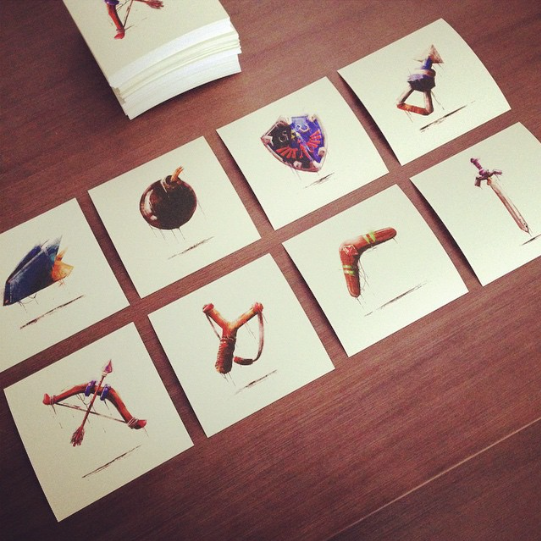 We asked Marie about the project and here is what she said.
PP – We know you are a big video game fan, where does Zelda rank in your list of favorites?
Marie Bergeron – Yes! I am definitely. I couldn't think of my life without video games, it's been a part of me since I was only 5. I've got to thank my brother after all, he, who sometimes needed a teammate or even to beat the shit out of me, put a controller in my hands. The joy it brought me has never left.
Nintendo owned the game industry back then, with incredible imagination and characters that are now unique and known by even non-gamers, Mario per say, everybody knows Mario right? But I truly believe that Nintendo has created one of the best character and story telling in video game history with Link in the Legend of Zelda. Somehow ferric, bad ass world and oh so fun. To say, that Nintendo has lost a lot in terms of hardware, yes but they still know how to design games to bring your inner child back…I did by a Wii U after all mainly for the new Zelda game coming up.
Hard to rank any of the Zelda games thought, even if they are the same in terms of concept and world creation they all felt a bit different from each other (which is nice). If I think of one Zelda games though it has to be "Ocarina of Time" which I played a LOT, probably in my top 10 games of all time. But the whole Zelda series must be wow, at least in my top 3…
PP – Which Weapon is your favorite?
Marie Bergeron – It's crazy how even TOOLS or Weapons can become icons as well. And Link has it all. Always loved the shield, classic yes. 
PP – Do you have any OTHER video game project coming up?
Marie Bergeron – I do! I do! can't say much about it at the moment thought. But other than that, I'll definitely create other series like such based on video games. Otherwise, playing some 🙂
Unfortunately, this batch is gone but stay tuned as you never know what Marie has coming up next.
CLICK HERE to subscribe to Marie's new letter to get the latest updates on new prints and projects.  You can also follow her on TWITTER to stay up to date as well.