Maria Suarez Inclan is a freelance Illustrator, Art Director and Graphic designer currently living and working as a Graphic Designer in Saatchi & Saatchi in London.  Today she is launching a new poster series with Curioos that highlights her passion for great films as well as her ability to drive fans mad as they try to figure out where each reference comes from.  The series is called "Hollywood Kits" and is the result of hours and hours and….more hours of watching films and picking out references that are sometimes obvious and most times, not so obvious, from some of Hollywood's greatest director's body of work.
Here's what Maria had to say about the project.  "The idea comes from the first kit I ever did, the one for Wes Anderson at Spoke Art gallery. Curioos saw it and thought it could be a great idea to create the same concept but for several film directors. Some of the posters are George Lucas, Tarantino, Scorsese, Sofia Coppola, Nolan and more.  It's been difficult to choose all the objects and most iconic stuff from each movie but It has been really beneficial for me as a film lover. I had the chance to watch LOTS of films I hadn't watched before and now I feel that I know way more about the way each of them make their films. I got to analyze the way each director uses color, objects, clothes in their movies and how these things can make a movie way more unforgettable.  Hopefully this project is well received among cinephiles because it's the best way I have to make a huge tribute to the people that create the amazing worlds we all love."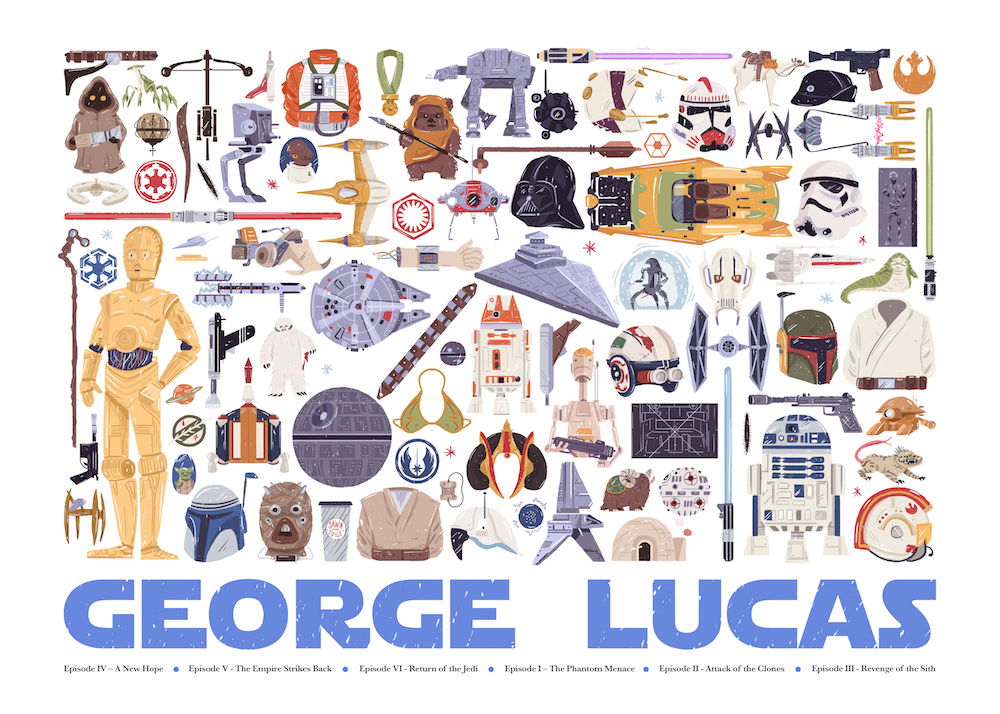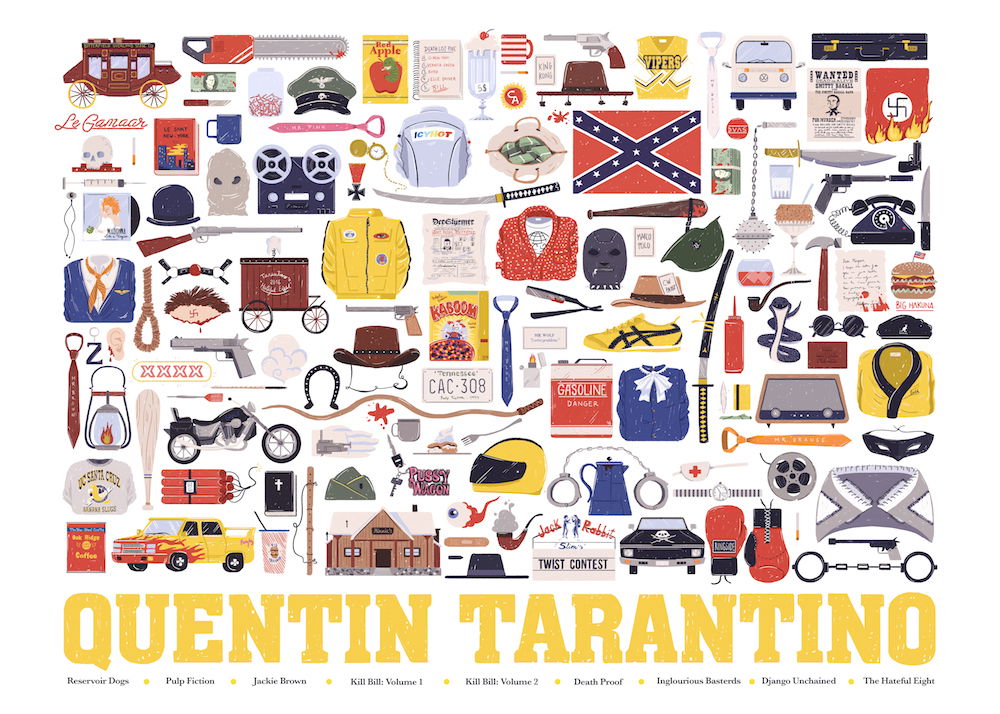 Here is what Curioos had to say about this fantastic project.  "Using instantly recognizable and iconic props and images, Maria recaps our favorite directors' movies in intricate and characteristically colorful illustrations. Will your readers be able to guess which film each object comes from?  This collection, available exclusively on Curioos, includes twelve original artworks inspired by a few award-winning names such as: Steven Spielberg, Quentin Tarantino, the Coen Brothers, George Lucas, Martin Scorsese, David Fincher, … and more!"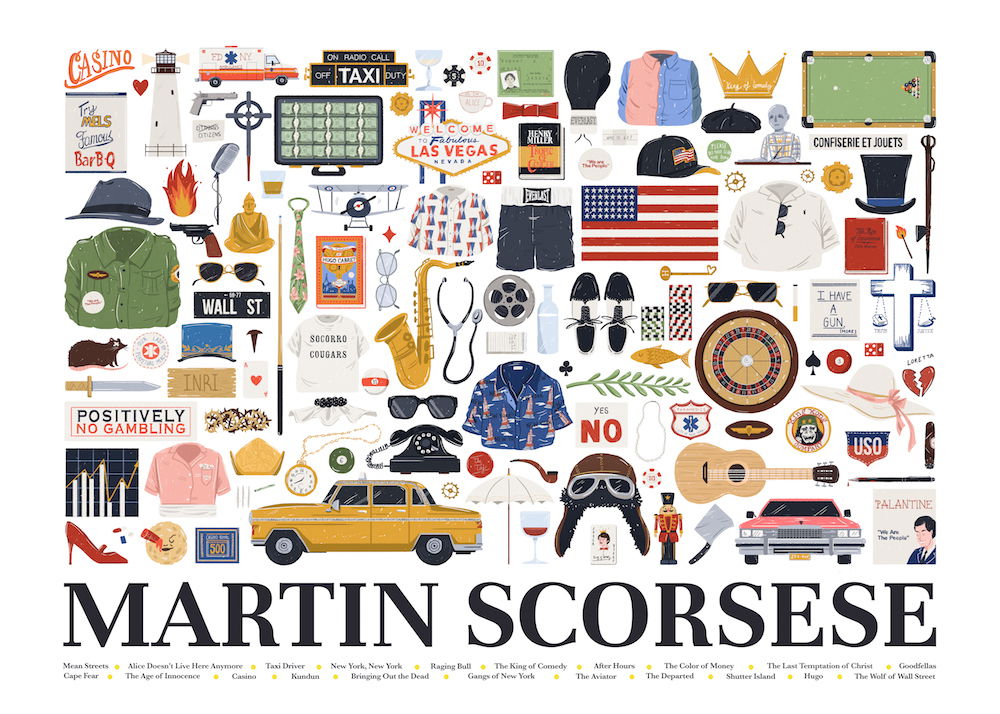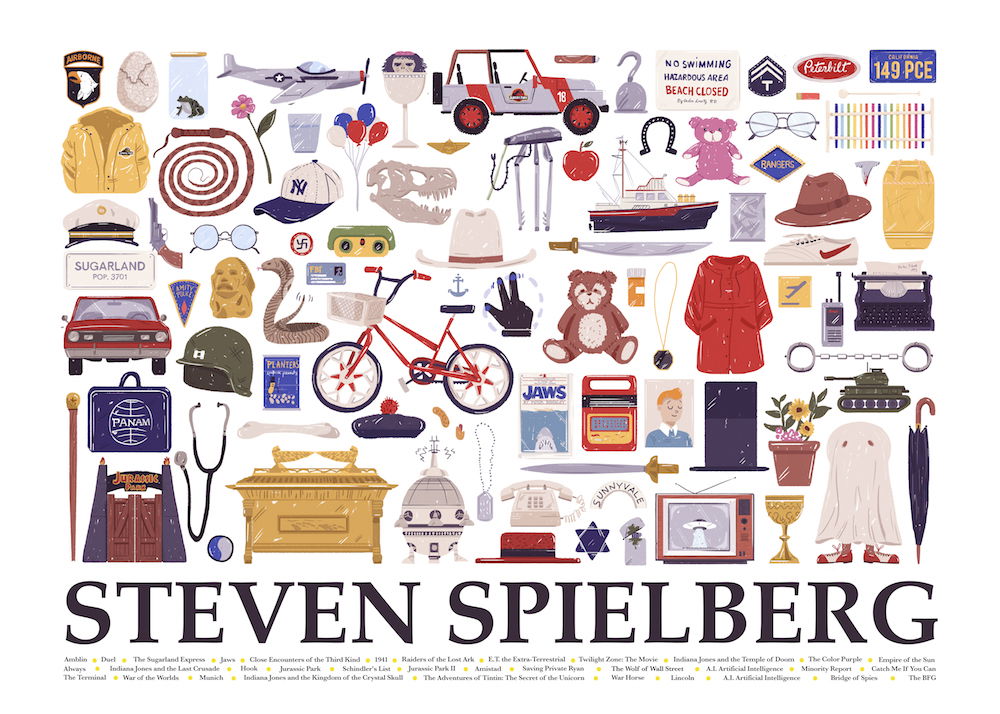 Click HERE to head over to Curioos, see the rest of the prints from this series and pick up some to make your walls very happy. Also, check out more of Maria's work at the links below.