The sequel to the #1 rated shooter of 2012, Ubisoft's  "Far Cry 4" launches on Xbox One, Xbox 360, PlayStation 3, PlayStation 4, and PC on November 18th and fans can't WAIT to get their hands on it.  Recently a map was leaked online showing just how big the game truly is and it's pretty impressive. (This map has not been officially confirmed yet but…..it looks pretty legit.)
Speaking of "legit" and "impressive", Poster Posse member Laurie Greasley has just gave us a look at a potential new print based off the video game we are all waiting for.  We asked him about this fantastic image and here is what he had to say:  Since I saw the first footage for Farcry 4 I knew I wanted to produce a small tribute to what looks to be an incredible game. After spending some time in Nepal last year I was impressed at how authentic the environment of the game looked and felt to the actual reality. It was really a coin toss between doing an image inspired by the fictional Himalayan Kingdom of Kryat or the games other worldly Shangri-La. The incredible palette of the Shangri-La levels is what eventually pushed me to do this piece. The use of the various reds and golds give the whole world a sense of majesty that's lush and beautiful.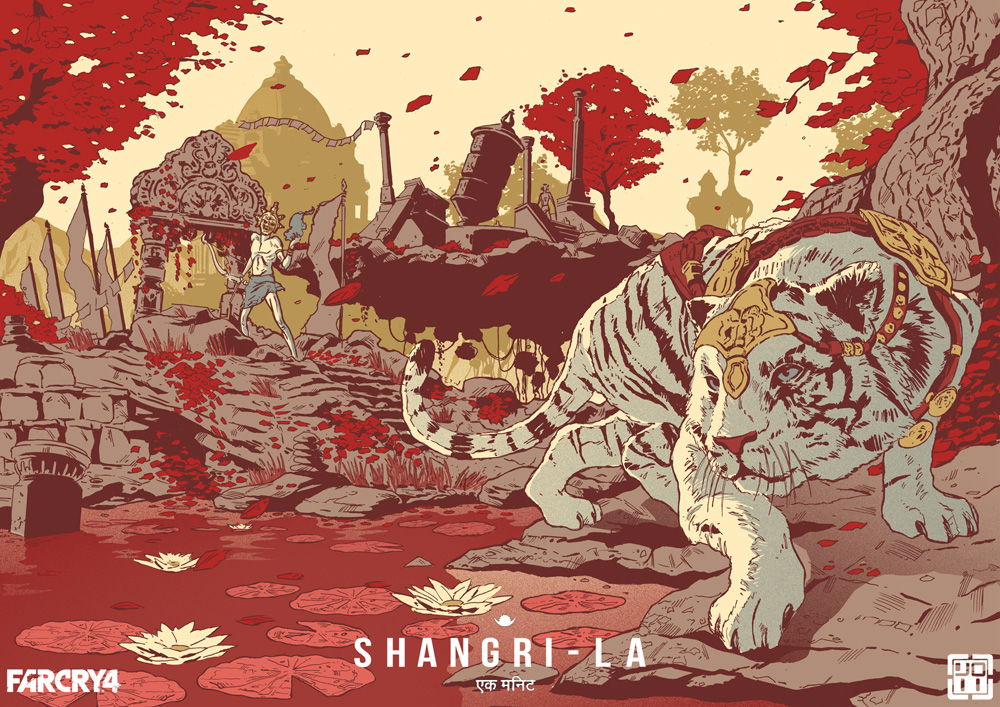 We absolutely LOVE this image and we REALLY hope that Laurie does a follow up piece for the aforementioned Himalayan Kingdom of Kryat!  Let us know what YOU think about this print and tell us if you would like to see Laurie release this as a print!  The game looks as brutal as it is beautiful and we can't wait to delve into all it's secrets.
Hidden in the towering Himalayas lies Kyrat, a country steeped in tradition and violence. You are Ajay Ghale. Traveling to Kyrat to fulfill your mother's dying wish, you find yourself caught up in a civil war to overthrow the oppressive regime of dictator Pagan Min. Explore and navigate this vast open world, where danger and unpredictability lurk around every corner. Here, every decision counts, and every second is a story. Welcome to Kyrat.