"Marijuana….the burning weed with it's roots in HELL!"
When it comes to propaganda exploitation films, you would be hard pressed to find one more talked about than the 1936 classic, "Reefer Madness."  Let's be honest, lest we forget, this film CLEARLY reminds us that marijuana or: The Devil's Lettuce, Ganga, Assassin of Youth, Bad Seed, Boo Boo Bama, Budda, Crippie, Dank, Dinkie Dow, Endo, Giggle Smoke, Kick Stick, Love Leaf, Mary Jane, Purple Sticky Punch or Sticky Icky  as it is sometimes called is pure evil. Grey Matter Art and Chris Garofalo will have fans seeing 'green' with their latest tribute to the film that STILL has fans talking 80 years later.  Here is what Grey Matter Art has to say about this amazing new offering.
Grey Matter Art is proud to announce our next poster release for the classic 1936 propaganda film, "Reefer Madness" by artist Chris Garofalo. This is our first collaboration with Chris, and we really had a blast working together. We are so incredibly pleased to release "Reefer Madness" as an exclusive poster at the Monster-Mania convention, running from March 13th-15th, in Cherry Hill, New Jersey. Chris & Grey Matter Art will both be in attendance, so please come on down, and show your support. The run size will be limited to only 36 posters, and any remaining copies will go on sale Tuesday, March 17th at 1PM EST in our shop page. Below are the image and the details of the poster for "Reefer Madness".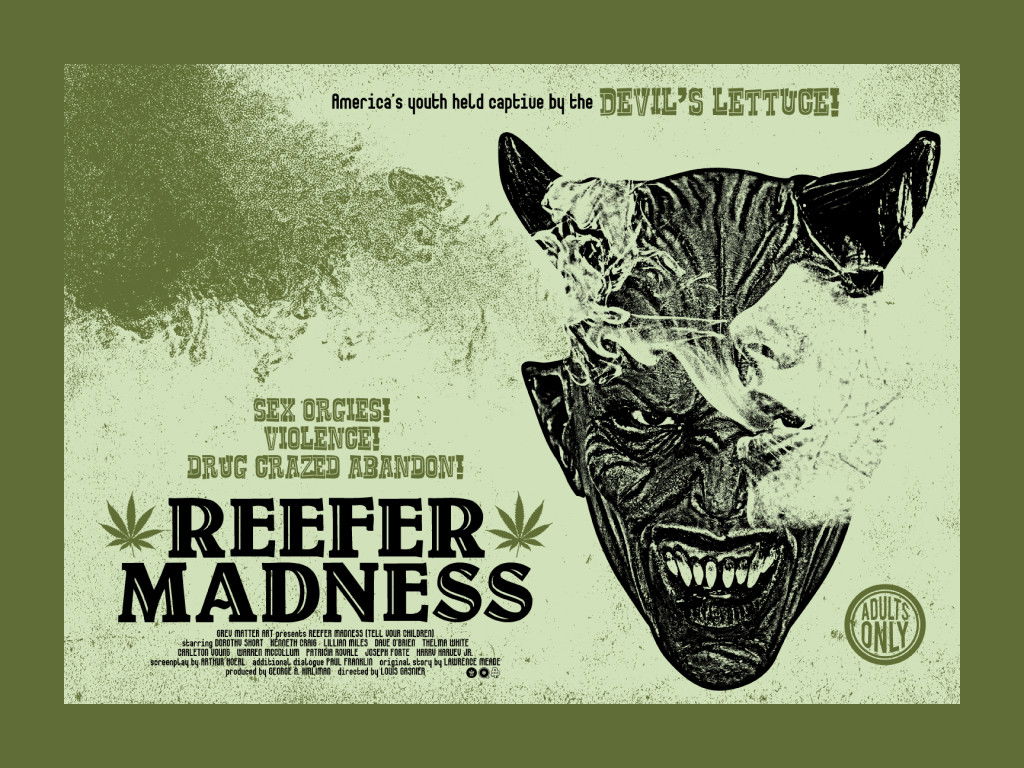 "Reefer Madness"
Artist: Chris Garofalo
Size: 18×24
Regular Edition: 36/35.00
Printed By: Rural Rooster
Paper: Mr. French Jellybean Green Poptone Stock
Online Sale Date: 3/17/15 (1PM EST)
We spoke to Chris about this project and here is what he had to say to us about it.
"When I was approached with this subject, I immediately knew that I wanted it to have a vintage, "poisonous, yet strangely appealing" feel to it. The original poster has such a loud "scare you straight" vibe, that I decided on the "seductive danger" route. It was certainly a lot of fun merging the two worlds of temptation and restriction on one print, and it was as challenging as it was rewarding." —Chris Garofalo
"Remember kids, save your souls, don't fall into the bottomless pit that is weed."
THIS HAS BEEN A PUBLIC SERVICE ANNOUNCEMENT BY POSTER POSSE.COM