"In the not too distant future, wars will no longer exist. But there will be…Rollerball."
Staring James Caan as the lead character, this dystopian, science fiction flick has been a cult classic for 40 years.  Now, Arrow Films is releasing a special collectors edition featuring the art of Paul Shipper.  Here is the official info from Arrow about this awesome, must-have collectors edition: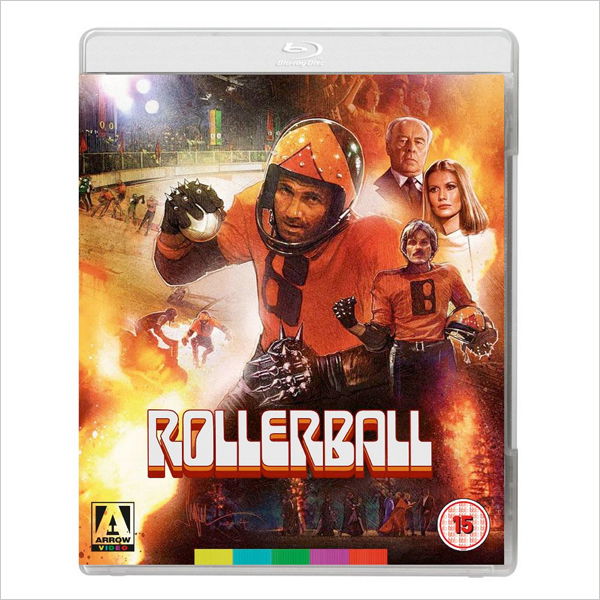 CLICK HERE TO ORDER THE BLU RAY
In a corporate-controlled future, the world's nations have been disbanded and conflict is a thing of the past. But blood continues to be shed on the tracks of Rollerball – a brutal contact sport which pits players in a battle of life and death.
James Caan (The Godfather, Thief, Misery) plays Jonathan E., celebrated captain of the Houston Rollerball team whose prowess on the track has earned him renown across the globe. But this fame has also attracted the ire of the games' corporate sponsors, who wish to suppress any displays of individual achievement – fearing this could encourage the populace to revolt. With the powers-that-be pushing for his retirement, Jonathan is faced with a choice – concede to the Corporation's will or take a stand, by continuing to compete in the increasingly deadly games.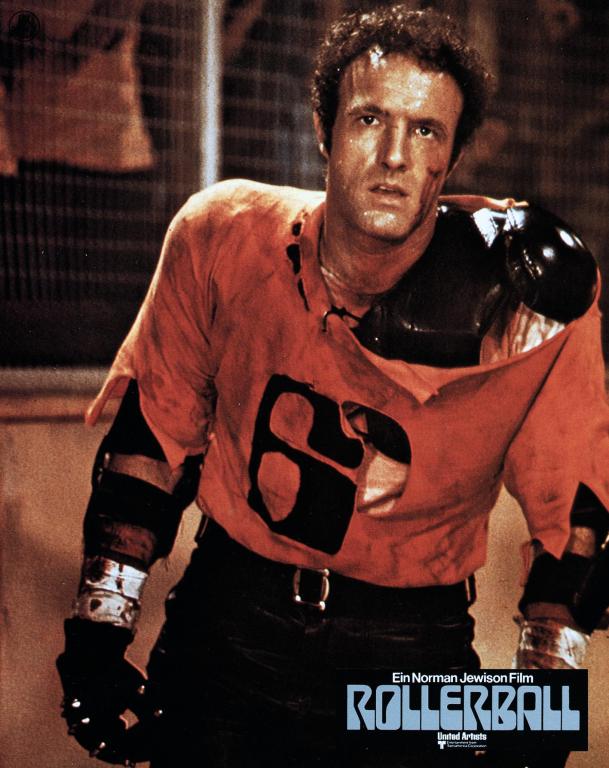 Shot in Munich to make use of the city's futuristic Olympic architecture, Rollerball is a classic slice of dystopian filmmaking, mixing high-octane action sequences with gripping (and thoroughly prescient) social commentary. The future is now – the future is Rollerball! 
SPECIAL EDITION CONTENTS:
High Definition Blu-ray (1080p) presentation of the film from a digital transfer prepared by MGM Studios
Original Stereo 2.0 audio (uncompressed PCM on the Blu-ray)
Isolated Music and Effects Soundtrack
Optional English subtitles for the deaf and hard of hearing
Audio Commentary with director Norman Jewison
Audio Commentary with writer William Harrison
Blood Sports with James Caan – A brand-new interview with the Rollerball star
The Fourth City: Shooting Rollerball in Munich – Unit manager Dieter Meyer and others revisit the Audi Dome and other original locations
The Bike Work: Craig R. Baxley on the Motorcycle Stunts in Rollerball – Stunt artist Baxley on the challenges and dangers of being one of the Rollerball bikers
Return to the Arena: The Making of Rollerball
From Rome to Rollerball: The Full Circle – original EPK bringing together interviews and on-set footage
Original Theatrical Trailer
Theatrical Teaser
TV Spots
Reversible sleeve featuring original and newly commissioned artwork by Paul Shipper
Collector's booklet featuring new writing on the film, illustrated with original archive stills and posters.
As an added bonus, Paul Shipper is offering a very limited run of his image as a 24″ X 36″ fine art giclee print.  This print is limited to 250 and costs $65.
CLICK HERE to order yours today.