In 1983, Brian De Palma delivered the quintessential drug/ crime lord film that fans still love to this day.  "Scarface" is one of those films that has stood the test of time and Poster Posse member Stephen Sampson has given it a rather special tribute with two fantastic prints.  Stephen has collaborated with Style over Substance for this release.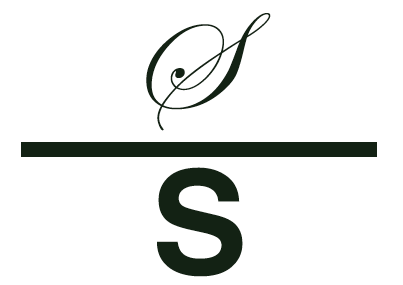 We asked Joe from Style Over Substance and Stephen to get us up to speed on this project and this is what they had to say.  I started the site back in 2012 because I love collecting artist renditions of classic movies. I respect artist of all styles and wanted to collab with as many unique artist as possible. I also chose the name Style Over Substance because its a term used to describe films I have always gravitated towards. The name has a negatice connotation and I wsnted to take a negative and turn it into a positive. On this project I chose to work with Steve aka The Dark Inker because I saw the stuff he was doing with the Poster Posse and was blown away. Once I saw his Dark Tower print I knee we were going do something with him and I'm glad he said yes. Initially I had another artist to do a Scarface inspired print but that fell thru. Once Steve said yes I asked him if he would do Scarface cuz I felt with his style, he could do it justice. He said yes in a heartbeat and was thankful and excited to tackle this film. I wanted to do a Scarface entitled print because obvisiously the film is awesome but also cuz of its broad appeal men and woman of all ages and races love this film. The reason we chose the title "The Eyes They Never Lie" is a play on a famous line of dislog said by Pacino in the film. I was hanging with my buddy and he was uttering the line over snd over for no reason and I said this is going be the title of the print and looking at the artwork you can see the title fits. I told Steve the title and his response was one word PERFECT. Also for those looking at the background thinking its New York I assure you, your readers and anyone who purchases this print that its Miami at night. – Joe: Style Over Substance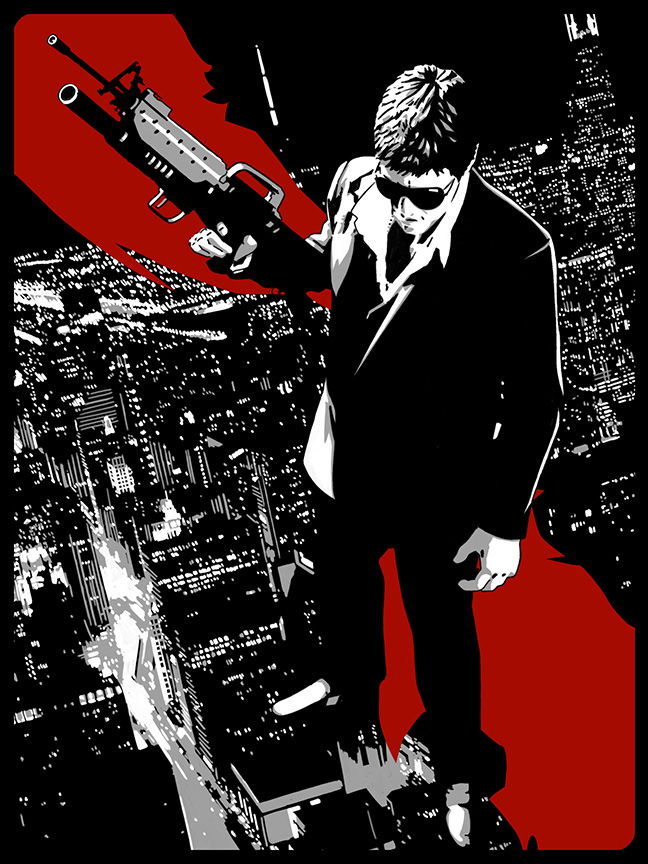 Concept piece #1 by Stephen Sampson
When Style over Substance approached me about the possibility of doing a print for them my first reaction, even before knowing what the subject matter was going to be was to say YES!!  I really loved the Pan's Labyrinth print "The Martyrs Rein Begins In Death" by XUL1349 and The Crow print "They Keep Calling Me" by Joshua Andrew Belanger. So I knew that they did quality work, then when I was told they would like me to do the 1983 iconic classic Scarface by Brian De Palma it was an offer I just couldn't refuse!!  It was a pleasure watching the movie a few more times and the thing that struck me again was just how mesmerizing Al Pacino is.
Concept piece #2 by Stephen Sampson
So when I came to sketching some concepts I just kept getting drawn back to Pacino and his face.  With the final design we went for, I wanted to try and give the feel of Tony Montana being the king of the world, the city is all his!! The moment when he has everything he wants before his inevitable destruction. The mini print "IS THIS IT" is maybe a more obvious image and just a bit of fun. This was such a cool project to be asked to do and I'd like to thank Joe at Style over Substance for giving me the opportunity! I hope fans of the movie and print collectors in general see something in the print to enjoy!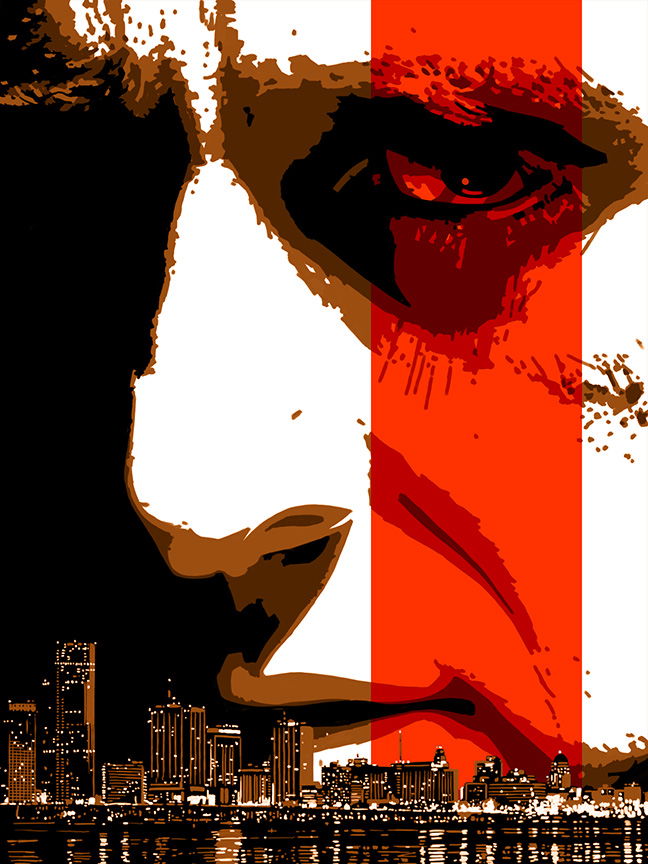 Concept piece #3 by Stephen Sampson
As well as the print everyone that buys one will also receive a bonus mini print title "IS THIS IT."  The reason behind the mini print is that as I am unable to sign all the main prints (which are being printed in the US)  I thought it would be cool to do a mini print that I could then send over to SOS.  Each mini print is signed and numbered by me and will be sent out with each corresponding numbered main print. – Artist Stephen Sampson
Here is your first look at both prints, "The Eyes They Never Lie" and "Is This It?" by Stephen Sampson.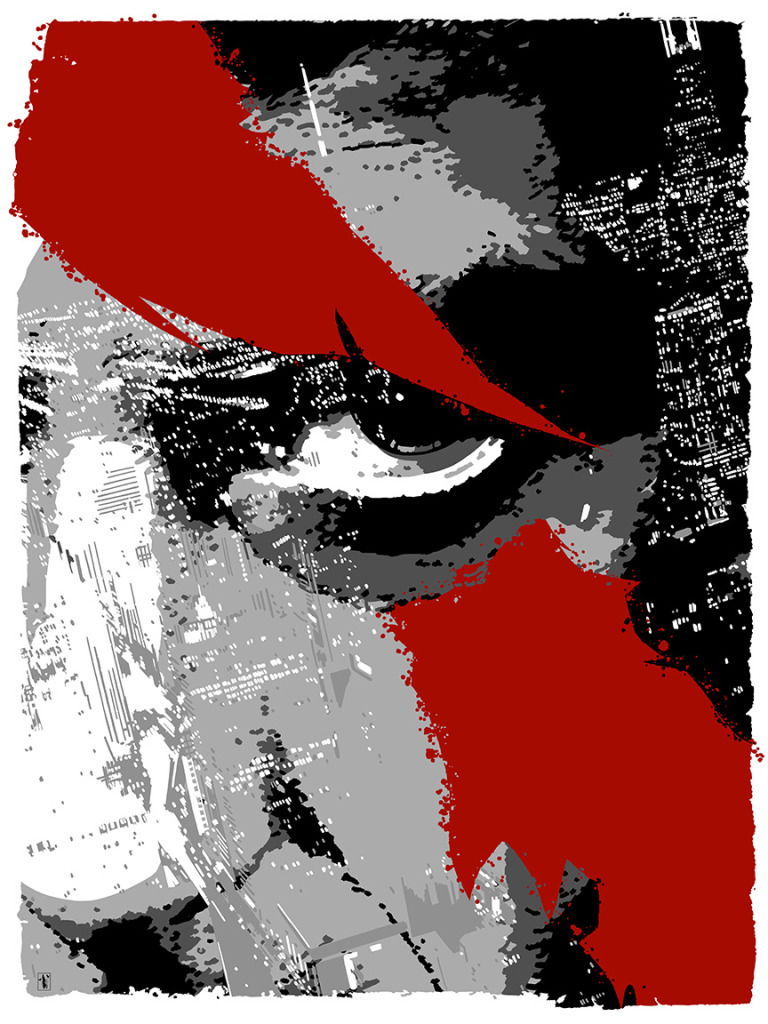 "The Eyes They Never Lie"
by The Dark Inker
18×24
5 Color Screen Print
100# White French Paper
Numbered Edition of 80
(includes mini-print S&N)
$35 plus Shipping
Style Over Substance ships worldwide
Release date hopefully Dec 1st 2014
"Is This It?" Mini-print by The Dark Inker
Here are some links to follow to stay up to date on this upcoming release:
STYLE OVER SUBSTANCE
Stephen Sampson AKA The Dark Inker