Yesterday we gave fans of Disney Animation's highly anticipated, animated feature, "Big Hero 6", a look at 5 fantastic posters that are just a tip of the iceberg of a greater collaboration with the Poster Posse.  TODAY, we are thrilled to share another surprise as we get to show you an exclusive reveal of the official print that Disney will be giving away at this year's New York Comic Con.  To round out this week's "Power of 6" offering, we are pleased to show you the work of Japanese artist, Kaz Oomori.
Disney's Official NYCC, Big Hero 6 Poster by Kaz Oomori – Japan
Kaz has a style all his own and the end result on this one is pretty spectacular.  (For some reason it evokes a bit of the Beatles Magical Mystery Tour for us.  Anyone else?) Every fan who attends the Walt Disney Animation Studios panel for "Big Hero 6" on Thursday, October 9th at 1 pm EST.will receive an exclusive print of this stunning poster by Poster Posse artist Kaz Oomori. (For details on how to get tickets to this awesome event, CLICK HERE.)  The panel will give fans an exclusive sneak peek at Disney's "Big Hero 6" with the filmmakers and special guests in attendance!  (If Genesis Rodriguez is there we are going to be REALLY BUMMED out that we didn't fly out for this one!)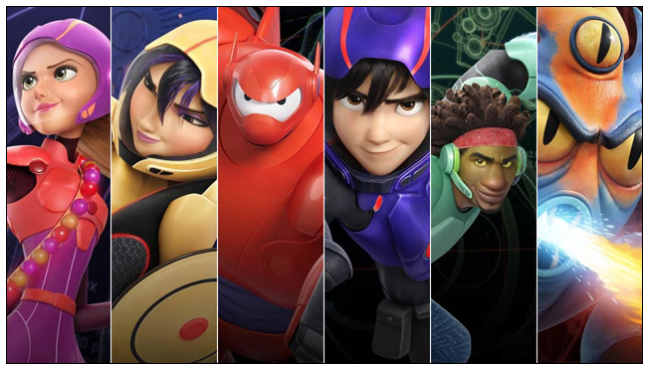 If you CAN'T make it to the event, stay tuned and we M-A-Y be able to help you out.  (Not promising… just saying…with our fingers crossed… as we hold our breath….)  Be sure to stay up to date with EVERYTHING associated with "Big Hero 6" by following their official FACEBOOK and TUMBLR pages.  Let us know what you think about Kaz's print and come back next TUESDAY, October 14th,  as we reveal another round of prints for one of our most anticipated movies of the year.  Disney Animation's "Big Hero 6" flies, kicks and punches its way into theaters on November 7th.