You'd be hard pressed to find a director as passionate about his craft and the legacy of film as a medium than Quentin Tarantino.  His track record of hits is what you would call…."impressive" to say the least.  How do you top films like: Reservoir Dogs, Pulp Fiction, Jackie Brown, Kill Bill Vol. 1 & 2, Deathproof, Inglorious Basterds, and Django Unchained?  Well the answer is "you don't" top them but you can ADD to your legacy of exceptional films and that is just what Tarantino has done with this latest offering, "The Hateful 8."
In THE HATEFUL EIGHT, set six or eight or twelve years after the Civil War, a stagecoach hurtles through the wintry Wyoming landscape. The passengers, bounty hunter John Ruth (Russell) and his fugitive Daisy Domergue (Leigh), race towards the town of Red Rock where Ruth, known in these parts as "The Hangman," will bring Domergue to justice. Along the road, they encounter two strangers: Major Marquis Warren (Jackson), a black former union soldier turned infamous bounty hunter, and Chris Mannix (Goggins), a southern renegade who claims to be the town's new Sheriff. Losing their lead on the blizzard, Ruth, Domergue, Warren and Mannix seek refuge at Minnie's Haberdashery, a stagecoach stopover on a mountain pass. When they arrive at Minnie's, they are greeted not by the proprietor but by four unfamiliar faces. Bob (Bichir), who's taking care of Minnie's while she's visiting her mother, is holed up with Oswaldo Mobray (Roth), the hangman of Red Rock, cow-puncher Joe Gage (Madsen), and Confederate General Sanford Smithers (Dern). As the storm overtakes the mountainside stopover, our eight travelers come to learn they may not make it to Red Rock after all…
Filmed in glorious 70 mm film with an impressive score by the legendary composer Ennio Morricone, this one is a must see this holiday season….ON THE BIG SCREEN where it was meant to be drooled over.  Here's an amazing video of the press conference for the film from NYC as well as a great featurette that delves into the beauty of watching a film on 70mm.
U.K. artist Doaly is all in with the film, the director, the actors and of course, the 70 mm aspect and has embraced the western with a fantastic new print and variant.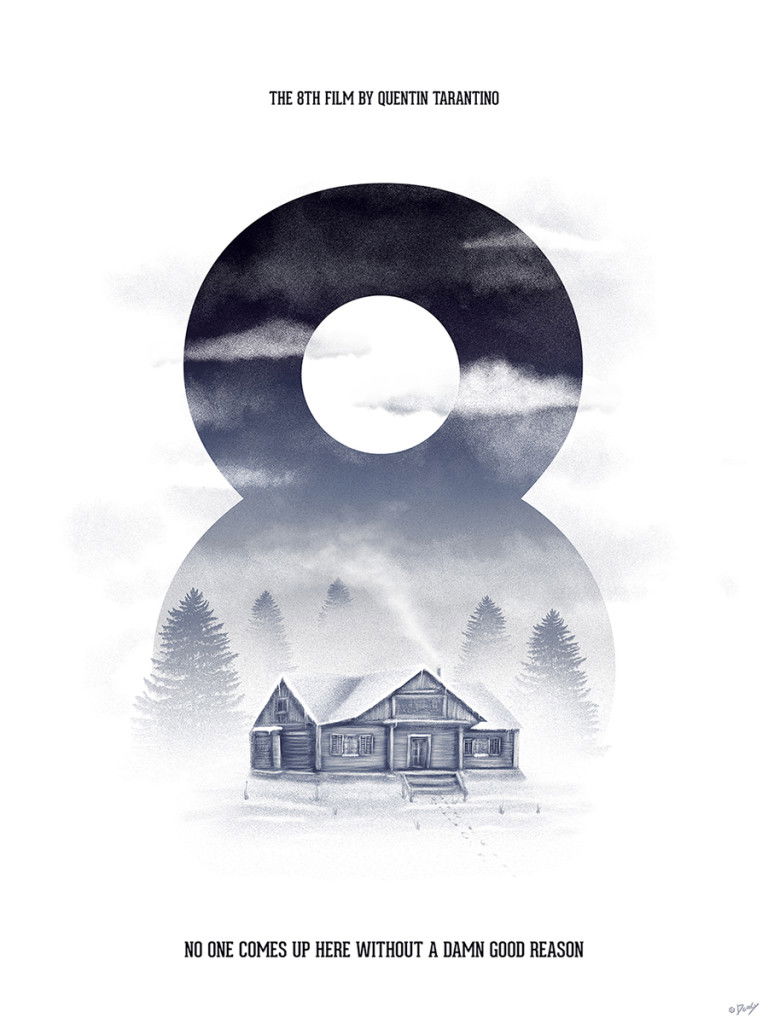 The Hateful 8 by Doaly
The Hateful 8 by Doaly – variant
Be sure you follow Doaly on TWITTER and go check out his BEHANCE PAGE and OFFICIAL WEBSITE to see more from his impressive portfolio.