Today we are thrilled to announce a new collaboration with Crackle and the proceeds are going to a great charity.  To celebrate the November 16th premier of season 2 for Crackle's "The Art Of More," The Poster Posse has created ten unique takes on some of the most well-known masterpieces in art history.  These new modern masterpieces are being auctioned off HERE  and the proceeds are going to Movember to support men's health.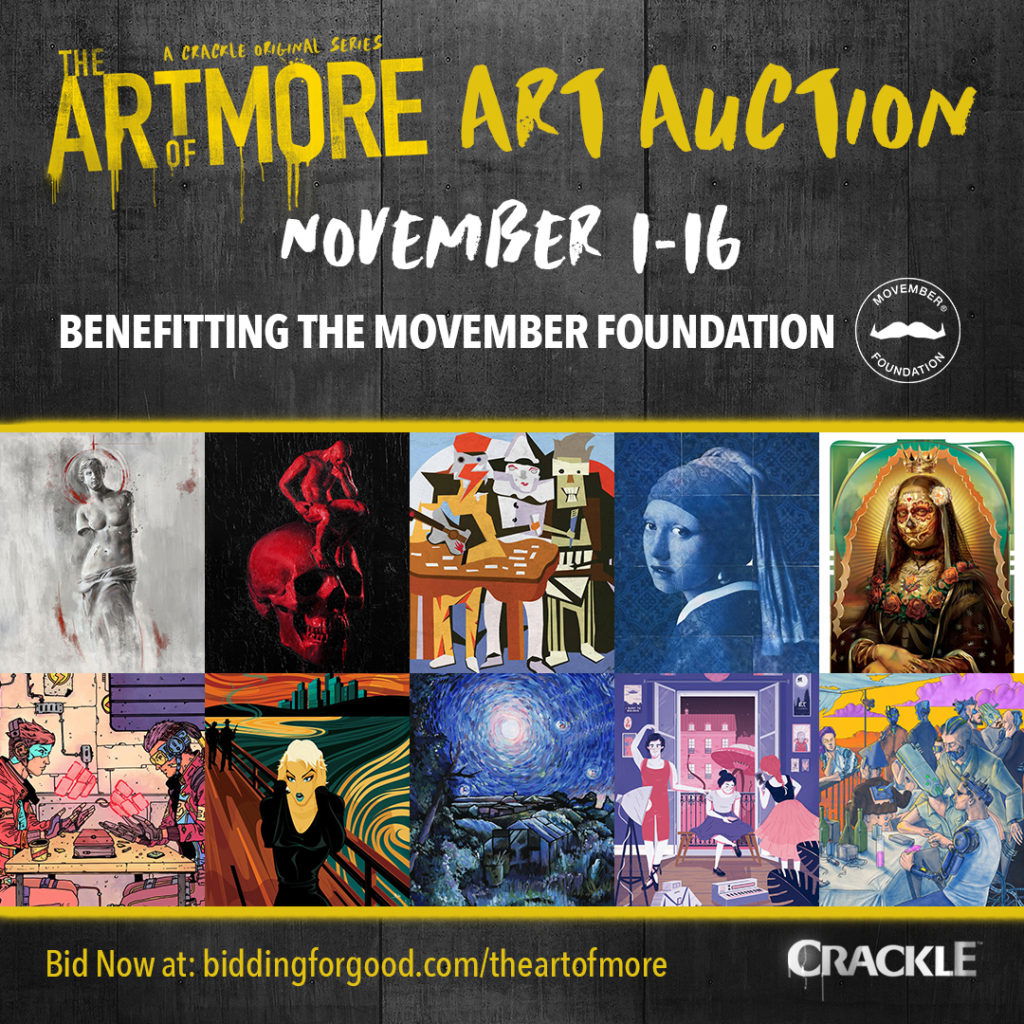 Ten members of the Poster Posse contributed some pretty outstanding art including: Robert Bruno, John Aslarona, Matt Needle, Orlando Arocena, Salvador Anguiano, Mike Mahle, Daniel Nash, Maria Suarez-Inclan, and Berkay Daglar. The art they put their personal spin on ranged from Renoir's, "Luncheon of the Boating Party" to "The Card Players" by Cezanne.  Each piece is a ONE of ONE so keep that in mind when bidding.  (Keep in mind, Rodin's "The Thinker" sold for $15.3 million and NONE of that went to charity!  Think of all the good your bids will do on THIS art!)  Here is the official announcement from Crackle about this project along with a look at all the art.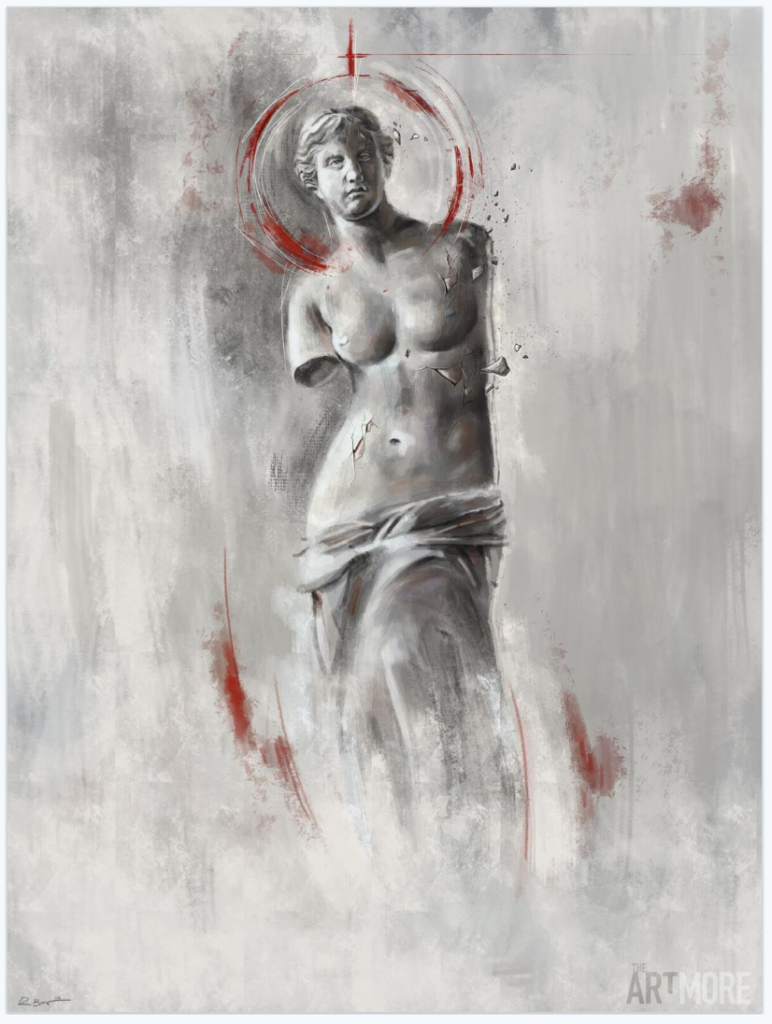 "Venus di Moderno" –By Robert Bruno (Brooklyn, NY)- based on "Venus de Milo" by Alexandros of Antioch, 101BC
In anticipation of the November 16th launch of the second season of Crackle's critically-acclaimed, scripted original, "The Art of More," the network has commissioned 10 original works from up-and-coming artists that will be auctioned off through BiddingForGood.com, the e-commerce charitable site. Bidding on the pieces, all inspired by well-known and iconic works of art, runs from November 1st  through Wednesday, November 1 6th , timed to the season two debut of the Crackle series.  All proceeds from the auction will be donated to the Movember Foundation, the leading global men's health organization, which raises both funds and awareness for prostate cancer, testicular cancer and overall men's physical and mental health.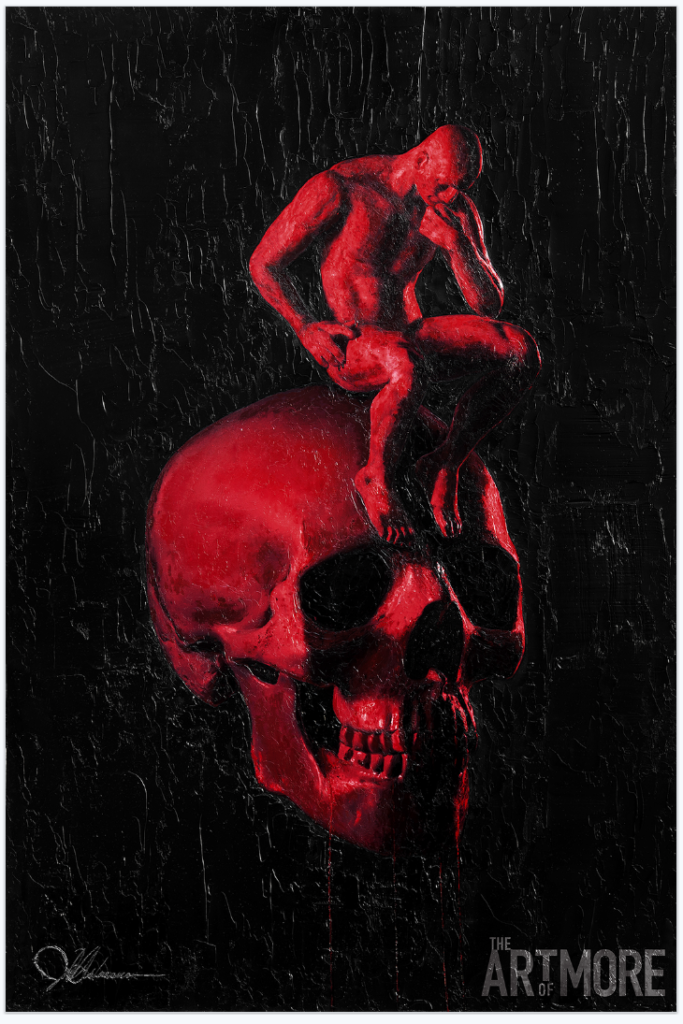 "The Philosopher's Throne" –By John Aslarona (Queens, NY)- based on "The Thinker" by Rodin, 1902
Series stars Dennis Quaid, Kate Bosworth, Cary Elwes and Christian Cooke, will participate in the campaign with original PSA's encouraging fans to support the work of the selected artists and the not-for-profit organization, which encourages men to grow moustaches and MOVE throughout November in an effort to "change the face" of men's health.  All 10 original pieces, which were created by members of the Poster Posse, a platform where a global network of diverse artists can showcase their original works to a broader audience, will be on display at the New York premiere event which will be attended by the series cast and notables from the art community.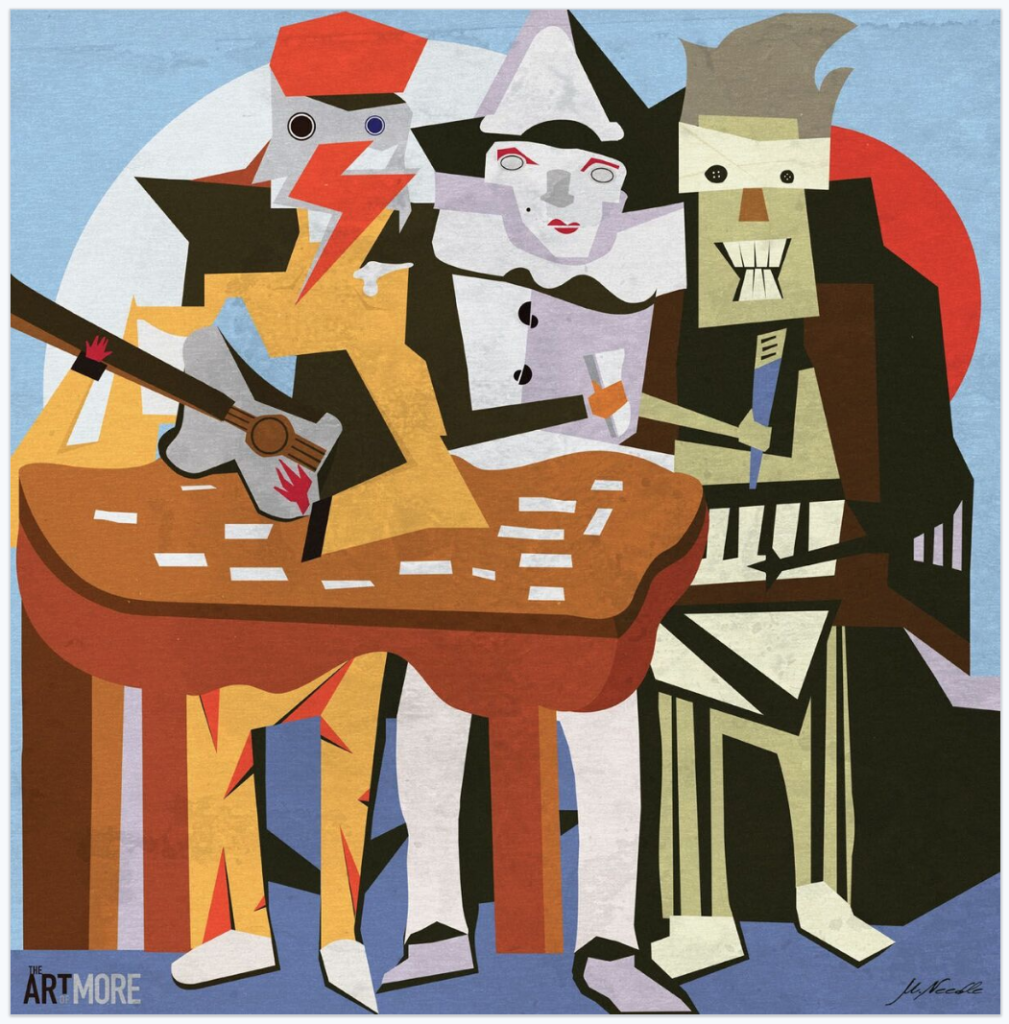 "The Three White Dukes" –By Matt Needle (Cardiff, Wales)- based on The Three Musicians by Pablo Picasso, 1921
Top bidders for each of the 10 pieces will also receive an auction paddle signed by "The Art of More" cast. Bidding for Good auction will be available via the web HERE and mobile (https://bforg.com/theartofmore)
The second season of "The Art of More" is a high-stakes journey of greed and desperation through the New York auction scene where it's not just the art and memorabilia that comes at a high price. Our characters' attempts to achieve power, revenge and greater levels of success only create complexities that will find them becoming more like the frauds and forgeries that they are attempting to sell.
For Graham Connor (Christian Cooke), that means re-starting his career in the auction business to help the FBI take down a prominent collector who secretly runs a terrorism-funding smuggling ring. Roxanna Whitman's (Kate Bosworth) challenge is to keep a cool and sober head as she makes her ultimate play for the top spot at DeGraaf's. Sam Brukner (Dennis Quaid) can easily summon his signature swagger to plot his social comeback with his own museum, but he finds himself in uncharted emotional waters when two strong-willed women come into his life. With the IRS in relentless pursuit, Arthur Davenport (Cary Elwes) is desperate to reclaim his lifestyle as a New York socialite and art world tastemaker but has no idea where to start.  As our characters chase what they're after – success, power, money, status, love, absolution – they discover that past sins rarely stay buried, bad habits die hard and enemies should never be underestimated. Joining the cast for season two are Merritt Patterson as Olivia Brukner, who comes to New York looking to reconnect with her father, but is harboring secrets of her own, and Sandrine Holt as art curator Isabel Perry, whose sophisticated and fiery personality both intrigues and challenges Brukner.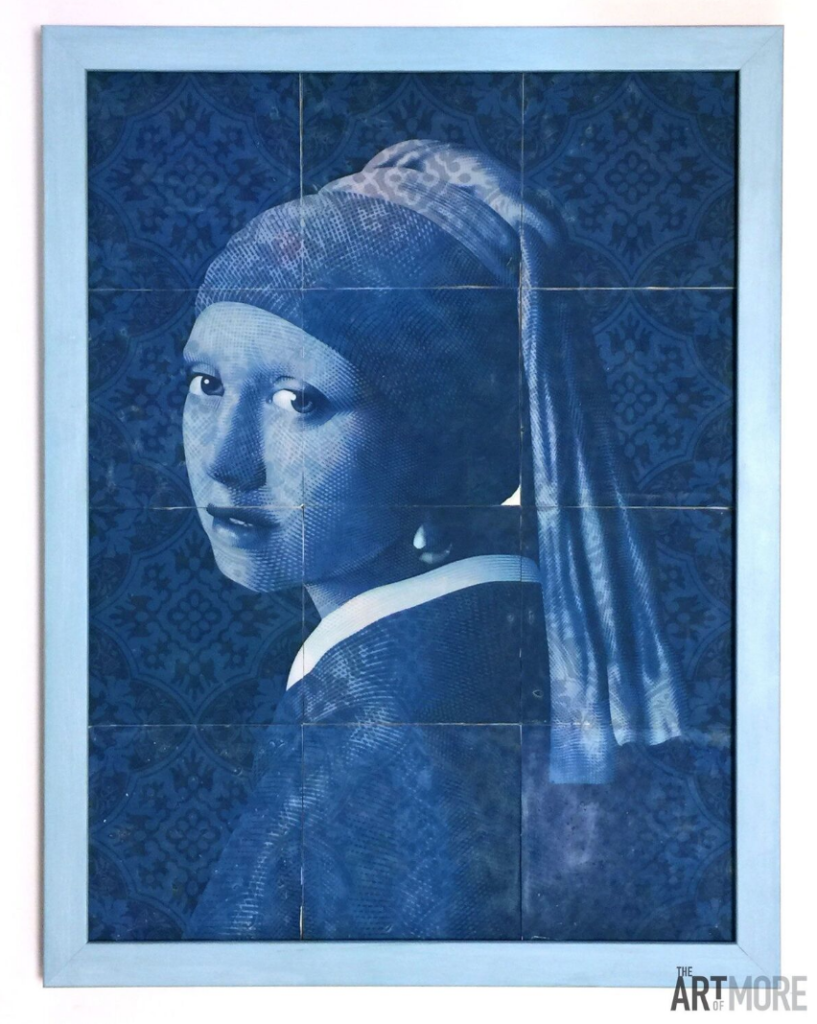 "Girl with the Ceramic Earring" –By Tracie Ching (Washington, D.C.)- based on "Girl with the Pearl Earring" by Vermeer, 1665
"The Art of More" was created by Chuck Rose, who with Gardner Stern ("NYPD Blue," "Law and Order") is writer and executive producer. Dennis Quaid, Laurence Mark (Jerry Maguire, Dreamgirls) and Tamara Chestna (Revenge Wedding) also serve as executive producers, with Gary Fleder (Runaway Jury, "The Shield") and Mandy Safavi (Enders Gam, Transformers:Prime) serving  as consulting producers.  Brendan Kelly ("Weeds") joins season two as executive producer and writer.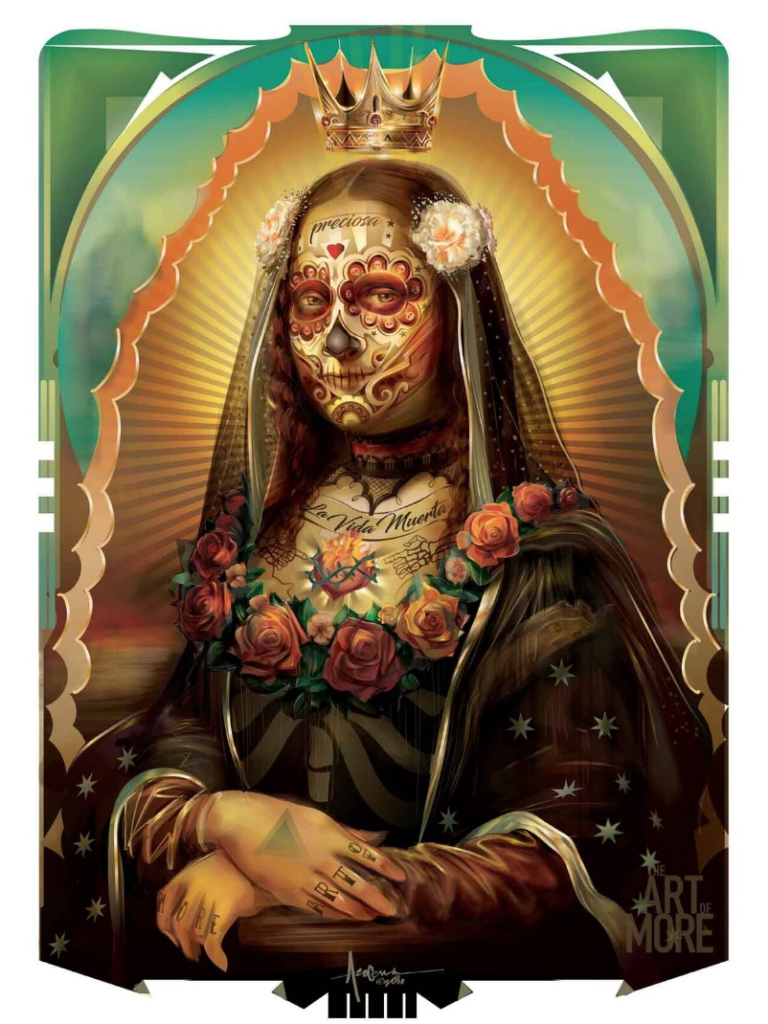 "La Preciosa" –By Orlando Arocena (Bronx, NY)- based on The Mona Lisa by Leonardo da Vinci, 1504
The Movember Foundation is the only charity tackling men's health on a global scale, year round. They run awareness and fundraising activities, with the annual Movember campaign in November being globally recognized for its fun, disruptive approach to getting men to take action for their health. During Movember, men and women around the world raise funds by growing or supporting a moustache, getting physically active, or by hosting or an event. Not only do these commitments raise vital funds, they also generate powerful and often life-changing conversations. Millions have joined the movement, raising $710M to help us fund more than 1,200 men's health projects focusing on prostate cancer, testicular cancer, mental health and suicide prevention. Movember has one goal: to stop men dying too young.
Movember is fully accredited by the Better Business Bureau, and for the past four years, has been named a Top 100 best NGO by The Global Journal. For more information please visit Movember.com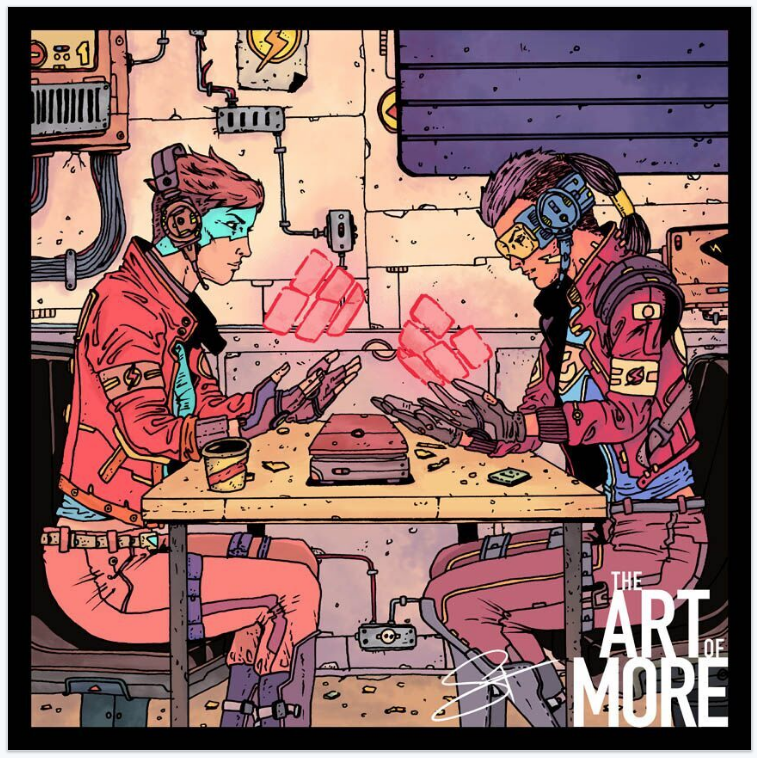 "One Last Game" –By Salvador Anguiano (Leon, Guanajuato, Mexico)- based on "The Card Players" by Paul Cezanne, 1895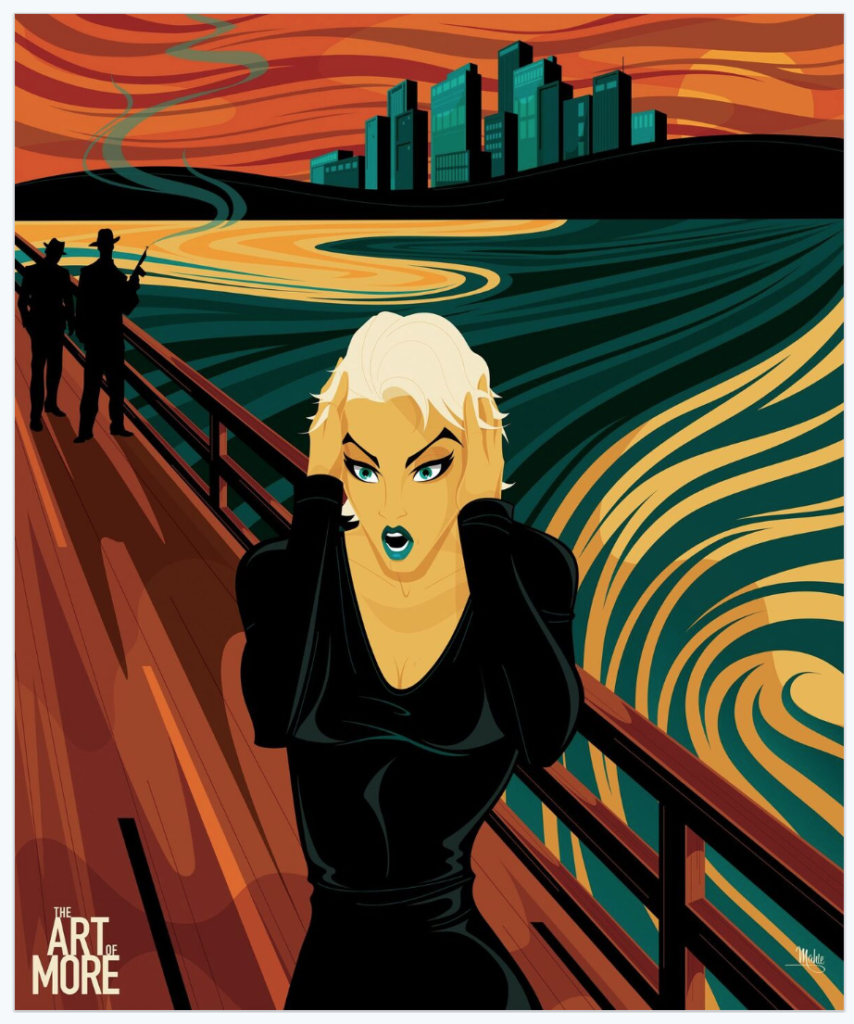 "The Big Scream" –By Mike Mahle (Morton, IL)- based on "The Scream" by Edvard Munch, 1893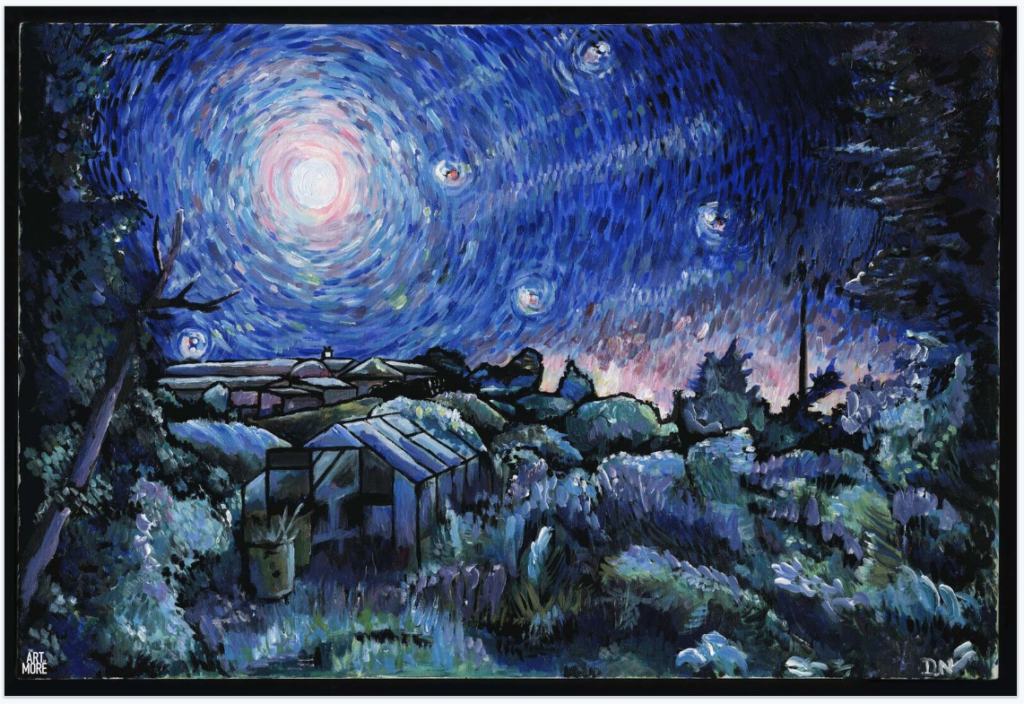 "Harvest Moon" –By Daniel Nash (Bedfordshire, England)- based on "The Starry Night" by Vincent Van Gogh, 1889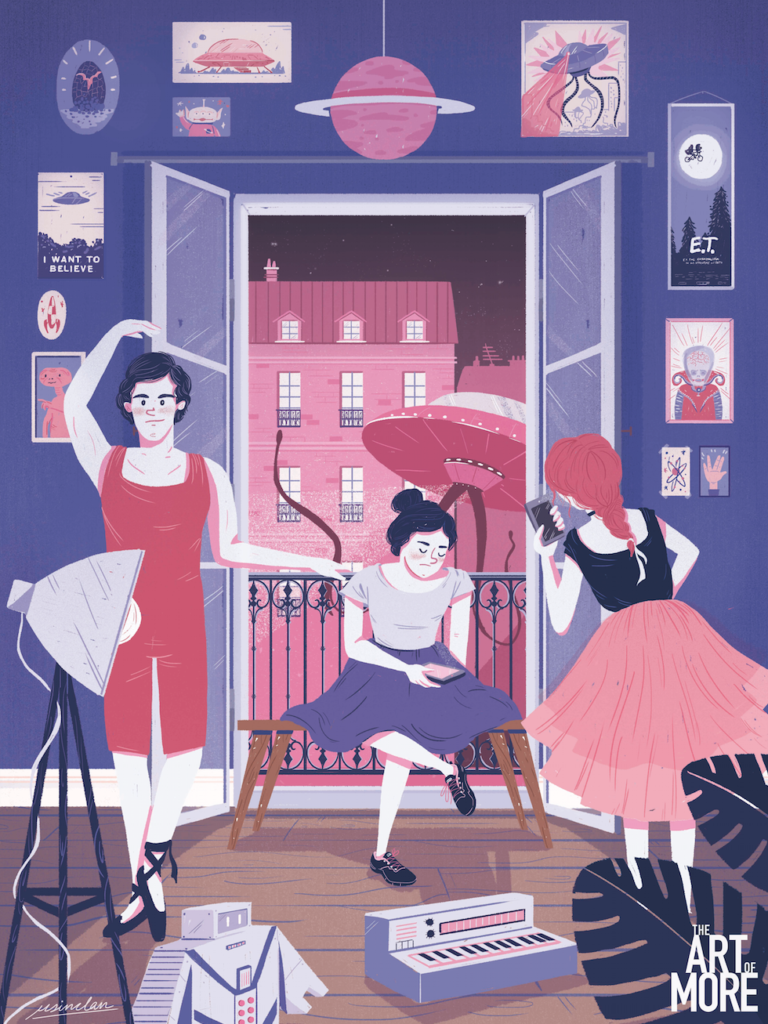 "Triple Abduction" –By Maria Suarez-Inclan (London, England)- based on "The Three Dancers in Exercise Hall" by Degas, 1880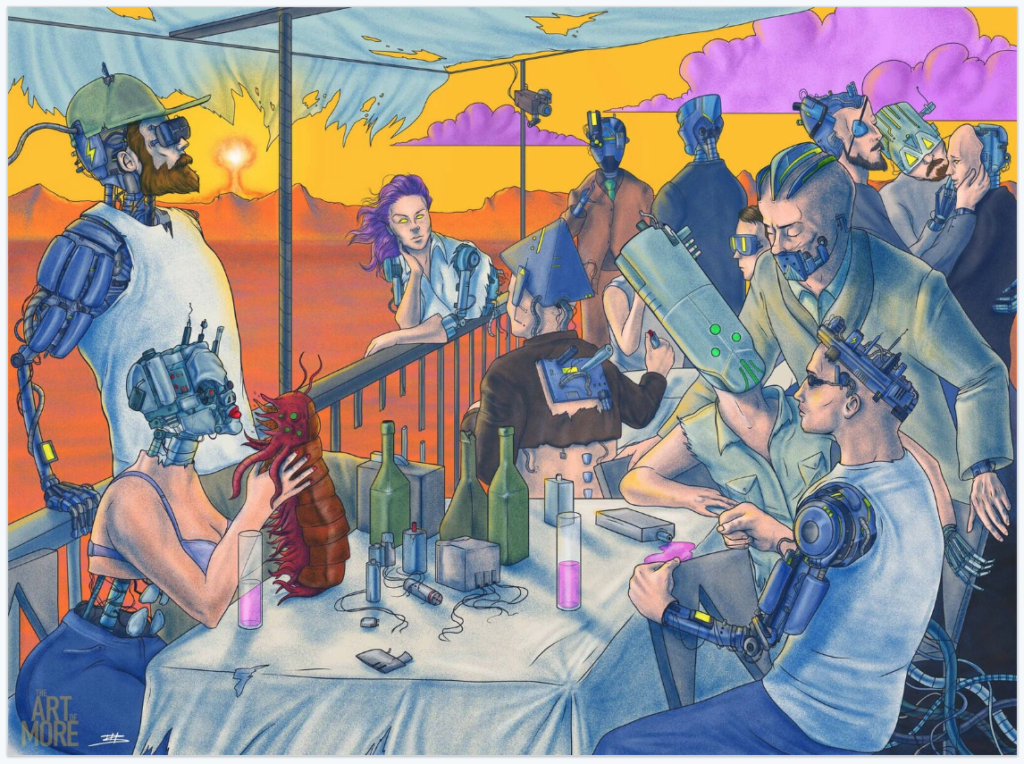 "Luncheon of the Molting Party" –By Berkay Daglar (Istanbul, Turkey)- based on "Luncheon of the Boating Party" by Renoir, 1881
Make your walls happy with some highly desirable art and help a great cause at the same time.  Please take a moment to share this article via your favorite social media platform to help raise awareness of the auction and the Movember Movement.

+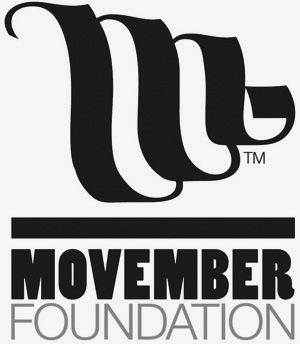 +