Poster Posse member Florey has come up with 2 fantastic tees that pay tribute to the vehicles of the Autobots and the Decepticons from the Transformers franchise.  Take a look at this wearable art and check out their official descriptions from the website, "80's Tees.com"
AUTOBOTS VEHICLES SHIRT – AVAILABLE TO PURCHASE HERE
Autobots are the heroic sentient robots from the planet Cybertron. When the Autobots transform, they are robots in disguise. Often times, they are transformed into vehicles. As vehicles, the Autobots race to save the world from the evil Decepticons. Many of the Autobots vehicles appear on this Transformers shirt. The vehicle disguises include Springer as a helicopter, Inferno as a firetruck, Warpath as a tank, Brawn as a Land Rover Defender, Ratchet as an ambulance, Grapple as a crane truck, Optimus Prime as a Freightliner semi-trailer truck, Beachcomber as a dune buggy, Prowl as a police car, Crosshairs as a van, and many more. For any fan of Transformers and the Autobots, this vehicles shirt is a must have.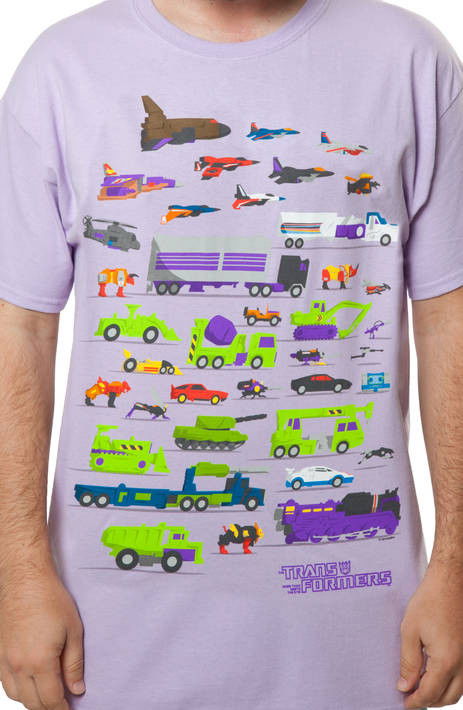 DECEPTICONS VEHICLES SHIRT – AVAILABLE TO PURCHASE HERE
The Decepticons are the evil race of Transformers from the planet Cybertron. Decepticons have been known to attack in a wide variety of vehicle disguises. Many of those disguises appear on this Transformers shirt. Just to name a few, Blast Off appears as a space shuttle, Motormaster appears as a big rig, Headstrong appears as a rhinoceros, Bonecrusher appears as a bulldozer, Drap Strip appears as a Tyrrell P34 Formula One race car, Hook appears as a crane, Long Haul appears as a dump truck, and Thundercracker, Skywarp, Acid Storm, Hydrostorm, Ramjet, Thrust, and Dirge all appear as F-15 Eagles. No matter what form they take, these Decepticons are driven to destroy the Autobots. Show that you are a fan of Transformers and the Decepticons with this vehicles shirt.
As you can see he has covered all the players on both sides of the Transformers universe.  80's Tees.com has you covered as well in that they offer sizes from SMALL all the way up to 5X Extra Large!  Use the links below each t-shirt to go purchase yours and display your allegiance proudly on your chest!