"I don't know. Thousands of years ago it crashes, and this thing… gets thrown out, or crawls out, and it ends up freezing in the ice." – MacReady
Each month, folks gather to take in the best of cult and genre films.  Throw in some food, drinks, a quiz and art prints at Hull's Fruitspace Cinema and you have an experience known as  Cult Cinema Sunday.  This month, on January, 18th, Cult Cinema Sunday pays homage to John Carpenter's 1982, sci-fi horror classic, "The Thing."  This remake of the 1951 film, "The Thing From Another World."  It stars Kurt Russell in one of his most memorable roles as the surly helicopter pilot, "R.J. MacReady."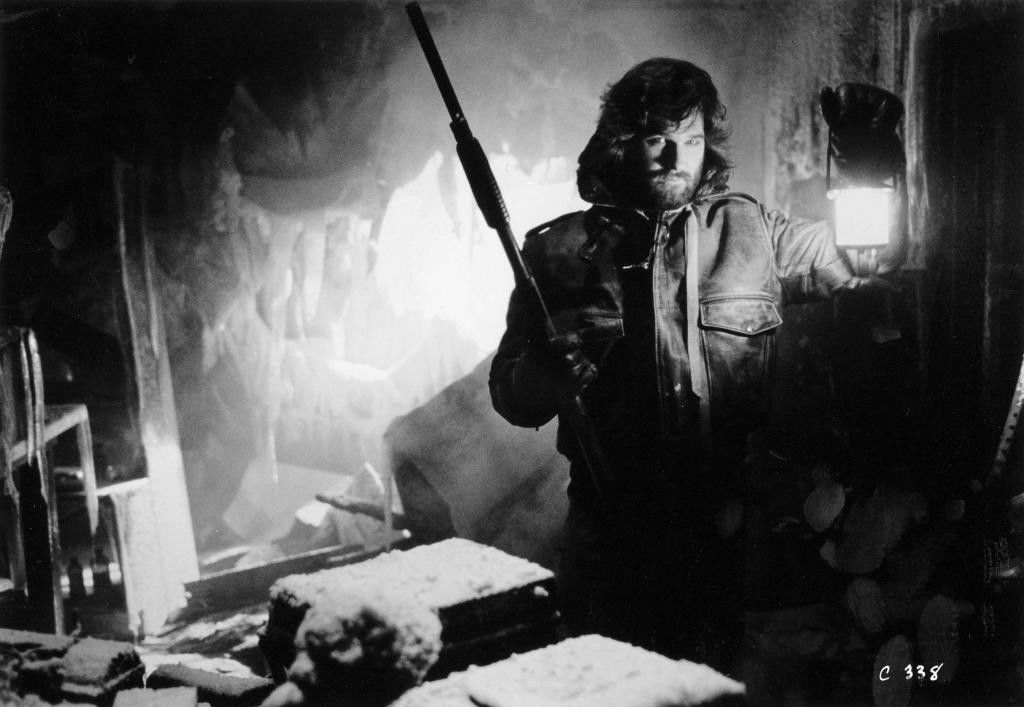 Cult Cinema Sunday is run by pop culture guru Damien Greco.  Andrew Swainson was brought in to handle the commemorative print for this one which, in my mind must have been extremely daunting.  Let's face it, EVERYONE knows the original image from legendary artist, Drew Struzan so to follow THAT raises the stakes a bit.  Well Andrew hit it out of the park with his fantastic interpretation of the film.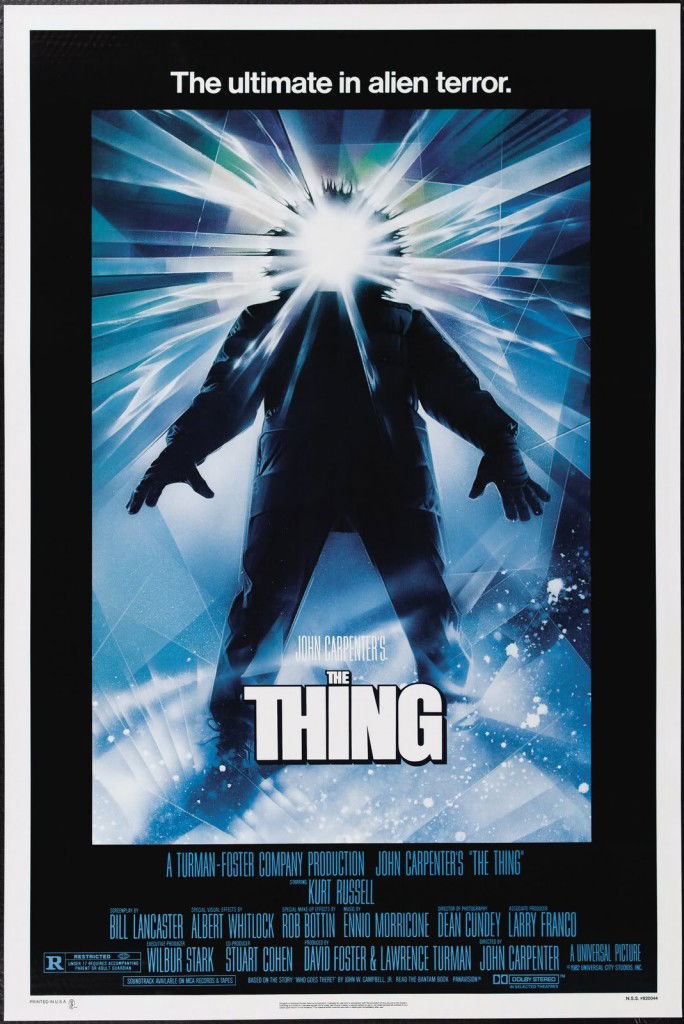 "The Thing" by Drew Struzan
We want to know more about the project so we reached out to Damien to ask him a few questions.
#PP – How did you find Andrew for this project?
DG – A pain in the arse! I jest. I assume you mean how did I come to work with him? I know Andrew through being a member of the Facebook screen print collector's group "Poster Buddies & Traders" as a like minded film art fan. Since chatting to him there, and meeting up at some UK gallery events and at Thought Bubble a few times Andrew began to produce some amazing pieces himself, and I was really pleased he began releasing work through Hero Complex Gallery. The scene can be very USA-centric so he's holding up the UK end! It seemed a natural progression to then ask him to produce a piece for my night and thankfully when I approached him with the idea he said yes!
#PP – Was there one of his pieces that got your attention?
DG – I was a huge fan of his Blue Velvet and Manhunter pieces, and more recently his Audition print. It's been really rewarding to see him produce stellar piece after piece.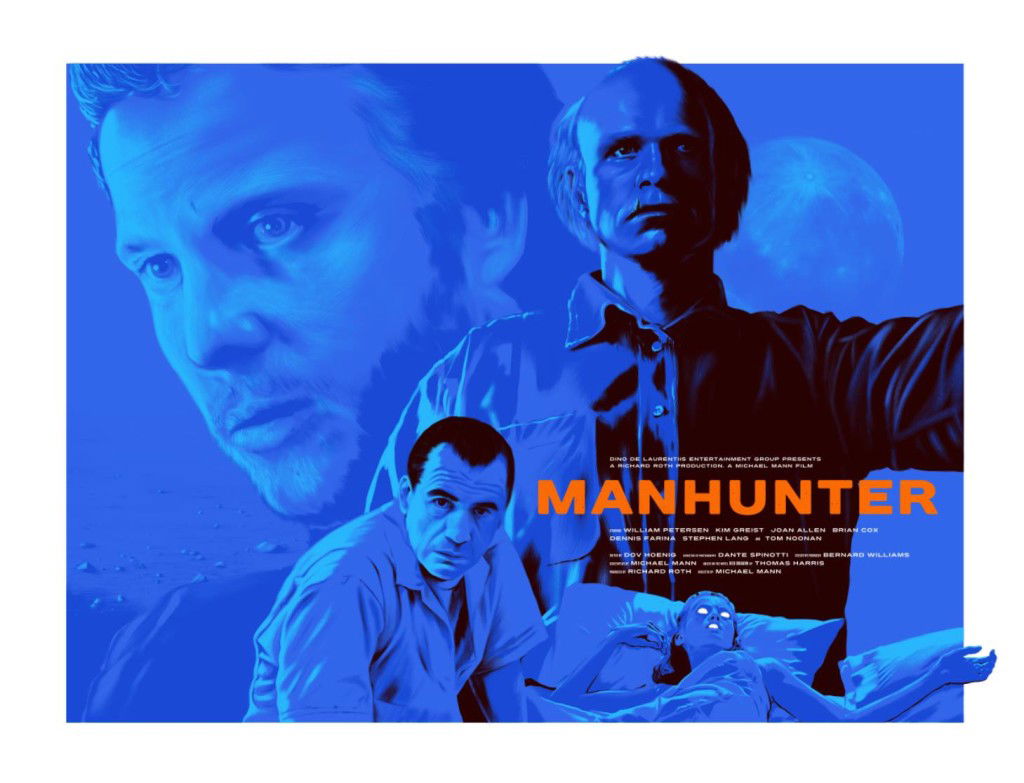 #PP – "Manhunter is one of our all-time favorite films and we LOVE that print by Andrew. (Which reminds us, we still need to get that one!) What are your thoughts on the movie "THE THING?"
DG – It's a childhood horror favorite (that I shouldn't have seen so young!). The sense of tension, atmosphere and paranoia hasn't dulled over time or repeated viewings. It's another shining example of the power of practical SFX over CGI that still stands up to this day. Oh and Kurt's beard and hair are fantastic.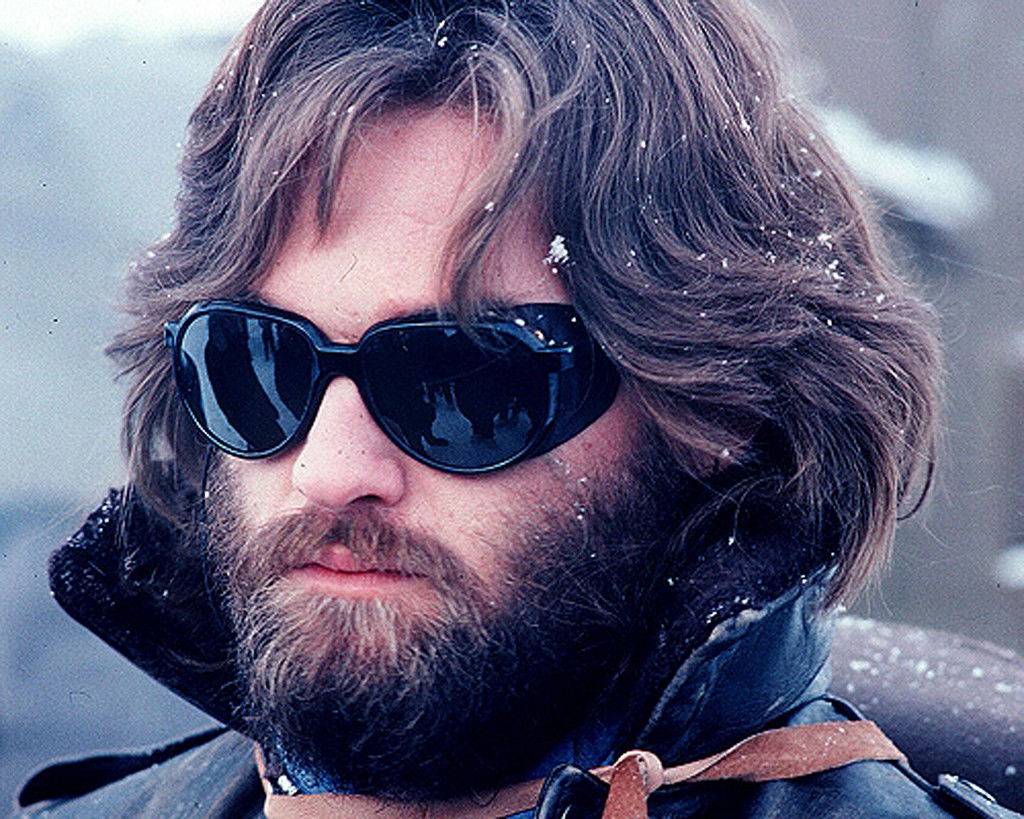 #PP – Kurt WAS well coiffed in this one.  Actually, now that we think about it, he was well coiffed in ALL his films!  What are some of the other movies you guys have lined up for 2015 or is this a highly guarded secret?
DG – We have the full year provisionally blocked out – I can confirm that next up is an anti-Valentine's Day screening of Heathers on Feb 15th. March see's us coming out to play with The Warriors, and we get our Dude on in April with The Big Lebowski.
As you can see, Damien has a pretty damn great line up of films on the horizon.  Below is a look at Andrew's print for "The Thing" screening.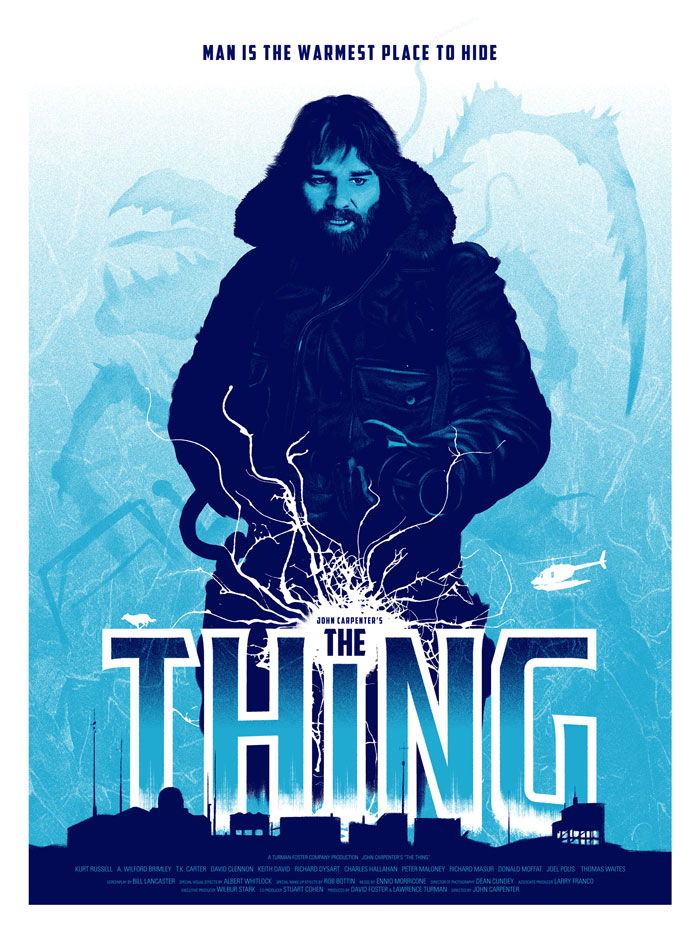 "The Thing" by Andrew Swainson
18″ x 24″ 2 colour (with metallic ink) screen print on 300gsm paper
Limited edition of 30 – hand signed and numbered by the artist
£20
These prints will first be sold at this Sunday's screening.  Any unsold prints will then be sold online at 6PM GMT on Monday, January 19th over on CULT CINEMA SUNDAY's official store. Be sure to follow Andrew on TWITTER because he will have 15 copies for sale on his OFFICIAL STORE PAGE.  Follow Cult Cinema Sunday on TWITTER and FACEBOOK to get updates on all the upcoming screenings that have set up for 2015.  (Be on the lookout because this one is also being printed on foil as well as wood.  Andrew will let us all know about these on his TWITTER feed.)